Eric Biddulph Memorial Road Race

Sunday, June 7, 2009; Holmfirth
Thanks to Richard Asquith ()

Huddersfield Star Wheelers held their annual Road Race on Sunday, 7th June which has been renamed the 'Eric Biddulph Memorial Road Race' this year in honour of Eric Biddulph. Eric joined Star Wheelers in 1974 and was Club Secretary from 1985-1992. He was instrumental in bringing the National Hill Climb Championship of October 1994 to the Tinkers Monument course in Jackson Bridge. Eric had just recently finished his autobiography chronicling his many cycling adventures in far flung parts of the globe.


Above right: Phil Valentine (Wakefield CC Exponential) is first to attack on lap one. Right: Andrew Marsh (Dinnington RC) takes the first prime.


Above: Main pack follow behind, with a strong head wind on the second half course many choose to bide their time



Above: With the 2nd prime coming up local riders Mark Buckingham (Huddersfield Star Wheelers) and Ben Kellett (Holme Valley Wheelers) break clear, with Buckingham taking the prime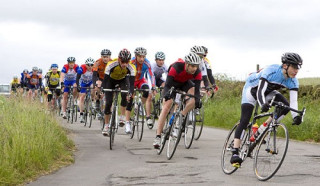 Above: The main chase pack

With just under three laps to go, Ben Kellet managed to drop Mark Buckingham. Andrew Noble (Moonglu RT) joined up with Buckingham and together they chased Kellet, who despite still being a junior, was making them work very hard. With a lap to go, Buckingham had rejoined Kellet at the head of the race, as Noble dropped back to the main pack. Mark fearing Ben in a sprint finish, broke clear in the closing mile to solo to his first ever win, the fact it was his own club promotion making the victory all the more sweeter.

After the race I caught up with a very happy race winner where I learned more about him. Mark only began racing this season after being forced to put his Athletics career on hold due to injury. What initially began as a way of keeping fit, along with a few races to keep his competitive edge has grow into something far greater. He got his 3rd category licence less than 3 weeks ago after a number of solid placings.

This allowed him into last weeks Division championships (Yorkshire) where he was merely hoping to finish the race as the greater distance was an unknown to him but he came away with 12th place and another handful of points, which together with today points now sees him as a 2nd cat rider, only 18 days after becoming a 3rd. He's now out to join the select group of riders that have gone from 4th to 1st cats in a season, and with the way he's going who'd bet against it.



Above: Race winner, complete with victory celebration



Above: James Thompson takes 3rd from teammate Marc Etches (Sheffrec CC)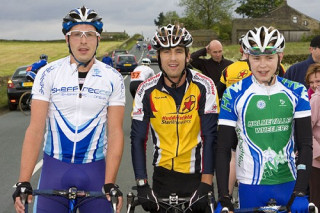 Above: Thompson, Buckingham & Kellet



Above: Buckingham receives the Eric Biddulph Memorial Trophy from Eric wife Mary



Above left: Buckingham and trophy. Above right: Eric Biddulph Memorial Trophy