Yorkshire Road Race Championships

31 May 2009
Report and pictures by Andy May ()

Tom Barras wins the Yorkshire regional championship.

Russell Downing, Dean Downing, Graham Briggs, Malcolm Elliott, Ed Clancy, Tom Barras, Tom Murray, Alastair Kay, Liam Holohan... No this isn't my prediction for this years final Premier Calendar standings (although I bet it won't be that far out). No, this is the list of riders who were eligible to ride todays Yorkshire Div Champs, or Regional Road Race Championships to give it it's official name.

I could have also added Ben Swift, who's currently mixing it with the Worlds best on the roads of Europe and who must surely be very high on Dave Brailsfords list of potential British Grand Tour winners. Call me a biased Yorkshireman (no you can because I am) but I don't think there's any doubt that we have the strongest region of Elite riders right now.

Of course, with the enormous commitments on todays professional riders we were never going to get a "full house" of star names and when it was announced the Edinburgh Nocturne was to be held the night before, that certainly put paid to any hope of that! This was clearly going to have a major impact on the number of Elite riders in the field, not only in Yorkshire but throughout the country.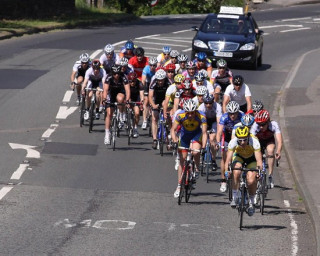 As the Nocturne series was devised by Rapha Condor it was I suppose inevitable, but still disappointing that National Circuit Race Champion and defending Champion Dean Downing was a notable absentee, preventing him from going for a hat trick of victories. We were also robbed of Dean's new team mate and last years runner up, Liam Holohan who intended riding but is struggling to shift a case of gastroenteritis. However, the Plowman Craven Madison duo of Tom Murray and Tom Barras did line up, as did Sportscovers ten time BBAR champion Kevin Dawson, who was at the front of almost every move last year, eventually finishing third and who won the event the last time it was held on todays circuit back in 2006.

The course covered 11.5 miles on the outskirts of Denby Dale and travels through Lower Denby, Birdsedge, High Flatts & Ingbirchworth. There are two long straights of "A" roads both approximately four miles in length. The A629 Halifax Road which borders the Pennine Hills has a large wind turbine farm adjacent giving you an idea what the wind conditions are generally like, although usually a helping tail wind.

However today was different and whilst the sun shone, the wind shifted into a nasty, energy sapping head wind. This stretch also has the steepest climb on the circuit leading up to High Flatts. The A635 Barnsley Road is much more shielded from the wind, although had several blind bends and crests to keep the field on it's toes and is almost entirely up hill to the finish line. The Elite, 1st, 2nd & 3rd Cat race did seven and three quarter laps for a race distance of 84 miles, with the Masters & Juniors completing five and three quarter laps for a 61 mile total.

PRE RACE:
Prior to the race I managed to grab a quick word with one of the pre race favourites, Plowman Craven Madisons Tom Murray. He said he was really up for the race and that he and team mate Tom Barras had decided to concentrate on the div' champs instead of the Edinbugh Nocturne. With the hectic schedule of late he was happy to finally have a weekend at home!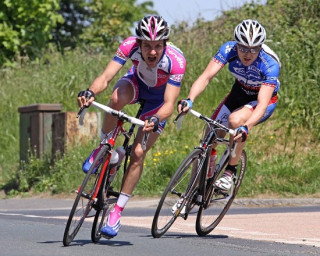 THE RACE:
The Elite, 1st, 2nd & 3rd cat riders set off from the HQ at Penistone Grammar School at 10am, followed 15 minutes later by the Masters C+ & Juniors. Almost from the gun the breaks started and by the time the main race came around to complete the first lap Tom Murray, Kit Gilham & York Cycleworks James Sharp were away. However, they were quickly brought back to the peloton and it was then the turn of Plowman Craven Madisons Tom Barras, Ashley Brown of Sportscover, Corley Cycles Mark Wordsworth and Adam Duggleby to have a go off the front.

This also came to nothing, although as the group came back together Tom Barras went again, with Richard Hepworth of Arctic Premier managing to get his wheel. This injection of pace fractured the whole field as many riders struggled to cope with a course that had nowhere to take a breather. By the time the leaders came around again, the two had become seven, with Barras's team mate, Tom Murray joining the group, together with the Sportscover duo of John Tanner and Kevin Dawson and James Sharp of York Cycleworks who had been involved in the early moves.

With two each in the break, Plowman Craven & Sportscover were both in great shape, although by the bell the two Toms of Plowman had broken away, with only the former back to back National Road Race Champion John Tanner having the legs to go with them. This break stuck and as the three took the final bend, Tom Barras went early and Tanner just couldn't get the wheel having to settle for second, with Tom Murray 'celebrating' his third as he crossed the line, far more for the benefit of his mum's camera than mine!

In the Masters C+ & Juniors race there was only one break and it stuck throughout the race, with the two Juniors, Jake Tanner of Sportscover and Joshua Edmunson of Glendene being joined by Masters D rider Dave Compston of Bridlington CC. Working well, they stayed away, until with two to go Joshua Edmunson took off and stayed away to take a comfortable victory, with Jake Tanner repeating his dads efforts of a silver medal, followed by Bridlingtons Dave Compston.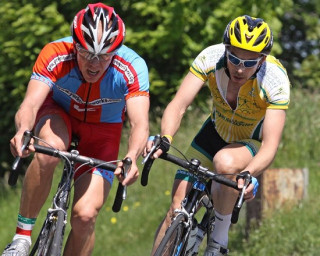 POST RACE INTERVIEWS:
Back at the HQ I managed to have a word with the main protagonists.

Tom Barras (1st); "I'm very happy to win for Plowman Craven Madison. It's at a point in the season when we need to be getting results. I've ridden five criteriums this past ten days so I wasn't sure how my legs were going to be. It's a very difficult course, very hilly, very warm and it took us 70 miles to form a selection. Tom Murray, my team mate rode really well for me, totally selflessly. He split the group and I managed to outsprint John Tanner at the end".

When asked why he and team mate Tom Murray had decided to ride the Div' Champs, not the Edinburgh Nocturne he said " The thing is our team has been going through a difficult time, so we're here to get results and keep up the profile for the sponsors. To keep getting Plowman Craven Madison in the press. Obviously we're both local lads so it's nice to win on home turf. It was fantastically organised, full credit to Jason (Metcalfe) and thank you very much to all the marshalls.

John Tanner (2nd); "It was a really good race I thought. Quite hard, the circuit really wore you down. All the main contenders were in the break and it was just then a case of a wearing down process. I got away with Tom Barras and Murray, but there wasn't alot I could do at the end. Tom (Barras) went really early in the sprint.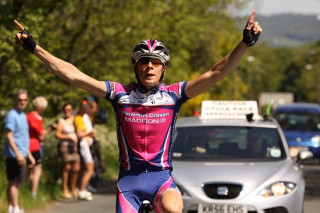 Tom Murray (3rd); "It was a hard race! First few laps Sportscover had a few more men than us. Every time you tried to get away, they pulled you back. It was hard with just the two of us, but it made a good race of it. Tom (Barras) went away with Richard Hepworth, then Kev Dawson went across to that, so I just did a do or die with about three laps to go up the hill and managed to get across. Tom was really strong today so I said to him, you go for the sprint and I'll go for the long one. It worked out perfect really".

Elite Result
1st Tom Barras Plowman Craven 3hr 50mins 12secs
2nd John Tanner Team Sportscover @ 1 secs
3rd Tom Murray Plowman Craven @ 15 secs