2009 Tour Series: Woking

June 3, 2009

Dean Downing Wins Tour Series in Woking

After an attacking and sometimes dangerous race with crashes for Russell Downing and Graham Briggs to name but two, Rapha Condor's Dean Downing has won his second Tour Series town centre race with a solo effort.

Proceedings were once again blessed with a warm, balmy evening of high-speed racing as the road show came to Woking. The Surrey town saw some furious racing early on, which resulted in the crashes however, all recovered their composure to play their part in another fantastic spectacle of city-centre bike racing.

After 20 minutes of racing, a small group of four riders, containing Malcolm Elliott (CandiTV/Marshalls Pasta), escaped and stayed away for almost 10 laps until the Halfords train reeled them in coming through the second sprint of the night. By this point the field had started to fragment – due in part to crashes and some high-speed pain being dealt out by the Rapha – Condor, Candi TV - Marshalls Pasta and Halfords squads.

As the race reached 45 minutes, Exeter-winner Dean Downing was at the head of affairs driving another small group of five riders, which was followed by some furious attacks firing off the front. Racing then settled with five laps to go as a group of around 20 riders started to think about the final.

With four laps to go Dean Downing launched himself off the front - as racing was by now averaging 32mph - he quickly gained a gap of around 5 seconds, extending it to enable a glorious two-armed salute as he crossed the line alone. Tony Gibb won the sprint for second, and Steven Adams took third, meaning that Plowman Craven – Madison won the team prize on the night, with Jeroen Janssen making up the three counters for his team.
Rapha Condor -- Team Series leaders -- Photo: Joolze Dymond (www.joolzedymond.com)

Having Dean, the British Circuit race champion, win the race alone though wasn't the intended plan for Rapha Condor with manager John Herety explaining the race strategy was for Dean to stay with the bunch and his other riders to get away to score points on their own or in a small break to get as many Rapha riders as far up the classification as possible.

But races are funny animals and although the other Rapha riders did try, it was Rapha's sprinter, Dean Downing, who was allowed to get away up the road to take the victory while the other Rapha riders, not known as sprinters, were back in the bunch. So as far as the team result goes, things weren't working out the way they were supposed to for Rapha.

Or did they? Despite not winning the team award on the night, the Rapha Condor team including the likes of Tom Southam, Darren Lapthorne, Simon Richardson, Rhys Lloyd and winner Dean Downing, did do enough to take over the leadership of the series and get themselves onto the podium in front of the big crowd. So after three races of the 10-round Tour Series Rapha-Condor moved into the overall team leaders' Blue jerseys, with Candi TV-Marshalls Pasta moving down to second and Plowman Craven - Madison in third.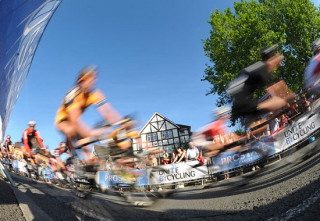 Photo: Joolze Dymond (www.joolzedymond.com)

II'm really happy to get my second win in the Tour Series" Dean Downing told British Cycling afterwards. "I attacked with about five laps out but no-one wanted to come with me. The gap was going up so I kept going while I think everyone behind was preparing for the sprint. I hear that my teammate Tom Southam attacked with a few laps to go and just got caught on the line. The team rode brilliantly tonight and its just a shame the tactics didn't work out as well as we would have liked."

"There was a time in the race when Darren and Rhys I think were away in a group of four and then Tom was up the road too with people trying to get across and Halfords bringing it back. I jumped across to it as well and we started working before a few riders stopped and that scuppered that one. It is a new concept this team type racing and it was about the team winning on the night and we didn't do that which was disappointing.

Dean explained that his race was not with out hiccups including get caught behind one of the crashes early on and then having a problem with a gear lever. "I had a mechanical with 10 to go when my gear shifter stopped working again so I had a bike change to the spare."

"It was a fantastic atmosphere" Dean explained when asked about the course in Woking. "The course did have an incline but it was big ring and quite fast. After 30 or so laps though, it was getting grippy and that was where I attacked with five to go. On paper, the circuit looked really tight but it was a really fast course with smooth roads with a few tight corners but nothing dramatic."

Asked how his legs were holding up after doing three crits since last Thursday all in different parts of the country, the Rotherham rider explained "my legs felt really good tonight. Clearly, Edinburgh was not my type of circuit as I like them fast and flowing and so before tonight, I was ready for a good race." Dean then added he was going to drive home to Rotherham this (Tuesday) evening and was then intending to do a three hour ride on Wednesday.

"I'll probably do two or three hours, just riding around. We did a similar ride yesterday (Monday) with Malcolm (Elliott), Graham and Rus (brother Russell) and some other lads who we met at a cafe and we might do that tomorrow. We'll just cruise around and have some fun and a chat. It's good to be riding but you can't do much structured training between all these."

Finally, I put it to him he is obviously enjoying racing a lot in the British champion's jersey? "Sure, you get added morale wearing the jersey in big event like this. I spoke to Jimmy Mac (James McCallum) after the race about his time in the jersey and he had a bit of a bad spell breaking his shoulder and having two operations and he said to me 'obviously your jersey is not cursed like mine was!".

After this second win within a week, obviously not Deano!

Individual Results – Round 3 – Woking 02.06.09
1. Dean Downing RAPHA-CONDOR
2. Tony Gibb PLOWMAN CRAVEN - MADISON
3. Steven Adams PLOWMAN CRAVEN - MADISON
4. Russell Downing CANDI TV – MARSHALLS PASTA
5. Rob Hayles TEAM HALFORDS-BIKEHUT
6. Yanto Barker SIGMA SPORT SPECIALIZED SPORTFUL
7. Jeroen Janssen PLOWMAN CRAVEN - MADISON
8. Tom Southam RAPHA-CONDOR
9. Simon Gaywood TEAM CORLEY CYCLES
10. Ian Wilkinson TEAM HALFORDS-BIKEHUT

Team Results – Round 3 – Woking 02.06.09
1. Plowman Craven – Madison
2. Rapha – Condor
3. Candi TV – Marshalls Pasta
4. Team Halfords Bikehut
5. Sigma Sport Cycling Team
6. Sports Beans – Wilier
7. Team Corley Cycles
8. Endura Racing
9. www.cyclingbargains.com
10. BMC UK Racing Team

Sprint
1. Malcolm Elliott, CandiTV/Marshalls Pasta

Team Standings after Round 3
1. Rapha – Condor
2. Plowman Craven – Madison
3. Candi TV – Marshalls Pasta
4. Team Halfords Bikehut
5. Sports Beans – Wilier
6. Sigma Sport Cycling Team
7. BMC UK Racing Team
8. Team Corley Cycles
9. www.cyclingbargains.com
10. Endura Racing

The race now moves to Peterborough on Thursday 4th of June. Follow the Tour Series on ITV4 at 7pm on Wednesday's and Friday.