Follow britishcycling.org.uk on
Something Old, Something New, Something Borrowed, Something Blue!

Words, Images & Musings by Joolze Dymond
December 2009
Joolze Dymond looks back at the 2009 season and selects some of her favourite images and memories from a busy 12 months in the sport.
The 2009 season has seen a fantastic surge in new events, competitive and non-competitive, both on and off road. There was endless enthusiasm and huge participation levels everywhere we went, despite everything the weather gods threw at the riders! This year has seen me travel from one end of the UK to the other: if I added up the miles I've travelled in the trusty camper, I'm sure I could have circumnavigated the world a few times!
Still I'm fortunate to have a job that takes me to the heart of the action and am able to watch as the year unfolds and capture thousands of moments along the way of riders tackling their own personal challenges. This is a mere snapshot or two of the images taken and events visited throughout the year. Once again I've seen drama, witnessed tears of happiness and disappointment, been there to congratulate and commiserate and cheer everyone on. I've watched some truly amazing performances along the way, riders pushing themselves well beyond their comfort zone in pursuit of their ultimate goals.
I've been fortunate to be part of the revival of the UK's premier XC series; the BMBS has been once again revitalised and has seen numbers increase. It's also been a year that we've had to say farewell to a few familiar faces and welcomed a whole new raft of talented riders: as I said this is just a mere glimpse of the many aspects of our sport. Long may I continue to get the opportunity hide in ditches capturing the passion and excitement that cycling in it many forms delivers on so many levels!
SOMETHING OLD....

Cyclo-Cross... One of the oldest forms of our sport, which is a favourite with young and old throughout the UK and a real leveller. 2009 has seen an upsurge in popularity across the board with an influx of mountain bikers discovering even more muddy fun off road with skinny tyres! What you let yourself in for is1 hour of intense effort in sometimes the worst weather you can imagine and still they come!
The first image was taken at a frosty Peel Park in January as Bradford hosted the National CX Championships. The second shows Jody Crawforth take a much longed-for senior championship win. Paul Oldham was second and Roger Hammond third.
SOMETHING NEW

The Tour Series: If someone had told me last year that I would spend 10 days of my life in a cordoned off section of various town centres with 40 riders bearing down on me at ridiculously fast speeds, without so much as a ditch to hide in, I'd have scoffed.... That is until I got involved with the Tour Series! This new concept is all about teamwork, not the usual individual: this time everyone counts.
I don't cover a lot of road events, due to the fact that there is more than enough off road events to keep me busy, however the chance to get involved with this exciting new concept was more than I could resist and it was held on weekdays. Ideal! Little did I know what I was letting myself in for! Luckily I was guided in the art of keeping myself out of trouble by the master himself, Larry Hickmott, and I will be forever grateful that he let me shadow him for a race or two whilst I got my bearings!
The first image is taken at the Chester round. Despite a slight downpour, it didn't dampen either the racing or the fantastic support as spectators crowded round the course to watch the action unfold around this historic town.
The second image is one I couldn't resist: after the race at Blackpool I headed back to my car and saw a fabulous sunset unfold before me, it seemed a perfect end to another perfect day on the Tour Series...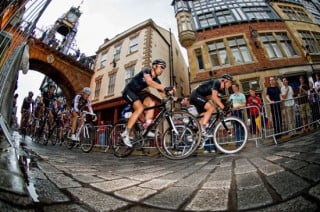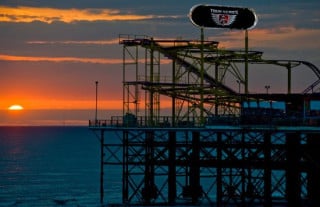 Montane Kielder 100: This is most definitely the new kid on the block, an exciting new event that went way beyond expectations and has already acquired a legendary status amongst riders in only its first year. The concept: 100-mile race, off road, in one lap. This isn't something entirely new, as in the States this format has been popular for many years, but in the UK the challenge has always been to be able to find an area that you could feasibly run a 100 mile loop and this year the chaps and chapess that are Sip Events came up trumps with Kielder forest and the event was born!
I love this image from the event, especially the look in the piper's eyes as the crazy cyclists whizz past - the piper was situated at the point riders crossing over from England into Scotland at the famous Bloody Bush Toll. They really should have stopped and paid the piper his toll, but I guess they were focusing on getting round! It took the winner just over 8 and a half hours.... A real epic...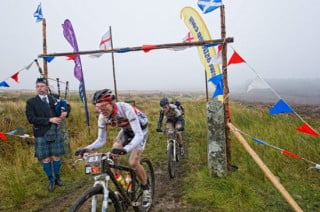 Dalby Forest: With UK hankering for a World Cup XC race somewhere in England, Dalby Forest in North Yorkshire was chosen as the place to be. With this in mind a test race had to be run and the riders of the BMBS were chosen to race it. Dalby Forest became round 2 of the UK's premier XC race series. The first image brings a smile to my face as it shows Oli Beckingsale hamming it up for the camera at the infamous Worry Gill. A tricky little drop just a mile or so after the start. I spent a few hours there watching riders ride up to the edge on practise day and stop and ride away, it was entertaining to say the least. The second image shows Oli in the race itself as he confidently surges on, taking the win ahead of Australian visitor Dan McConnell.
Images 6 & 7
SOMETHING BORROWED....
Gunn-Rita Dahle Flesja: A very tenuous link here, but I guess you could say we 'borrowed' Gunn-Rita Dahle Flesja the queen of XC racing for the final round of the BMBS! This image depicts Gunn-Rita as she charges over one of the many river crossing that Newnham Park is renowned for! Just 6 months earlier she had become a mum for the first time and Newnham was a chance to pick up some UCI points and get some training in. The week prior she'd picked up the European Marathon champs and so you could definitely say she is on the comeback trail! The race itself was won by Annie Last who has had an outstanding year, with so much more to undoubtedly to come.
Annie Last: This young lady is hotly tipped for greater things! Her hard work and steely determination in all aspects of her life has seen her rise steadily through the ranks, taking each challenge in her stride, including studying full time for all-important exams. 2010 will be her first year as a full time cyclist but she knows that success is built on hard work and knows that success on the international stage is within her grasp as long as she builds up to it steadily. This year certainly saw her emergence as an athlete to be reckoned with internationally as she rode a stunning race in the European Championships coming close to a medal in her first year as an espoir (she finished just outside in 4th spot after riding most of the hilly race stuck in the big ring!) Couple that with a National XC win in the espoir race whilst mixing it with the seniors, plus an incredible win on the last round of the BMBS where she out-sprinted World Cup regular Kate Potter. It's another tenuous link, but this straight-A student is most definitely heading for greater things and her opponents are perhaps winning on "borrowed" time!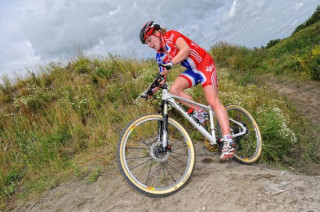 SOMETHING BLUE....
I had to include this image; it's one of my favourites of the whole year. Taking photographs of riders at night time poses many challenges, not least capturing an interesting shot without causing any danger to the rider. There's nothing like firing off a flash direct in a riders face just as they tackle some extreme technical section... It's something I'll never do... So my challenge is to capture an image in an interesting way, which is why you see me wandering around staring into utter darkness on times... Occasionally inspiration comes from the craziest things, like the organiser placing a few glow sticks in the bushes and me just happening to have a pocket full of fairy lights... I just knew they'd come in useful one day... I was right....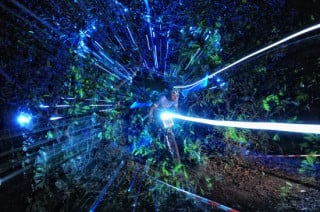 Sometimes the organisers provide their own version of fairy lights as this image from Twentyfour/12 proves. I had to include this image as it represents so many 24 hr races that I attend. It brings a wry smile to my face as I remember sitting in the food tent muttering to myself at 3 in the morning that I needed 'just one more shot.' I finally prised myself away from the warmth and headed for the lights. Then began snapping and one just turned into lots, as I loved the effects. Then, as I fought the overwhelming tiredness you get at staying awake all day and night, I started to empathise with the soloists who tell you tales of weird hallucinations. I started to hallucinated myself and pretty soon decided enough was enough and returned to 'the bus' for a quick 3 hour nap... Oh the glamour of it all....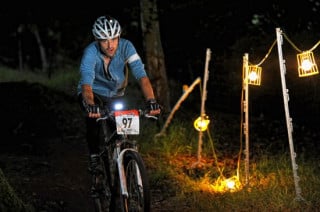 Talking of taking images at night time, here is another favourite of mine from Dusk 'til Dawn. This involved sitting out on a crisp cold evening looking for inspiration: again, so as not to startle the riders, the challenge was to capture an evocative image without using flash or any type of lighting. The only lighting used is that provided by the riders. That is a real challenge as one thing digital cameras hate is focusing on dark images, it's incredibly difficult, especially if that image is moving! Still I managed to rack up a few that captured the atmosphere of the event.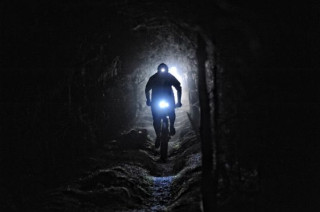 The fourth night time image is again from D2D, again no flash just using long exposure. The beauty with this image is the angle it's taken from. The organiser Paul Hore is an expert on farm machinery and he knows all the right people and managed to blag a 'Scorpion' for the event. This fantastic machine was able to lift me up and dangle me over the racecourse, which enabled me to get this fantastic image as the riders surge forward on the start of their 12hours of fun.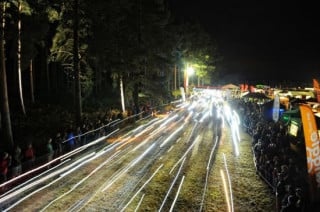 AND NOW FOR SOMETHING COMPLETELY DIFFERENT
It's not all racing... Sometimes I get commissions to do more fun stuff like taking portraits of riders or teams, and occasionally weddings! The first image is of Kate Potter, as you don't normally see her, not moving! This active young lady has had an eventful year tackling a full schedule of World Cups worldwide, culminating in representing Australia in the World XC Championships on home territory where she came home in a fantastic 24th spot and more importantly first Aussie. Not bad seeing how she only took up mountain biking a little over 6 years ago. She's come a long way since that fateful mtb holiday in Greece!
The next image is a team shot of the HOPE team. Paul Oldham is now joined on the MTB circuit by Dave Collins whilst Keith Murray flashes Hope colours at all the 'cross events supporting Paul who is currently on his way to the overall Series win for the second year. This team shot was taken in the pitch dark just after R5 of the CX National Trophy! It was cold but fun and we would have finished a lot earlier if I hadn't been laughing so much!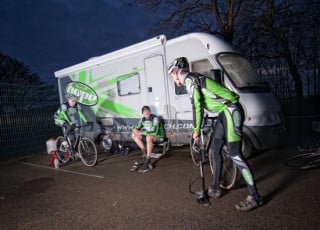 Finally, race commentator and Marin PR man Tony Harris as you probably have never seen him before and that is saying something! Tony is a regular commentator for the popular Whyte Winter Series & D2D over in Thetford. He usually turns up at every race in all manner of outfits to brighten up the day! Here however he's dressed up for one of the most important days of his year, his wedding! Having spent the summer getting hitched hundreds of times in his other job as Henry the 8th, now it was his day and here he is in all his finery at the Manchester Town Hall next to his lovely bride Julia. It was a great day and I was privileged to have been asked to provide the photography! Fortunately mud was in short supply!!
So there you go a brief glimpse into how I spend my year, mainly in ditches, sometimes with a soft covering of mud, capturing images that I hope will inspire others to come and give the sport a go. It's a great life, if you like ditches and mud oh and sport of the two-wheeled variety. I'm privileged to be able to watch from said ditch, freezing those all important moments of time to enable riders remember and relive, all the emotion and exhilaration that this sport brings in bucket loads! See you out there!