2009 UCI Paracycling World Road Championships - Day 1

September 11, 2009; Bogogno, Italy; by Barney Storey

Team Great Britain's World Championships were started today by our male handcyclist Rob Wickham. Rob produced a career best at the World Championships with a solid 10th place in HCB category. Against a strong field Rob was pleased with his performance. British Cycling spoke to him once he had finished his warm down.

Rob commented on the course conditions today:
"The wind was far less of a problem today than in the training days, with the down hill sections not quite as quick as previously, but overall the conditions were near perfect."


British Cycling also asked Rob about his history and how he got involved with racing hand bikes:
"I was born in Zimbabwe and my parents are British, whilst living in America I took up handcycling in the year 2000, then moved to the UK in 2004, with some success coming in the European handcycling cups(EHC) in the last few years. These previous results were fundamental in my selection for the World Championships this year. Overall I am really pleased with the time trial performance and looking forward to the road race next"

Result
1. Jean-Marc BERSET (SUI) 30Mins 45.38secs
2. Vittorio PODESTA (ITA) 31Mins 21.35secs
3. Heinz FREI (SUI) 31Mins 35.41secs
10. Rob Wickham (GBR) 34Mins 7.83secs
Next up in the morning session was Rachel Morris in her newly classified category of HCC. This new classification caused a real surprise for the Great Britain team, but as ever, Rachel battled through the last 24 hours and as Rachel said "let the bike do the talking!"


Rachel finished an excellent 6th place, beaten only by the more able kneeling athletes. With classification due to change again for next year, Rachel will surely have a far fairer classification category.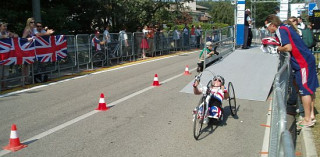 British Cycling asked Rachel how the year had been leading up to the champs and how she had dealt with the new category change:
"I've had a tough year with operations and spending time in hospital, so I am really pleased with my time today. The last 24 hours have been difficult too, with the class change, which was a big shock. But I was determined to let my bike do the talking! As soon as I went down the start ramp I was straight into the race zone."
Result
1. Andrea ESKUA (GER) 16Mins 49.37secs
2. Laura DE VAAN (NED) 16Mins 56.49secs
3. Monique VAN DER VORST (NED) 17Mins 6.47secs
6. Rachel Morris (GBR) 18Mins 44.07secs
The afternoon session had our National time trial champion Russ White riding for GB. Russ produced a superb performance with 10th place LC1 in a very competitive category.

After his ride British Cycling spoke to Russ, who was upbeat about his performance in his weaker event, the road time trial:
"The race was a good result for me, it was a quality field and I was very happy with my performance. I've been competing mainly in able-bodied races all year in preparation for the World Champs and feel like my form is perfect. The time trial is always my weaker event, so I will be aiming high in the road race on Saturday!"

Result
1. Wolfgang EIBECK (AUT) 25Mins 37.05secs
2. Michael GALLAGHER (AUS) 25Mins 37.40secs
3. Soelito GOHR (BRA) 25Mins 55.03secs
10. Russ White (GBR) 26Mins 55.98secs
Last competitor up for GB in the afternoon session was Simon Richardson in his new category of LC2. Simon finished a solid 4th place, riding with a torn calf. The new system Simon rides means he rides with slightly different length cranks, although this is not compulsory for all riders in this class.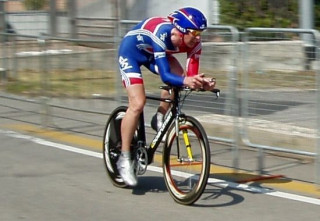 British Cycling asked Simon how the race went and how he is adapting to his new category:
"I am pleased with this time trial result, especially when I have only been riding the new system for the last 3 weeks, plus with a slight injury, this has been a good result for me. I caught my minute man within the first couple of kilometres so that spurred me on."

Result
1. RobertoALCAIDE (ESP) 25 Mins 23.40secs
2. Carol NOVAK (ROU) 25 Mins 26.82secs
3. Jiri JEZEK (CZE) 26 Mins 6.72secs
4. Simon Richardson(GBR) 27Mins 0.65 secs