National para-cycling time-trial champions were crowned in the final round of the National Disability and Para-cycling Series at the weekend, with riders tackling the 'race of truth' at Thruxton Race Circuit in Andover.
The varied course included a smooth undulating track with tight chicanes, flowing corners and plenty of straights to really put the power down and gain some speed as they raced against the clock in the sixth round of the series, which doubled up as a national championships.
Tandem
Chris McDonald (PDQ Cycle Coaching) showed his talent with two very fast laps to kick off the tandem races. A slower fifth lap could have seen victory slip from his grasp, but McDonald and his pilot powered to first place in the men's tandem, ahead of Christopher Wilkins (FTP-Fulfil The Potential Racing) in second and Mason Bradley (Born to Bike Racing Team) in third.
In the women's tandem time-trials, Rachael Elliott (Newbury Velo) and Katie Crowhurst tussled for first and second positions, with Elliott just managing to take victory in a brilliant effort.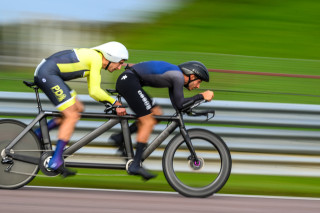 C1-5 categories
In the men's C5 field, the world C5 road race champion William Bjergfelt took the win ahead of Alex Jones in second and Mark Valentine (Poole Wheelers CC) in third.
World C4 road race bronze medallist Archie Atkinson (Para-T) clocked the quickest race time of the C1-5 categories, coming home in 28:49 over the six laps. Atkinson's undeniable speed saw him be crowned the national C4 champion ahead of Ben Payne (Maidenhead and District CC) in second and Wayne Harrod (Flatlandria.cc) in third.
The world C3 road race champion Finlay Graham (Para-T) took the top podium in the C3 category, 35 seconds ahead of Ben Hetherington (HUUB WattShop) in second, with Jacob Smith rounding the podium off in third.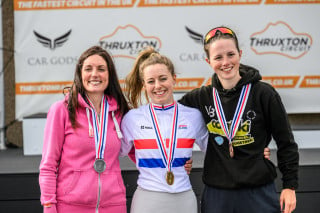 In the men's C2 time-trials, Matthew Robertson (Woolwich CC) took the victory ahead of Rik Waddon (Para-T) in second. Florian Combe was crowned the winner in the C-D men's field, with Charlie Holman claiming second.
In the women's C1-5, world C2 time-trial bronze medallist Amelia Cass (Loughborough Students CC) took another national title ahead of Cheryl Went (North Essex Velo) in second and Rebecca Newark (Contiki Velo Bavarian RT) in third.
Handcycle and tricycle categories
There was no slowing down James Coxon (Caerphilly Cycling Club) this weekend, setting a rapid race time of 23:22 over five laps to take the win in the men's tricycle recumbent field. James Hubbard came home in second place.
In the T1-2 open category, James Crossley (Bicester Millennium CC) took the victory, followed by Calum O'Neill in second and Felix Barrow (Meon Valley Cycle Club) in third.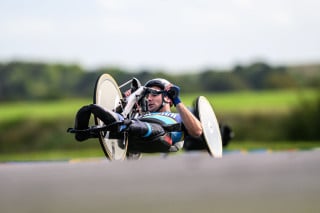 The handcycle time-trials rounded off the day, with Alex Brooke-Turner (Dulwich Paragon) recording the fastest time in the men's H4 class, 39 seconds ahead of Callum Russell in second. Mark Allen (Army Cycling Union) came in third. In the H2-3 open category, Luke Jones claimed first place, ahead of James Puttrell in second and Claire Danson in third.