The Tour of Britain once again makes its way across the UK from Sunday 3 to Sunday 10 September for eight epic stages, with the best riders in the country taking on global stars here on home turf. Here we've pulled together all the key information you need to follow the action.
Watching from the roadside
The Grand Depart will see riders leave the start line in Altrincham to Manchester for the first stage on Sunday 3 September, with Greater Manchester hosting a weekend of cycling events and activities to build up to the start of the race.
Having hosted a stage of The Women's Tour last year, Wrexham will host the second stage, before riders will take to the third stage starting in Goole and finishing in Beverley.
Stage four will see riders return to Nottinghamshire, racing from Sherwood Forest to Newark-on-Trent, before a seaside trip starting and finishing in Felixstone on stage five. The riders then visit Southend-on-Sea and finish in Harlow for the sixth stage and will tackle the Gloucestershire hills on stage seven from Tewkesbury to Gloucester.
A return to the legendary Caerphilly Mountain climb forms part of a spectacular final stage in South Wales, with riders starting in the picturesque Margam Country Park and finishing near Caerphilly Castle.
Find out more about all the stages, including where you can watch and all the key timings here.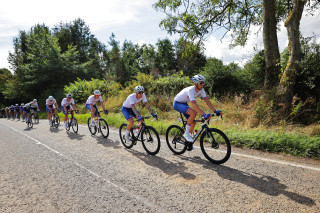 Cheering on the Brits
The Great Britain Cycling Team is once again fielding a strong seven-man squad of talented riders for the Tour of Britain, including elimination world champion Ethan Vernon and scratch European champion Ollie Wood.
Having both competed at the 2023 UCI Cycling World Championships, where Wood also won a silver medal in the men's Madison alongside Bolton Equities Black Spoke rider Mark Stewart, the British riders will be ready to race on home soil once again after the success of Glasgow. Stewart will also be competing in The Tour of Britain alongside teammates and fellow Brits Matt Bostock and Jacob Scott.
Wood and Vernon will be joined in the Great Britain Cycling Team by recent winner of the Arctic Race of Norway Stevie Williams, and promising 19-year-old Noah Hobbs, who finished fifth at the National Circuit Championships and third at Ronde van de Achterhoek this weekend. Josh Giddings and Jack Brough complete the line-up, having both raced competitively on the road this season and working well for their respective teams.
The team will also be rubbing shoulders with British WorldTour team INEOS Grenadiers, with Tom Pidcock ready to redeem himself after a second-place finish in a shortened Tour of Britain last year.
UCI Continental team Saint Piran has a strong squad of British riders competing, including Alex Richardson, Harry Birchill, Finn Crockett, Zeb Kyffin, Jack Rootkin-Gray and Bradley Symonds, having dominated the National Road Series this year with a clean sweep of podiums in each round. TRINITY Racing will also be competitive at The Tour of Britain for another year, with Lukas Nerurkar, Bob Donaldson, Finlay Pickering, Oliver Rees and Max Walker ready to take to the start line.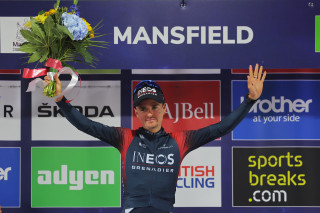 Broadcast details
Every stage of the The Tour of Britain will be televised live on ITV4 in the UK, and can be viewed worldwide on Eurosport and GCN.
Stage one: Altrincham to Manchester (Sunday 3 September)
Live: 11:30am – 4:30pm
Highlights: 8pm – 9pm
Stage two: Wrexham to Wrexham (Monday 4 September)
Live: 11:30am – 3:15pm
Highlights: 8pm – 9pm
Stage three: Goole to Beverley (Tuesday 5 September)
Live: 11:15am – 4pm
Highlights: 8pm – 9pm
Stage four: Sherwood Forest to Newark-on-Trent (Wednesday 6 September)
Live: 11am – 4pm
Highlights: 8pm – 9pm
Stage five: Felixstowe to Felixstowe (Thursday 7 September)
Live: 10:30am – 4pm
Highlights: 9pm – 10pm
Stage six: Southend-on-Sea to Harlow (Friday 8 September)
Live: 11:30am – 4pm
Highlights: 8pm – 9pm
Stage seven: Tewkesbury to Gloucester (Saturday 9 September)
Live: 11:45am – 3:45pm
Highlights: 8pm – 9pm
Stage eight: Margam Country Park to Caerphilly (Sunday 10 September)
Live: 11am – 4pm
Highlights: 8pm – 9pm
ITV4 is available on Freeview (channel 25), Freesat (channel 117), Sky (channel 120), Virgin Media (channel 118) and the ITV Hub (online) in the UK.
Find out more here and download the Tour of Britain race guide here.