Cat Ferguson and Elliot Rowe claimed Youth A national champion jerseys in the National Youth Circuit Championships at the Scarborough Festival of Cycling, while Leon Atkins and Mabli Phillips were crowned the Youth B national victors.
Youth A Girls
Cat Ferguson (Storey Racing) was crowned the national champion after 60 minutes of racing in Scarborough to continue her winning streak from the National Youth Circuit Series.
49 riders took to the start line, and a main bunch of 27 formed as riders dropped off the pace. The relentless course continued to take its toll and reduce the group, with Ferguson, Isabel Mayes (JRC-INTERFLON RT), and Arabella Blackburn (Deeside Thistle) leading the bunch.
A break of five including Ferguson, Blackburn, Shibden Cycling Club's Alice Colling and Imogen Wolff, and Ruby Oakes (JRC-INTERFLON RT) got away, while five other riders chased.
Ferguson attacked on the climb with three laps to go, gaining 15 seconds on a chasing Colling, and 50 seconds over the chasing group.
Ferguson continued to lead and managed to claim the win one minute ahead of second-placed Colling, while it was a bunch sprint for third, with Madeline Moorhouse Smith (Shibden CC) taking the final place on the podium ahead of teammate Wolff.
Youth A Boys
The Lewis Barry Memorial Race saw an incredible 105 starters take to the start line on Sunday, with Elliot Rowe (Anexo Group RT) taking the win from a breakaway to claim the red, white and blue stripes.
Eight leaders were out in front by the second lap, including Rowe, Finlay Tarling (FlandersColor Galloo), Seb Grindley (North Cheshire Clarion), Oli Dawson (RTD-JsCycleShack), William Salter (Backstedt Bike Performance), Finlay Hawker (VC Londres), and Joseph Cosgrove (PH-MAS-Paul Milnes Cycles).
The front group managed to stay away, with Tarling attacking with five laps to go to put himself in the lead.
Rowe, Grindley and Cosgrove managed to bridge the gap with two laps to go while groups behind continued to chase.
Tarling briefly dropped off the pace but managed to chase back to the front group with Hawker in tow.
Rowe took the win ahead of Grindley, while Tarling pinched third over Cosgrove.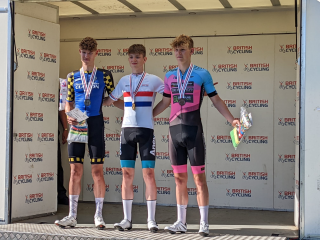 Youth B Girls
The Youth B girls took on 55 minutes of racing on the technical course, with Mabli Phillips (Maindy Flyers CC) taking the win with an incredible solo effort to be crowned the national champion.
The first time over the climb, the group split up with a lead of 11 riders and nine chasers, but eventually came together.
Phillips, Zoe Roche (WXC World Racing), and Melanie Rowe (Deeside Thistle) managed to breakaway, while Megan Cherry (Origin Race Team), Rose Lewis (Halesowen A & CC), and Phoebe Taylor (Eastlands Velo) chased.
The climb continued to split the race up as riders struggled.
With less than three laps to go, Phillips got away solo, with Rowe chasing behind.
Phillips managed to gain 1:10 on the bunch with one lap to go and took it straight to the line to claim another victory.
Rowe took second from her commendable solo effort, and Lewis claimed third to complete the podium, while tenth place finished around three minutes after Phillips.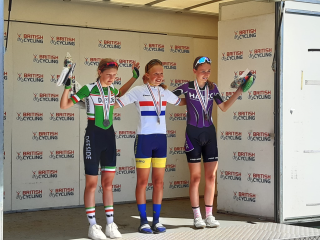 Youth B Boys
The Youth B boys race was fast and aggressive from the start, but it was Leon Atkins (Welwyn Wheelers) that proved most dominant to claim the national champion jersey.
Alex Coles (Evolution Racing Academy) and Elliot Speedle (Edinburgh RC) went clear while the bunch actively chased, but Speedle soon dropped off the pace, while Coles was joined to make a leading group of nine with five laps to go.
The breakaway reduced to four riders, formed of Atkins, Coles, Daniel Thompson (Cleveland Wheelers), and Steffan King (Maindy Flyers), with chasers Edwin Boyles (Preston Park), Matthew Fletcher (4T+ Cyclopark), Oscar Lawrence (Velo Club Venta), Gus Dutton (VC Londres), and Oliver Swinburn (Velo Club Lincoln).
The front four gained 1:10 on the remaining bunch of 12, before Coles attacked on the climb with two laps to go, taking Atkins with him, and Thompson rejoined after chasing hard.
The top three sprinted for the line, with a photo finish for one and two, that resulted in Atkins taking the win over Coles. Thompson took third to round off the podium.
The youth riders will now turn their attention to the final event on the National Youth Circuit Calendar - the North West Youth Tour in Lancaster, 27-29 August.