The rolling countryside of Hatherleigh, Devon played host to the opening rounds of the 2022 Junior Men's and Women's Road Series on Sunday, with a strong turnout of riders competing in brutal weather conditions.
Junior and U23 Women's


An extremely animated race unfolded, with Awen Roberts (Liv Cycling Club) and Ella Maclean-Howell (Tofauti Everyone Active) opening things up with an attack 15 miles into the opening lap. A chase group formed with Freya Eccleston (Brother UK-Orientation Marketing), Amy Loftus, Holly Bailey (JRC-INTERFLON Race Team) and Lowri Richards (Backstedt Bike Performance RC) but all were brought back by an active peloton. It was Maclean-Howell's powerful effort over the top of the long climb near Broadbury that finally split the race into multiple chasing groups.
Maclean-Howell had established a lead of 20 seconds as she rounded the church in the village of Jacobstowe for the first time, and remained within sight of a chasing group of 15 riders for several miles. This lead was extended when a sharp rain shower temporarily took the momentum out of the chase and Maclean-Howell was able to draw away and develop an impressive advantage of over 2 min 30 as she began the final lap. By the finish, and as she crossed the line victorious, the gap was out to 3 minutes 31 seconds. Lotty Dawson (Backstedt Bike Performance JRT) took the sprint for second from the chasing group with Libby Smithson (AWOL Worx Galliard) in third.
Junior Men's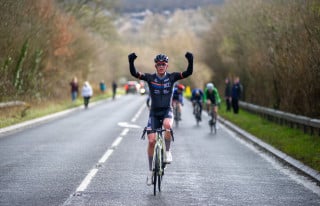 The Junior Men's National Series race took place in worsening conditions during the afternoon, with the drop in temperature and falling rain making for a challenging environment.
Josh Golliker (TrainSharp Development Team) and Jamie Whitcher (BmthCycleworks VitecFire FordCE) set the tone with an attack early and were to prove a dominant force throughout the race.
Matthew Coles (BCC Race Team), Lucas Jowett (FlandersColor Galloo), Noah Hobbs (TEKKERZ CC) and Nathan Hardy (Tofauti Everyone Active) bridged across to form a strong leading group of 6, but after 16 miles they had been caught and peloton was back together.
It was Golliker who was to make the next move, going clear with Alex Franks (VC Londres) after 31 miles. Franks was to drop back to a chase group of 5 including Euan Woodliffe (Backstedt Bike Performance JRT), Matthew Brennan (Fensham Howes – MAS), Dan Galpin (Bourne Whls CC), Whitcher and Hardy. This group was to later grow to 11 chasing riders when 6 riders bridged to it, but they were absorbed by the chasing peloton after 46 miles leaving Golliker still clear out in front.
Golliker found himself hunted down by a chase group of five including Oliver Peace (Tofauti Everyone Active), Matthew Cole (Beeston Cycling Club) Jed Smithson, Matthew Brennan (Fensham Howes – MAS) and Jamie Whitcher (BmthCycleworks VitecFire FordCE) with less than 9 miles of the race remaining.
With a gap of 2 minutes 20 seconds over the peloton it now became a battle between the front six riders and the elements. It was Matthew Cole who had enough left in the tank to attack the final climb to the finish, powering away to victory in a time of 2 hours 39 mins.
Jamie Whitcher won the battle for second place marginally ahead of Oliver Peace, with Golliker and Smithson in 4th and 5th. Cai Curtis-Roberts of Rhyl Cycling Club lead the peloton home 1 min 50 further back.
The next round of the Series will be the Velomax Junior and U23 Women Road Races taking place on Saturday 16th April at the Bovington Tank Museum, Dorset. Full details are available here.