Ribble Weldtite Pro Cycling are a second year UCI Continental team. They have made a progressive, holistic and sustainable year-on-year progression since their establishment in 2012, competing at a national and international level with objectives across road and time trial disciplines.
"The team has evolved over the past few years into its current setup", says Team Manager Tom Timothy.
"Originally we wanted to do something different, as we were frustrated by the approach of 'it's always been done this way' and felt that often the status quo wasn't in the best interests of riders, sponsors or the wider sport.
"One of the things that sets us apart is that we always try and question the status quo. There's a reason we had the whole team wearing aero socks before everyone else and racing in skinsuits, narrow handlebars, tubeless tyres etc. People might have questioned our approach at first, but now look at how the sport has evolved.
"We have always been clear that we want to form partnerships with the best suppliers to allow us to work with them and provide our riders with the best opportunities. We're proud of how we have outlasted a lot of large teams that have been reliant on personal relationships for sponsorship and really don't deliver any return for who they work with."
One of the most important elements for the team, Tom says, is to provide a platform that gets the best out of the riders.
"We want to develop riders to their maximum potential. I think the performance of riders such as John Archibald at last year's HSBC UK | National Road Championships justify this approach and our sponsors Ribble and Weldtite value the fact we provide them with detailed feedback, product development and brand awareness.
"In normal years our big domestic objectives are the Tour de Yorkshire and Tour of Britain, which really delineate the season and justify our investment to be a UCI Continental team. Alongside that we also look for week-to-week prominence and encourage our riders to continually race to win. We focus a lot on time trials, from the blue riband events such as the National 10-mile and 25-mile through to the National Time Trial Championships. The historic events in France that close out the season are also big targets for us.
"We are a British team, solely comprised of British riders and backed by a number of leading domestic brands. This is important for us to showcase ourselves continually and consistently at all levels across the UK.
"We combined this with a carefully selected international program which enables the riders to showcase themselves and provide a return on investment to our partners. We avoid working with sponsors that don't help our riders perform, as we know the best advertising is our team being happy with their equipment – and hopefully winning!
"We involve riders in decisions to provide valuable feedback to our sponsors and really help the whole team raise their game. We opt for a continued forum of open discussion, where all staff and riders are able to contribute to any area if they feel it would enhance the performance of the team as a whole."
While the 2020 season has been disrupted, the early stages of the season allowed them to achieve at the highest level.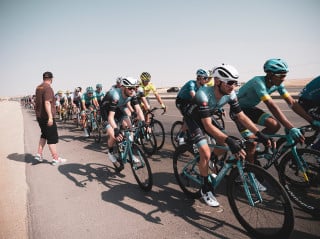 "This year we participated in the Tour of Saudia Arabia, an ASO event. It was the inaugural race and had a number of high-profile World Tour teams. We gained the invitation by virtue of not just our performances on the bike – like at the 2019 Tour de Yorkshire – but with our profile across social media and how we portray ourselves. We spend a lot of time and effort on this.

"The teams first elite road series win at Stockton GP 2019 was a great execution of a plan and a fantastic athletic performance from John, who rode away from the break of the day to win solo by a slim margin on the finishing circuits. This had further significance for us as it is the town the team is based in.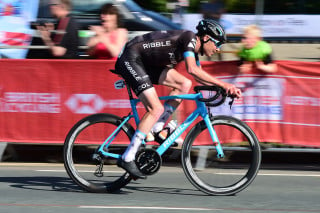 "In addition, John and Dan Bigham were selected to ride the UCI Road World Championships Team Time Trial Mixed Relay in Yorkshire, medalling alongside close friend of the team, Harry Tanfield, which was a fantastic achievement and tantamount to the standard John and Dan are at.

"Due to the lack of racing during lockdown, we've really taken the time to solidify what our riders are good at, with a lot of effort devoted to getting things we can control. Our internal 'project speed' has seen all our time trial specialists working hard at aero testing, whilst our road specialists have been getting in the miles in case racing returns.
"We've also made sure to try and keep things interesting, with riders getting out on gravel and mountain bikes. This lets us share some more of our sponsor's ranges – such as Ribble's gravel and off-road range – which we might not have been able to do otherwise. What's really important to us is knowing we have long-term support from our sponsors so we can ensure our riders can train without the stress of hunting for other opportunities."
Despite the absence of racing, the team has still been building up the miles to ensure they're in the best possible shape once it returns.
"As soon as we knew for definite in March the timeframe of Covid-19 and the implications that would have on racing, all of the riders immediately had a period off the bike, or a period with little to no riding.
"This then switched back to a 12-16 week phased build - the same as what we would do from the start of November. We built a base of fitness gradually in view of a tentative return to competition in July/August. Alongside that we have done some Zwift racing, but tried to use it sparingly. It is important for all riders to have a close to 'normal' annual year of training volume to continue or maintain their level into the 2021 season.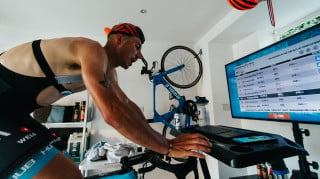 "Our tips for the current situation are to take things day by day: don't worry too much about things that are outside your control and set small goals to keep things fresh, whether that's riding a specific distance or targeting a Strava segment. Consider riding in a different way whether that's off-road or on routes you wouldn't normally ride on.
"We've a lot of personalities in the team and that's why we have riders that have stayed with us for years, we try and keep it fun. Cycling is hard enough without sucking all the enjoyment out of the team setup. We think we see that every time we go racing. We like to think we're the team that's actually enjoying it, rather than sitting around in silence before the start. Sometimes the music choice leaves something to be desired though (Jacob Tipper is not allowed to DJ)!"
Read about a day in the life of team rider Damien Clayton here, and follow Ribble Weldtite Pro Cycling on social media: