Rosamund Bradbury and Cameron Jeffers powered to victory at the first-ever national-level eSports cycling race, the British Cycling Zwift eRacing Championships.
Cycling ushered in a new chapter in East London today (Thursday 28 March) – fittingly at BT Sport Studios, a short walk away from Queen Elizabeth Olympic Park, home to one of the greatest British sporting events ever, the London 2012 Olympic Games.
Delivered by the national governing body of cycling, British Cycling, in partnership with popular virtual training platform Zwift, dominant displays from Rosamund Bradbury and CyclingHub's Cameron Jeffers during the multi-event finals – which included an elimination race, points race and scratch race – fired them to the top of their respective podiums and into the red, white and blue championship jersey on a history-making day of racing.
The first to cross the finish line in front of a 100-strong crowd in the Wahoo Scratch Race, Bradbury clinched the women's title ahead of Kiss Racing Team's Mary Wilkinson in a nail-biting sprint to the line. Separated by just one point, Sharon Bird of Vision Racing took bronze ahead of Welsh rider Leah Dixon.
Afterwards, Rosamund said:
"I'm feeling great now! It was pretty hard in that final race, it was so tactical. I got a good power up for the sprinting really early on, so I had to decide whether to use it and hope I'd get another one later or save it. And I went to save it and I'm glad I did. It really helped for the final sprint
"At the beginning of today, I didn't know what to expect. I could see I was quite strong on the sprints. But this last race, there were hills. And I'm obviously one of the bigger riders and don't have the advantage. But my rowing experience has really helped me. I've still got the power I used to."
A mammoth 13 points ahead of the field after two races, 22-year-old Cameron Jeffers was made to work for his championship jersey in the Wahoo Scratch Race clinching gold ahead of Canyon ZCC rider James Phillips. Tom Moses (Madison Genesis) completed the podium.
Jeffers added: "It's all a little bit surreal really. I finished twelfth in the qualifiers, then due to two guys dropping out of the finals I managed to promote myself to tenth and got a position in today's finals. I came to this race knowing that Madison Genesis had four guys in the line-up and in terms of out and out power numbers they were probably the strongest guys here.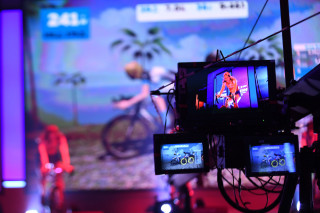 "I knew I didn't necessarily have the numbers, but the advantage that I could get over the four guys is course knowledge and knowing where to put the power down and where to attack. I've done a lot of course research, a lot of riding and racing on Zwift, and researching the different power ups. So, all of that put together, I managed to pull off the win.
Elimination race
Rosamund Bradbury kept her cool to take first blood and the maximum 25 points on offer in the championships opener, beating out Vision Racing's Sharon Bird into second place in a tense head-to-head. Bird's attack came too early in the deciding 2.8km lap of Zwift's LaGuardia Loop, allowing the former British rower to ride past with relative ease to claim victory.
It was a case of déjà vu in the men's race, as quickest qualifier Stevie Young flew out of the blocks early with a similarly ill-timed attack on lap one, before being swallowed up by the bunch to be eliminated first. Side-by-side in the BT Sport studio, but a mammoth 15 seconds apart on the virtual route, a masterclass from Madison Genesis rider Tom Moses saw him cruise to victory ahead of Cameron Jeffers in the final head-to-head.
HSBC UK Points Race
Dominant displays from KISS Racing Team's Mary Wilkinson, Rosamund Bradbury and Leah Dixon of Brother Tifosi in the women's race, despite a race neutralisation and restart. Wilkinson, Bradbury, Leah Dixon, Sharon Bird and Miriam Jessett kept things interesting in the hunt for points, whilst CyclingHub's Cameron Jeffers blew away the field to upgrade his second place in the elimination race to first, beating out George Pym, Gavin Dempster and Ian Bibby in a fast and furious sprint to the line, leaving both eRacing titles all to play for.
The racing – where the best 10 British men and women were whittled down from 400 riders after an online qualifying event late in February – was livestreamed in its entirety on the British Cycling website, with the final race of the day, the Wahoo Scratch Race, broadcast live on BT Sport 1 between 8pm and 10pm.