Steve Young (Team Canyon ZCC) and Illi Gardner (KISS RT) were the winners of the first British Cycling eRacing Championships qualifying race on Sunday.
In the men's race a total of 371 riders started the race but was quickly dominated by a leading group of 30 riders.
The leading group were together for most of the race, however it would come down to a 22-man sprint for the line.
Young led the men across the line, Adam Labbett finishing second and Young's Canyon ZCC teammate James Phillips in third.
The front group finished the 59km race in 1 hour 14 minutes.
In the women's race a leading group of 20 after one lap was split down to just 8, who pressed on with their attack at the front of the race to secure their top 10 place.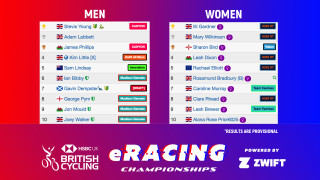 Gardner proved herself to have the best sprint to the line, with Mary Wilkinson and Sharon Bird in second and third respectively.
The top 10 will be confirmed in the coming days once all results have been scrutinised and then riders will then be invited to the live championship finals in London in the last week of March.
Venue and information around the final will be announced soon.