Published: 28 January 2019

British Cycling has today confirmed that the inaugural British Cycling eRacing Championships, powered by Zwift, will be hosted in London.
The live event in late March will see the top ranked men's and women's riders compete for a national jersey and £1,000 prize pot in a multi-event format comprising of an elimination race, scratch race and points race, with final race details to be confirmed in due course.
Delivered in partnership with Zwift, the live finals are preceded by a mass online race – the British Cycling eRacing Championships Qualifier – due to take place on a history-making morning of racing on Sunday 24 February. Anyone can compete in the qualifying event, however, to qualify for the finals and the national title, you must be a member of British Cycling.
The qualifying race will see the top 10 men and women from the qualifying event ride two laps of the same course, the Watopia Figure 8, over a total distance of 59.2km. Watopia is Zwift's most popular map where riders can accomplish feats otherwise impossible in real life, like pedalling through an active volcano and under the sea through a network of glass tunnels.
Taking inspiration from seaside attractions that line the Californian coast, the race starts on the main island from a visual mash-up of the piers in Santa Barbara and Santa Monica before heading north through the underwater tunnels and past the looming Jarvis Tree: a giant Sequoia, before heading back towards the pier via connecting islands to complete the first loop.
Jonathan Rigby, British Cycling Commercial Director, said: "Since announcing this new event in December, we've been delighted by the huge levels of interest within the cycling industry, but also amongst other sports.
"We're encouraging Britain's best elite women's and men's riders and teams to compete for the coveted national jersey, but the accessibility of Zwift means that everyone can take part – young, old, experienced, newcomers and athletes from other sports, as well as a few familiar faces.
"This has the potential to be a whole new sporting spectacle and could launch the career of a new superstar."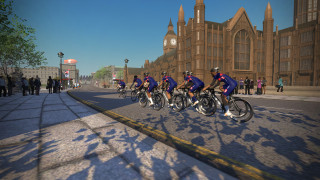 Eric Min, Zwift CEO and Co-Founder, added: "Both Zwift and British Cycling have a strong pedigree when it comes to uncovering hidden talent. The beauty of Zwift is that it's open to anyone and therefore incredibly accessible. This looks set to be the most open national competition to date – anyone with a British Cycling membership can win.
"I know of a number of domestic professional riders looking to claim the title, but wouldn't it be wonderful to see someone new emerge and take the stripes?"
The popular online training platform was unveiled as the Official Training Community of British Cycling in December 2018. Serving as the means to bring the national governing body's community closer, the two organisations have already combined to deliver virtual rides with Great Britain Cycling Team riders Steve Bate MBE, Jody Cundy OBE, Jon Gildea and Crystal Lane Wright.
Additionally, a championships-specific training plan will be available exclusively to British Cycling members – the British Cycling eRacing Championships Training Plan.
Any British Cycling member who has already unlocked their exclusive British Cycling kit in-game will be able to access the British Cycling eRacing Championships Training Plan via the Zwift Workouts menu.
Great Britain Cycling Team Academy riders Jim Brown, Ethan Vernon and Will Tidball will lead the next Zwift ride on Thursday 7 February.
Full dates for the British Cycling eRacing Championships, powered by Zwift:
Online qualifier – Sunday 24 February 2019, 10:30am. Sign up here
London live finals – March 2019
To register your interest and be the first to hear about updates to the entry of the Championships, fill out the form below.