British Cycling has confirmed a series of dates in the youth and junior racing calendar for 2019, including the national championships across three disciplines.
The 2019 HSBC UK | National Youth and Junior Track Championships will take place between 5 and 9 August at the Geraint Thomas National Velodrome of Wales, in Newport.
Oliver's Mount, in Scarborough, will play host to the HSBC UK | National Youth Circuit Championships on 7 July, while the British Cycling National Youth Omnium A and B Championships will be staged at the HSBC UK National Cycling Centre in Manchester on July 21.
Series dates and venues are as follows:
2019 British Cycling Youth Circuit Series:
Saturday 30 March - Sunday 31 March: Pembrey 2-day, South Wales
Friday 3 May - Sunday 5 May: Isle of Man Youth Tour, Isle of Man
Saturday 1 June: Hillingdon Slipstreamers, Hillingdon
Saturday 22 June: Minehead Town Centre, Somerset
Saturday 24 August - Monday 26 August: North West Youth Tour, Lancaster
Saturday 14 September: Revolve24 Youth National Series, Brands Hatch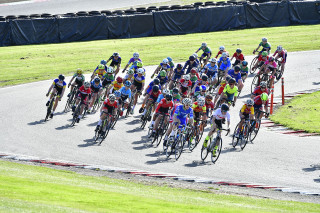 2019 Youth Track Omnium Series:
Boys Youth A&B
Group 1
April 27: Glasgow
TBC: Middlesbrough
Group 2
May 11: Scunthorpe
May 12: Manchester
May 18: York
May 19: Knowsley
Group 3
April 28: Carmarthen
May 12: Cardiff
May 19: Newport
Group 4
April 14: Derby
April 27: Halesowen
May 11: Newcastle
Group 5
April 14: Herne Hill
April 27: Welwyn
May 11: Lee Valley
Group 6
April 13: Portsmouth
April 27: Reading
May 12: Brighton
May 18: Bournemouth
Girls Youth A&B
Group 1
April 27: Glasgow
May 11: Scunthorpe
May 12: Manchester
May 18: York
Group 2
April 14: Derby
April 27: Halesowen
May 12: Cardiff
May 19: Newport
Group 3
April 14: Herne Hill
April 27: Reading
May 11: Lee Valley
May 18: Bournemouth