British Cycling's Geraint Thomas was crowned as the 2018 BBC Cymru Wales Sports Personality of the Year by the Welsh public at an awards ceremony at the Celtic Manor Resort in Newport this evening, while junior academy rider Elynor Backstedt won The Carwyn James Sportswoman of the Year.
Thomas, who in July became the first Welshman to win the Tour de France, won the accolade to top off what has been a successful season for the 32-year-old professional road cyclist.
The award is given to the person whom it is felt has achieved the most in Welsh sport over the past year. This is the second time Geraint has been awarded the accolade, having previously taken the crown in 2014.
British Cycling's Elinor Barker was also shortlisted for the award, having won gold in the women's points race representing Wales at the Commonwealth Games, and gold in the team pursuit representing Great Britain at the UEC European Games amongst other podium results so far this year.
Earlier in the evening, Elynor Backstedt was the winner of The Carwyn James Sportswoman of the Year after an impressive year riding with the Great Britain Cycling Team and winning a bronze medal in the junior women's individual time-trial at the 2018 UCI Road World Championships in Innsbruck, Austria.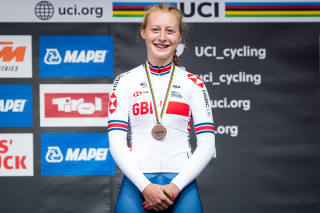 Performance director Stephen Park OBE said: "It's fantastic to see Geraint's achievements over this past year being recognized by winning the 2018 BBC Cymru Wales Sports Personality of the Year award.
"To see what Geraint achieved not only in Paris, but also during his cycling career so far has been an absolute pleasure to witness, and is testament to the strength of British Cycling's pathway system in developing talented young riders into world-class cyclists and hopefully serves as an inspiration for young riders to follow in his tracks.
"I'd like to extend my congratulations to Geraint and I look forward to seeing what he can achieve throughout the rest of his career.
"I'd also like to congratulate Elynor Backstedt on her award this evening. She put in a great performance in Innsbruck to win the bronze medal, and the future is certainly bright for our junior academy rider."
Social Reaction:
Huge honour to win BBC Cymru Wales Sports Personality of the Year. Thanks to everyone that voted and supported me this year, it really means a lot #notgoingtotakemyeyesoffthistrophy

— Geraint Thomas (@GeraintThomas86) December 4, 2018
It had to be him

Geraint Thomas is this year's BBC Cymru Wales Sports Personality of the Year! pic.twitter.com/LhtiQb59eb

— BBC Sport Wales (@BBCSportWales) December 4, 2018
Congratulations @GeraintThomas86!

2018 BBC Cymru Wales Sports Personality of the Year!

Full Storyhttps://t.co/D6SEneVcYX pic.twitter.com/NTlagOfmEA

— British Cycling (@BritishCycling) December 4, 2018