OVO Energy has confirmed it will sponsor the Tour of Britain and the Women's Tour in 2017.
The new title sponsorship will see the events named the OVO Energy Tour of Britain and the OVO Energy Women's Tour, while the coveted leader's jersey will turn green for the first time. They will also sponsor the 2017 Tour Ride which will give amateur cyclists the opportunity to take on the challenge of a route inspired by the Women's Tour.
Jonny Clay, British Cycling's director of cycling, said:
"We're delighted that OVO Energy has agreed to come on board and sponsor the Women's Tour and Tour of Britain in 2017.
"Since the Tour of Britain returned to the international cycling calendar in 2004, the event has gone from strength to strength, while The Women's Tour has been a great success since it was established in 2014."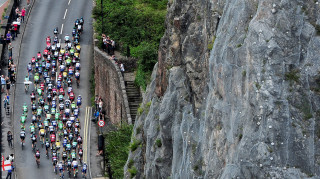 Covering 1,900 kilometres with more than 200 competitors, two million spectators and 14 million television viewers, the Tours give British cycling fans the opportunity to watch the world's best riders and teams compete on their doorsteps.
Hugh Roberts, Chief Executive of race organisers, Sweetspot, added:
"We are delighted to be at the start of what we anticipate to be a long and exciting partnership with OVO Energy. The Women's Tour and the Tour of Britain are leading events within the world calendar and the partnership with OVO Energy will enable these events to continue to grow, engaging more fans and communities.
"This year's OVO Energy Women's Tour and OVO Energy Tour of Britain will be fantastic races and we are really excited to be working with the OVO Energy team to make them the best yet."