The Union Cycliste Internationale (UCI) and the Rio 2016 Organising Committee have revealed challenging road race and time trial courses upon which Team GB will vie for medals at the 2016 Olympic Games.
The courses contrast with those of London 2012, which saw Sir Bradley Wiggins and Chris Froome take gold and bronze respectively in the time trial, while Lizzie Armitstead took silver in the women's road race.
The topography of Rio and its surroundings has been used to create a road race course that evokes the challenges of 2008's Beijing course, which saw Team GB's Nicole Cooke take an epic, rain-soaked victory in the shadow of the Great Wall.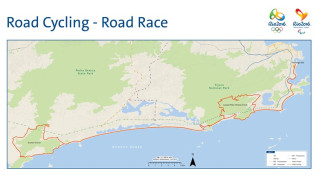 The Rio road race course will comprise and number of separate circuits. The Grumari Circuit includes two climbs of Grumari and Grota Funda, the former topping out at 13 percent while the Canoas/Vista Chinesa Circuit contains the lion's share of the climbing, with an 8.9-kilometre ascent of Canoas followed by a technical six-kilometre descent.
The men's race on Saturday 6 August will include four laps of the Grumari Circuit and three laps of the Canaos/Vista Chinesa Circuit over a total of 256.4-kilometres, while the 130.3-kilometre women's race the next day will follow a lap of each course.
The courses, which start and finish in Flamengo Park, also take in Rio's world-renowned Ipanema, Copacabana, Barra and Reserva beaches.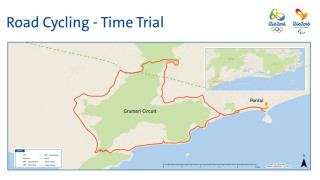 The time trial, which takes place on Wednesday 10 August will start and finish in Tim Maia Square on Pontal Beach, using the Grumari Circuit of the road race, including the testing 1.2-kilometre climb of Grumari Road. The men will race two laps of the 29.8-kilometre course, while the women will face one lap.
UCI President Brian Cookson said: "The UCI has been working closely with the Rio 2016 Organising Committee and Mayor Paes on the road race and time trial courses for some time and I am delighted that the routes have now been agreed.
"The road race mixes some of Rio de Janeiro's most iconic backdrops such as Copacabana and Ipanema with some really testing sections such as the Grumari Circuit and the climb up to Canoas/Vista Chinesa, while the time trial course also includes the challenging topography of the area.
"The steep climb up Grumari Road is sure to provide a unique test for time trial riders. Today's confirmation of the Rio 2016 road race and time trial courses brings the start of Rio Games ever closer for riders across the world."