Above: You, your bike and the world to explore.
Whether it's a couple of days camping in your own region, Lands End to John O'Groats or an around the world epic, going on a tour can be one of the most liberating things you do on a bike. Once you've done a few of them, planning a trip and knowing what to take will be child's play. But for relative newcomers, preparing for a tour can seem daunting. Here are a few tips to help you through the steps.
Explore your options
So you want to go on tour? Well, the world is your oyster, it's yours to explore. The ways of doing so by bike are manifold.
Do you want to go solo or with companions? An off-road camping trip or a credit card road tour? Scenery and serenity or action and adventure? Perhaps you want both.
Are you going to rough it or stay in style? Supermarket shop each day or retire to a restaurant? Maybe you're Ray Mears and want only to survive on bush tucker and road kill!
The internet is a great tool for exploring what other people have done and where they've gone. Look at blogs, websites and magazine articles to get inspired. Reading about the experiences of others will help you decide what you want from touring.
Know your limitations
It's easy to get carried away. Trying to bite off more than you can chew will make it miserable. If this is going to be your very first tour make it a modest few days in relatively easy terrain and climate. If your heart is set on a more ambitious project, at least allow yourself the time to build up fitness and get in a couple of day's of practice tour beforehand.
Do your homework
Once you've decided where and how you want to do this, it's time to check over some of the details. How will you get there and back? Will you need to make any transfers during the tour (e.g. ferry connections, border crossings etc)? What are the costs? When are services available? What is the prevailing wind direction? Do this now to avoid any nasty surprises later down the line.
If heading somewhere exotic you should check up on any local laws and customs you might need to observe. Do you need any visas or immunisations (your passport is still in date isn't it?). Is where you're going safe? Check travel advice on the Foreign and Commonwealth Office website (www.fco.gov.uk).
Itinerary Planning
The level to which you plan depends on how you're going to do this.
If travelling at a busy time of year or on a tight schedule you might want to book some accommodation. This will involve a degree of advance route planning. Schedule reservations carefully, being conservative with the distances you might cover. Remember laden bikes go slower and unfamiliar areas can throw up difficult terrain. The weather, mechanicals and that extra glass of wine at lunch might slow you up. Do you really want to see nightfall with 25 miles of nagging headwind still to go?
But one of the best things about touring is the freewheeling nature of it all, so try to be as flexible as your itinerary will allow and you are comfortable with. Maybe you'll see a turn-off you fancy taking. Perhaps you'll make new friends you want to hang-out with a little longer.
If you think you can get away with route planning on a day to day basis, do so. But don't let it become a stress either - you don't want to spend all day worrying that you won't find a bed at your destination. You can always tread the middle ground of following only a vague itinerary and booking ahead, a day or two in advance, while on the road.
Don't forget you might also want some days off the bike.
Get Equipped
Have bike, will tour. But is it up to the task? Unless you're getting vehicular support you'll be carrying everything you need on or behind your bike. A rack and panniers is the traditional option for transporting your luggage but trailers are also of growing popularity. Whatever you do, don't try and ride with a bulky rucksack. It's a fast track to back pain.
Most rack and pannier systems require eyelets on the frame and forks of your bike but there are alternative clamp-on options.
As for the bike itself, gears need to be quite low (think triple chain ring, big sprockets, maybe a one-to-one ratio) and wheels must be strong. Lightweight numbers with thin tyres do not bear the weight of panniers well and, given the extreme position, you're better steering clear of a pure racing machine altogether.
Decent quality touring, hybrid and mountain bikes should all cut the mustard on the road, while the latter with a single wheeled trailer is by far the best option off it. If using an off-road machine exclusively on tarmac, avoid those with heavy power-sapping rear suspension systems and make sure you fit slick tyres. 28mm is probably about the thinnest tyre you'd want to tour with on any bike.
Of course, you need to make sure the bike is in the best possible nick before you leave.
Get comfortable
Touring is usually about long days in the saddle so comfort is paramount. Don't be afraid of raising your handlebars a little and making your position on the bike more upright. Add bar-end extensions to flat mountain bike bars to give a variety of hand positions. Some tourists even attach aerodynamic tri-bars to their bikes but this will do you few favours in the stability department.
What to Take
The old packing adage of bringing together the very bare minimum of things you need and then halving it couldn't be more relevant. You want to travel as light as possible and choosing what to take inevitably becomes a compromise. Half of what you need might look like the following!
Cycle Clothing
Your most important item of clothing has got to be shorts as day after day in the saddle will result in some degree of irritation. Use cycling specific shorts (lycra or baggy - it's your choice) with a padded insert and don't wear normal everyday underwear beneath them. Take a minimum of two pairs, washing and drying between uses, so you can step into clean shorts each day.
Similarly other points of contact with the bike are worth paying special attention to. Shoes should be comfortable and fit well. If you normally use hard soled road cycling shoes, picking up a pair of off-road leisure or more touring orientated shoes with a softer sole may make activity off-the-bike easier. Choose your style wisely and you may even get away wearing them with civvies.
A clean change of socks will also be appreciated and, while not everyone likes to wear gloves or track mitts on their bike, several successive long days of riding takes a surprising toll on your hands.
As for other items of clothing, what and how much you take depends on the nature of your trip and the conditions. At least one change of jersey or top should be packed while wet weather gear should never be overlooked - even in the height of summer. Think layering for warmth. Arm, knee and leg warmers are space-efficient and give a variety of easily changeable options.
Headwear
The use of a helmet is of course a personal choice but recommended - especially if you're not so used to riding with a fully laden bike. Bear in mind helmets must be worn by law in some countries. You might also want to consider a hat to keep the sun off or a beanie for chilly evenings.
Civvies
Regardless of your plans, you'll want some sort of clean off-bike clothing to change into after riding. Go for function over fashion. During the summer, lightweight trousers, a t-shirt, a light sweater or fleece and flip-flops will probably suffice. Add much more than an extra shirt to this simple inventory and your luggage will soon start bulking out.
Spares and tools
Always a difficult dilemma is deciding what to take for repairs. Tubes, tyre levers, pump, repair kit and multi-tool are as pre-requisite as on any bike ride. Beyond that it depends on where you're going. Decent bike parts are hard to come across in the depths of Africa but for most destinations it's pretty impractical and pointless to carry to a whole bike's worth of spare bits around.
Think essentials: brake and gear cables; a few spare links and a chain tool. Even if you don't know how to properly fit them, a few spare spokes (of the same sizes that are on your wheels) and a key might be useful. Duck tape or superglue will be useful for all manner of sundry repairs.
The most useful tool of all, though, is probably a bit of cash. Even if you can't get your bike repaired where you are, it'll help you move to somewhere you can.
Food
Alongside the scenery and the freedom, eating is one of the great joys of cycle touring. You'll eat a lot and feel you deserve every bite. But unless you have special dietary needs or long spells in the wilderness you don't want to carry much more than the coming day's supply, the odd sachet of cup-a-soup and a few reserves to be saved for emergencies. These might comprise energy bars or gels, dried fruit or sugar rich sweets like jelly-babies. Take extra bulk-bought essentials like tea bags and cooking oil if camp-cooking but, whenever possible, plan to shop for supplies daily.
Camping Gear
If you're set on camping, you've got a whole lot more gear to fit onto your bike. This might include:
A tent. It's worth spending a bit of money on a small lightweight one (1.5kg or less per person).
A roll mat and appropriately insulated sleeping bag.
Gas stove and cylinder. Again go for a small, light model. Remember you can't take gas cylinders on planes. If flying, your stove will need to be compatible with brands of cylinder available at your destination.
Matches/lighter.
Kitchenware. Go minimal. Typically a couple of mess tins, a cup and a basic cutlery set (or a spork) will do. Eating from the pan will reduce your load.
A cloth and small bottle of detergent.
A container for carrying water.
Iodine/other water purification substances (if wild camping). It's a wise idea to also get some ascorbic acid tablets that neutralise the taste.
If travelling in a group, you should be able to split some of this load between you.
Miscellaneous
Other bits you might consider taking include:
A good quality bike lock or two.
Basic first aid kit including plasters, antiseptic, painkillers, bandages and any other medicines.
Mobile phone - even if just for emergencies.
Sunscreen/insect repellent.
Bike lights/torch.
Small (travel) towel, toiletries, toilet roll.
Sunglasses.
Water bottles.
Cash, ID, credit card, documents.
Pack your bags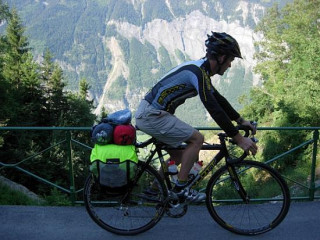 Above: Touring, even unsupported camping needn't mean a carrying ridiculous loads - here, the full load sits on a rear pannier rack - if you can however, distribute the load front and rear.
The scariest part of preparing for a tour will be trying to squeeze all the above onto you bike or trailer. Some tourists just use rear panniers but this will make your bike back heavy. The optimum load distribution is to put 60% of the weight in front panniers and 40% to the rear (evenly distributed on the left and right sides). There should be space on top of the rear rack to bungee bulky items like a tent or a sleeping bag. Keep heavy stuff down low and, on a trailer, towards the front of it.
Plastic bags are very useful in providing extra water proofing and separating dirty and clean gear. Roll clothing up and remember to leave a bit of space for daily groceries and items you might pick up along the way. You'll want to keep things like your wallet, camera, maps and tools easily accessible, maybe utilising a handlebar, saddle or hydration pack. Try and keep your total luggage load beneath 20kg.
Train, do a practice run
Touring is a pleasurable activity but without the fitness to meet your itinerary it will be hell. Make sure you can comfortably cover the daily distances you plan to, fully loaded. Doing a two or three day practice tour in your local area will not only prove your ability to ride back to back days but it will also give you a chance to test out and assess the usefulness of your equipment.
Please note: a fully laden bike feels very wrong at first. With careful practice, you should get used to it.
Before you leave...
Hopefully you won't need it but consider insurance. Even if you already have a fairly good travel policy, some specially exclude cycle touring from cover.
As with any trip, consider what needs to be looked after while you're gone. Can you be contacted? Do any bills need to be paid? And is someone feeding the cat?
Also worth a read on our cycling for fun site goskyride.com: Get into cycle touring