To highlight the importance of the Ride Around London event in raising awareness and finances to support the growth of inner city sports, such as cycling, members of Cycle Club Hackney joined Maurice and Germain Burton, Andy Cook and Access Sport CEO Mark Hardie to preview the 60 mile route.
Hackney consistently features in the top three UK boroughs with some of the highest levels of child poverty as well as way above average statistics related to crime and inactivity. Against this backdrop Cycle Club Hackney coach and youth worker Keir Apperley has worked with key partners including Access Sport and the Learning Trust to establish an active inner city cycling club.
Apperley explained: "CC Hackney was established in 2007 when there were no other cycling clubs in the borough and has grown from three to 80 members with at least another 200 participants involved through our school and community outreach programmes."
Mark Hardie continued: "The ongoing partnership with Access Sport will enable CC Hackney to continue to grow and be a sustainable, important club within the community. However, with dwindling government funding of community sports, events like Ride Around London are crucial to continuing the work that the charity does and supporting clubs such as CC Hackney."
Ride Around London is a new annual cycle event and includes routes designed for all abilities: the challenging 115 mile route, a 60 mile half route and shorter 22, 17, 14 mile Trail rides. Short family rides around the River Lee Country Park are also available as part of Ride Around London's Festival of Cycling.
The Festival of Cycling will also be host to BMX displays and have-a-go sessions, British Cycling Go-Ride Racing, fun and games, trade stands, bouncy castles and much, much more!
Above: All Lined up; Access Sport with CC Hackney and Maurice and Germain Burton
On the 20th July, CCH, Andy Cook, Mark Hardie and members of the cycling press undertook a preview ride of the 60 mile route. Starting from the stunning Alexandra Gardens in Windsor Andy Cook led the riders over the Thames and on past Eton Dorney, into the beautiful countryside and through stunning villages that lie just a few miles outside London.
Britain's first black Senior Champion and role model Maurice Burton and his talented son, Germain, supporters of Access Sport and advocates of the Ride Around London event also joined the ride. Maurice Burton explained "Cycling has been and always will be a big part of my life and it is fantastic that Access Sport are working with clubs such as CC Hackney to attract more young people and their families to such a brilliant sport.
Germain and I are very pleased to be supporting the Ride Around London event as it is a key fundraiser to continue the work of the charity."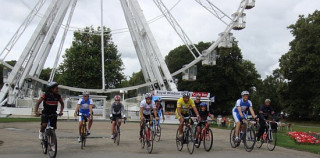 Above: Setting off from Alexandra Gardens, Windsor.
Chain Reaction Cycles (CRC) have also got behind Ride Around London as sponsors of the 2011 event.
"Ride around London has captured the imagination of the capital's cycling community. Chain Reaction Cycles are proud to support the event and we look forward to working alongside Access Sport and underpin the message that sport can bring people together and change lives.",Grant Norris, On the Road Events Manager, CRC.
For more information and to register visit www.accesssport.org.uk/ride-around-london