---
Over 7,500 people joined TV presenter Jeff Brazier, the Mayor of London's Director of 2012 Communications Daniel Ritterband, and Team Sky's Kjell Carlström and Serge Pauwels for the Mayor of London's Sky Ride Barking and Dagenham.
Many more came out to watch and experience the day as cyclists of all ages and abilities took to traffic-free streets for the chance to enjoy their local area on two wheels.
The Mayor of London, Sky and British Cycling, in partnership with Barking and Dagenham Borough Council, and Transport for London (TfL) organised the 9.6km route, which took in some of the area's most prominent landmarks including Barking Park, the cosmopolitan Broadway theatre and Station Approach. It's all part of British Cycling and Sky's Sky Ride campaign, aiming to get a million more people cycling regularly by 2013.
Participants were treated to a whole host of activities and entertainment along the route and in the green open spaces of Barking Park. Highlights included Go Ride Racing for the under-16s who got a taste of competitive racing, buskers providing a soundtrack to the event and the 'Keep Cycling Zone' which offered hints, tips and advice on all the other fantastic ways to get back on your bike.
Sky Ride Ambassador Jeff Brazier said: "It's been a fantastic day here at The Mayor of London's Sky Ride Barking and Dagenham, with people of all ages getting back on their bikes and enjoying cycling around their local area on traffic free streets. I just hope that everyone who has taken part today will be inspired to start cycling more regularly and continue to have fun on two wheels. And don't forget we want you to tell us about your Perfect Hill to cycle down so make sure you nominate yours at goskyride.com."
Daniel Ritterband, The Mayor of London's Director of 2012 Communications, said: "London's true spirit shone through in Barking and Dagenham today and the strong sense of community has been overwhelming. What's more, thousands of us have rediscovered the fun of exploring London on two wheels and will be taking the first opportunity to get cycling again very soon."
Barking and Dagenham Deputy Leader and Cabinet Member for Children and Education, Councillor Rocky Gill, said: "I am thrilled so many people had the opportunity to cycle in a traffic free Barking and Dagenham and enjoy some of the many wonderful parks and green spaces our borough has to offer. Cycling is a fantastic way to get around and I hope the event will have enthused more of our residents to take up the activity and explore Barking and Dagenham further."
Barking and Dagenham is one of thirteen boroughs that the Mayor and TfL awarded biking borough status to in 2010. They've pledged to put cycling at the heart of their local transport delivery plans and will receive extra support and expertise from TfL in a bid to encourage more people to cycle in the local area.
The Mayor of London's Sky Ride Barking and Dagenham is just one of the many ways local residents can get back on their bikes through the Sky Ride campaign. Sky Ride Local rides are free, local led-rides running every Sunday through the summer in and around Barking and Dagenham. There is also the Breeze network - a programme of bike rides and support just for women and Bike Maintenance Workshops will be taking place in London on 23rd and 24th September to help everyone keep riding with confidence.
Sky Ride People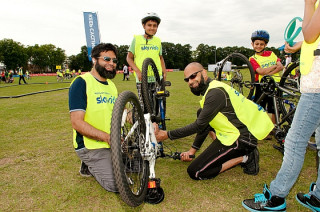 Our roving reporter Andy Whitehouse got amongst the 7500 strong crowd to find out what they thought of the event. Here are a few of their thoughts:
Jodie, Kirsty and Chris
"The route was hard but it was fun. We haven't been out on the bikes for a while but we enjoyed riding today. We'll get out a bit more in the future."
Mark and Dan
"The route was really good. It's great to have something like this here in Barking. We've lived here a while and there really hasn't been that many community events here before so this is great."
Mark: "I try to get out once a week".
Dan "Once a year, but my young son has learnt to ride his bike recently so we'll be getting out more".
"We didn't realise there were so many parks in the area. We shall have to go and explore the area a bit more, turn the computer off for a few hours and get out on the bike."
Elaine
"The route was really good, it's nice to be able to ride with no traffic on the road. I've got the kids out on the bikes but they aren't very steady on the roads so today I've been able to give them tips on how to ride on the road and not have to worry about the cars. We'll definitely be out again, I've being looking at local rides and the training that's on offer just to give them a bit more confidence when they're out on their bikes. My son wants to ride to school but I don't think its safe but with training I'll feel more secure about him riding on the road."
Frederique
"I didn't realise there were so many parks around here. As a beginner the route was just right.10km was just right for me and it is such a nice area around Barking. To bring the Sky Ride here is such a great idea and know I've found so many places I didn't know existed. I will definitely get out on the bike more often. I'm going to do the local rides to build up my confidence on the road".
Abbie
"I've rode the route with my daughter, I'm local to the area but I didn't know some of the areas around Barking existed before today, some of the tree lined roads are really pretty and people were sitting outside their houses in the sun waving us on. I've done the big London Skyride which is always very busy and fun but to have these local ones is brilliant and if it gets people out cycling that's great. I do ride regularly but there's people here who don't and we need to get them to form groups together and ride more often."
More: goskyride.com