Follow britishcycling.org.uk on
Report: Sky Ride Glasgow
Event: 22nd August 2010, Glasgow
Report & Video: Eddie Allen
Images: Luke Webber and Eddie Allen

Thousands of cyclists brought the Glasgow riverside alive with the sight of hi-viz bibs and the sound of tinkling bells and squeaking brakes, as Sky Ride returned to Scotland's biggest city.
Above: Lorraine Kelly and Sir Chris Hoy snug up to open the event on a bike-powered sofa
Sky Ride first visited Glasgow in 2009 and despite awful weather, the city's cyclists turned out in force to show their love for cycling in the city. Turn the clock forward one year and thousands of cyclists were crossing their fingers and praying for a dry day for the return of Sky Ride on August 22nd. Come the day and the weather gods behaved, despite threatening clouds all day - Clydeside's pedallers even got a few glimpses of well-earned sunshine!
So, with the weather kept in check there was nothing to stop Glasgow's cyclists from enjoying the 8.1km traffic-free circuit, which started in Glasgow Green and headed west along the riverside as far as the SECC (aka the Armadillo), before looping back along the riverside, through the Green and back to the village, which sat next to the splendid People's Palace and Winter Gardens.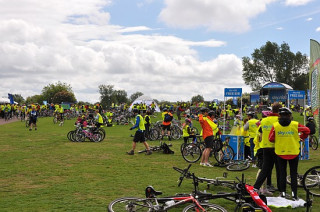 Above: Glasgow Green awash with Sky Riders
Glasgow Green itself was transformed into a cycling carnival, with a host of celebrity appearances and fun activities laid on, which kept Glasgow's Sky Riders happy all day. Celebrity autograph hunters were kept on their toes throughout the event, with Miss Scotland, TV's Lorraine Kelly and Sir Chris Hoy all developing bad cases of autograph-induced RSI at the British Cycling Love Cycling stand. Also doing a roaring trade at British Cycling was the Wattbike challenge, with queues of eager punters all giving it their best shot. Next door, staff at the Sky Ride Local tent were also busy spreading the word about led rides in and around Glasgow while Go-Ride offered younger riders a chance to brush up on their cycling skills.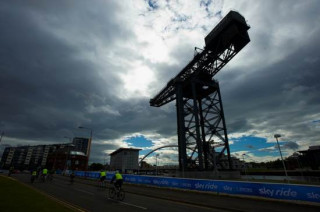 Above: Sky Ride passed many of the Clyde's iconic sights on its 8.1km journey.
Nestled amid a tantalising array of food outlets was the Evans Cycles 'pit stop' area, which also had queues all day - Evans were offering free tune-ups for those riders who'd just pulled their bikes out of the shed and 'had a go'. Right next door, Team Sky kit was going like hot-cakes at the Adidas Retail stand, while opposite, the Gatorade and Drench folk were handing out thousands of free drinks to kept Glasgow's cyclists hydrated.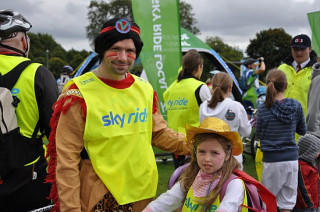 Above: Wacky Riding cowgirl and Indian put their differences aside and pose for photos.
The central attraction at Glasgow Green was the main stage itself, which had a mixture of great home-grown live bands, dance acts and family entertainment, along with 'audiences with' the trio of Sky Ride celebrities.
With so much going on in the event village, it was easy to forget that there were some sweet traffic-free streets to ride. With feeder routes leading riders in from various points around the city, and helpful marshals at every crossing point, riding the route was a stress free experience - families with young children could relax and enjoy riding streets that, any other day of the week, would be bumper-to-bumper with traffic. The entertainments were not limited to the main event village either. Underneath the arches of one of the Clyde's many bridges were drummers and pipers (it is Scotland), while Gatorade and Drench stations at the mid point and at the Armadillo ensured that de-hydration was never an issue.
However, what really made Sky Ride Glasgow tick were the people who pumped up their tyres, threw off their inhibitions, turned up and rode. As with all the Sky Ride events thus far, the sheer variety of riders and bikes on the route was staggering. There were Wacky Bikes, (one covered in fur with a real animal skull on the handlebars!!) there were vintage bikes, flashy new bikes, beat up old bikes, bikes for two, three and even eight! Riders were equally diverse, with 'full-lycra' wannabes, fancy dressers, 'too cool for bibs' fixie riders and last but not least, normal people in normal clothes, all enjoying the day together. We spoke to a few of the multifarious Glasgow Sky Riders who summed up the vibe of the day:
John Morrison from Erskine
"I'm here with my family today - I think it's a great idea to let everybody get a chance to cycle around Glasgow - so well done Sky Ride!"
Lisa Moyer from Paisley
"This is our first time at Sky Ride and we've had a fantastic day. There's loads to do for the kids - lots of stopping points so you don't really need any previous experience - you can just come along and try it out."
Ronald Joiner from Glasgow
"I came here last year with by little boy, my brother in law and his little boy - we did the Sky Ride last year on a wetter day than this! We're back here because we enjoyed it so much last time. It's a great event, great fun, everyone gets a chance to get some fresh air."
Yvonne from Glasgow
"I think the Sky Ride is good for people of all ages, it keeps people healthy. There's been loads of stars here to sign bibs and stuff. It's been a great."
To sum up, a fun day was had by all - and the rain miraculously held off until precisely 3:30 when the roads re-opened, along with the heavens! By this time however, most of Glasgow's Sky Riders were on their way home, their appetites hopefully whetted for more cycling. And with a programme of Local rides available until the end of the summer, there's plenty of opportunity for Glasgow's cyclists to get more Sky Ride miles, and more smiles, under their belts.
For more information on Sky Ride and Sky Ride Local go to www.goskyride.com