Follow britishcycling.org.uk on
Report: Sky Ride Redbridge
Event: 15th August 2010, Redbridge
Words and Photography By Belinda Sinclair

Well, at 0630 am, it didn't look promising. The grey skies and low cloud which greeted me early on Sunday morning seemed to suggest that I was in for a wet and windy day at the Redbridge Sky Ride. Having been there several times for British Cycling, I know - through bitter experience - that this exposed circuit can either be the hottest place on earth or the coldest. So I hedged my bets and added a variety of clothing to my camera kit. But, surprise surprise, two hours later, there I was, not only having found a parking space, but also cursing the fleece I was wearing. It was actually quite warm, albeit still murky, with the sun attempting to sneak out from behind the clouds. And a few early riders were rolling up too.
The Sandford family from Barkingside was raring to go, having already ridden the four miles from home to the Cycling Centre. As dad Alan made a few last minute adjustments to the handlebar flags, daughter Christine (11) told me that their early ride was nothing unusual:
"We usually go to the bootfair down the road or up in the woods, but we've come here today. I'm looking forward to being able to ride on the roads with no cars. When Dad takes all of us out on Sundays, my older brother (Philip, aged 13) rides on the road with him, but me and my little brother (William, aged 10) have to ride on the paths."
Dad Alan, a seasoned, regular two wheeled commuter, explained one of the attractions of Skyride:
"I like the structure. I ride a lot with the children, five or six miles on a Sunday, and then home again - my wife doesn't come as she can't ride a bike - and I take them to Hainault Forest and that, but having something like this laid on is great - to be able to ride on roads and enjoy it is wonderful."
A bit further along were four riders from Hornchurch - Dad Dennis, his adult twin sons John and Stephen, and Dennis' mate Cliff Johnson. They'd all made the effort because they like the event culture of the Skyrides.
"Cliff and I belong to a gym - Everybody Active in Hornchurch - and we do that spinning stuff - its good, but real riding like this is better, especially when it's organised. Its outside, you feel great, and it's just nice, and the lads don't mind coming along either - it's a lads fitness bonding trip really!"
By now, the weather had perked up and more riders were arriving, and the event was ready to get going. Team Sky riders, plus the Mayor's Transport advisor Kulveer Ranger led them off, whilst some who had already been round, were taking a well earned break on the grass, admiring the panorama over London, before contemplating another circuit of the 13.5km route.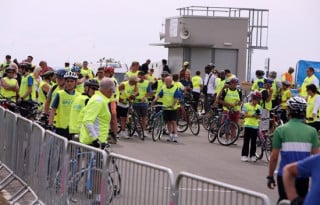 Two year old James Jones had already been round the route once on the back of Dad Huw's bike, and apparently was almost as impressed by the ride as he was with the free bottle of water he had been given by organisers. The location was a change for them too, as Huw explained:
"We live in South Woodford, and Epping Forest is our usual place to ride. James usually falls asleep though - but it made a nice change today to ride along the roads and see the wide open fields. I think even he (James) stayed awake."
Cam Chana and son Jay (7) were also having a rest when I caught up with them:
"Jay has only recently learned to ride and something like this is great for his confidence, being able to ride on real roads. It's also good for me - it's encouraged me to get back into cycling."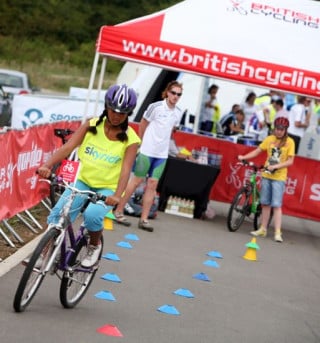 Further down the field, the British Cycling Go Ride course was in full swing, with youngsters lining up to test their skills round the cones and under the limbo poles.
Nearby, bibs were being signed by Team Sky members Chris Froome and Lars Peter Nordhaug.
By now, having chatted to riders and watched them come and go, it was time for me to ride the circuit. Out came the Brompton and down the road I went, passing golden fields and open spaces. A lovely long hill to start, and make me feel that I wanted to ride - I'd worry about getting back up it later. There weren't the throngs of some previous Skyrides but a good, steady flow of people on bikes of all shapes and sizes.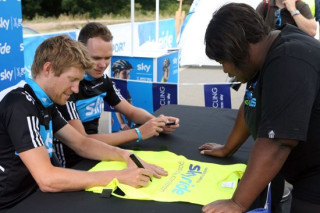 What was also surprising were the number of small children riding their own bikes, alongside mum and dad, or gran and grandad. Although the course was relatively flat, a steady wind was blowing across the open countryside, making riding quite arduous in places, especially for little legs which must have been quite tired by the time they got back to the start.
At they midway point, in the midst of some farmland, and not far from a pretty country church, I stopped for a drink and met father and daughter John and Helen Harvey, from Hainault, who made a very stately entrance on their pristine 1897 trikes. Both are members of the Southern Veteran Cycling Club and regularly ride old machines.
"These trikes are solid old things and quite simple. Mine is an old Humber and Helen's is a Manchester; I've not had to do much to them at all, and just keep them in working condition. In fact, last night I rode the one that Helen's on today round the lanes round here, and we've come back today for more!"
Also going through his paces, albeit in not quite so stately a fashion was one of the cycle medics. Treating me to a special twirl in the field, he told confided that all was quite on the medic front - so far.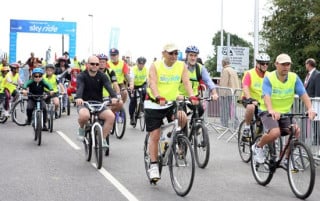 "Don't say it too loud or they'll start falling off! Very few people have needed us as yet, which is good because it spoils the day if somebody gets hurt."
Onwards then, through suburbia to Fullwell Cross and the turnaround point, where one man was spotted mowing his lawn, still resplendent in his SkyRide bib.
"I have been round, honest! I've just finished"

A queue for the mechanic tents proved what a good decision it had been to provide mechanics at each of the three stops. And what good job they were doing, even road testing them before handing them back!
Dad Konesh had just retrieved daughter Nivi's bike as I arrived:
"My bike was broken so I hired one, then Nivi got a puncture, so these guys fixed it. The girls are having a great time, and the little one (Kaji) is still going strong!"
Now it was time for the ride back, back into the wind and up that hill that I'd forgotten about. I must confess though, that I did stop for a rest but disguised it by taking pictures over the fields and the Cycling Centre.
Back at the start, some people were preparing to ride home. Mary Suganaya from Sri Lanka was waiting with nephew Shajeeva, for Shajeeva's mother.
"I've had a lovely time today. I'm staying with my sister and I'm here to study. This is the first time I've really gone out and looked around and the fields are very beautiful. I've been round twice and Shajeeva has been once. We're riding back to Chadwell Heath now."
But last words of the day go to Redbridge councillors Paul Canal and Alex Wilson:
Paul: "It's been tremendous today, it's great to see families cycling together and having the confidence to do so. We (Alex and Paul) regularly ride to Council meetings. It's about four miles, and it is most definitely quicker by bike"
Alex: "Yes, I totally agree. Days like today encourage people to ride and that's what we want, but confidence is a big thing."