Follow britishcycling.org.uk on
Report: Sky Ride Manchester
Event: 1st August 2010, Manchester
Report & Video: Eddie Allen | Images: Larry Hickmott & Eddie Allen

Thousands hit the streets as Sky Ride made its return to Manchester for 2010. In the fourth stop of 2010's whirlwind tour of Great Britain, Sky Ride came back to the place it all started, back in 2009, and Manchester responded with a huge turnout. Even the famous Manchester rain cooperated (just!) by giving the event a wide berth. British Cycling's Eddie Allen took his cycling-crazed family to mingle with the crowds, enjoy the day and capture the action.
Sport City, 10am
We arrived at Sky Ride at the 'far end' of the route - at the Entertainment Zone in Sport City. Even at 10am, the arena, in the shadow of the mighty City of Manchester Stadium was already alive with Sky Riders of all shapes and sizes. Friendly marshals funnelled us neatly into the arena, where a full-on carnival was already in full swing.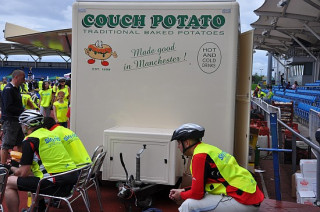 Manchester City Council had laid-on a host of sports to try out, including rugby, football and rock climbing - and already Sky Ride bib clad kids were scaling the climbing wall that had been erected in the athletics centre. Around the running track, there was a whole host of stands and attractions. Refreshment stalls selling coffee, hot potatoes and sandwiches were difficult to avoid, while further around, we found Sustrans, the organisation responsible for the National Cycle Network, providing information on safe traffic free local cycle routes. Next door, Love Your Bike (Friends of the Earth's Manchester campaign group) had a bike powered smoothie machine.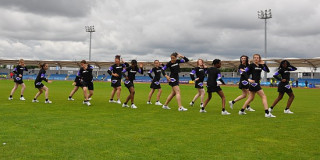 Not to be outdone, Smooth Radio was also there with their own smooth blend of fruits, powered, of course, by bike. Close by, Manchester Diamonds cheerleaders were doing their thing while beyond, Cycling Projects accessible bikes demo was gearing up for a busy day.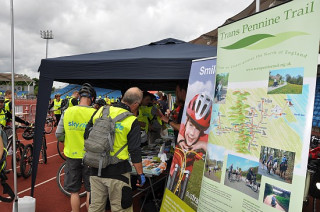 Wandering around Sport City the overwhelming impression, even at this early stage, was the sheer strength in depth of cycling in Manchester. There were fixie riders, hipsters, retro riders with handlebar moustaches and tweed, club riders, occasional riders, Penny Farthing riders, you name it - all of whom had descended upon the route determined to show their support for the event.
On the Road
Pretty soon it was time to hit the road, so we pushed our bikes out of the arena, grabbed bibs and bottles of free Gatorade and headed out for the main course - the Sky Ride itself. Amid a swarm of hi viz vests, we circumnavigated the football stadium before threading our way through the back of the Sport City complex and onto Bradford Road heading for town; immediately the scenes out on the roads where mindblowing and heartwarming.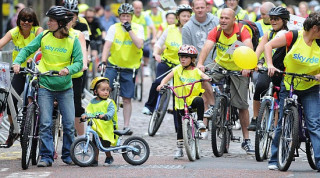 The road on both sides was nose to tail with bikes. No cars to spoil the ride, just smiles, bicycles and the ringing of bells. This carnival of many wheels was bound for the city centre, passing down Store Street and beneath the Ashton Canal aqueduct, where a lollypop man had what must have been the most bizarre assignment of his life - stopping legions of Sky Riders heading in and out of town.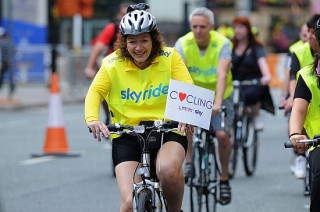 Passers-by looked on, bemused, as if they'd suddenly found themselves amid some cycling exodus, but we just rode on, heading past Piccadilly Station onto Whitworth Street (usually nose to tail with cars seven days a week) and onto Princess Street and the Town Hall.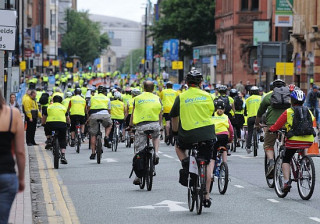 However, the real highlight of the route was when we swung left onto Deansgate - a ruler straight road around a mile long - usually the busiest shopping street in Manchester. But today it was kerb-to-kerb cyclists - enjoying the all too brief, surreal experience of riding this usually intimidating road, traffic-free. Looming larger and larger as we pedalled up Deansgate was the stunning 500ft Beetham Tower, which marked the point where we turned off Deansgate and headed for the main event village at Castlefield.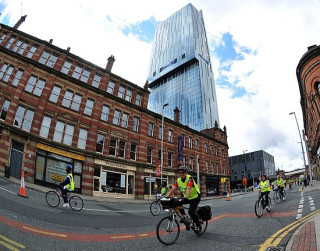 Castlefield on Sea!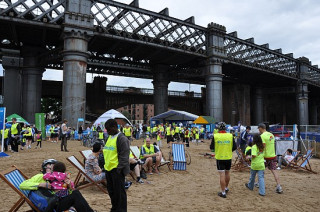 If we'd been impressed by the scenes at Sport City and out on the route, we were blown away when we arrived at the Entertainment Zone at Castlefield basin. Amid the impressive spans of the brick and iron railway bridges and nestled along canal locks and narrowboats, the event village sprawled into every available inch of space.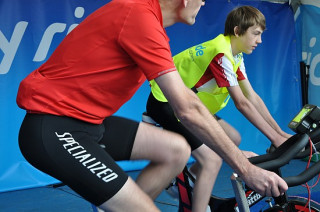 We passed the Rainforest Zone (a 3D cinema experience showcasing the work of Sky Ride's charity partner) and the BMX Flatland Area before having a go at the Go-Ride Skills course, ably staffed by British Cycling's Go-Ride coaching staff, then we wandered over to the most wonderful and surreal part of the whole day - a Sky Ride beach party!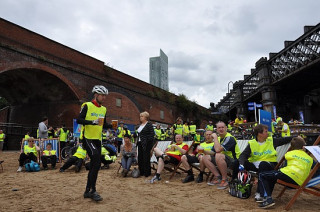 The beach, created earlier in the summer, had been taken over by the Sky Ride Local, British Cycling's Love Cycling stand, where star turns Geraint Thomas, Becki James, Dave Daniell, Victoria Pendleton and Gemma Atkinson took time out to sign Sky Ride bibs for eager fans.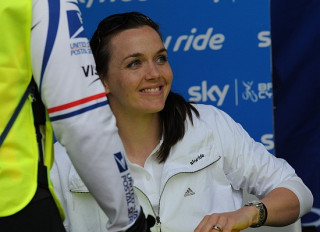 Next door at the Wattbike stand, Sky Riders had a chance to win British Cycling Gold Membership for posting top scores in the Wattbike six second peak power challenge. For the less energetic, there was a beach bar and hot dog stand, complete with stripy deck chairs, where riders could relax and stock up of fuel for the next lap.
After we'd done our bit and patronised the hot dog stand, we headed on through the event village to the Sky main stage, which had a packed programme of events to entertain the full spectrum of riders, including bike bingo, celebrity interviews and quizzes.
On the Road (Again!)
Once we'd soaked up the fun in Castlefield, we were itching to be on the road again and if anything the crowds on the route had got even thicker as we headed back down Deansgate, bound once again for Sport City. Completely by chance, we were lucky enough to be riding in a group of Sky Riders containing one very special (Team) Sky rider - none other than Bradley Wiggins, who was making his way to an autograph signing session at the Adidas Retail stand in the shadow of Man City stadium.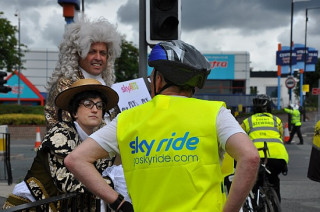 When we arrived there was already a huge queue forming, anticipating the arrival of the popular Londoner, who signed bibs and chatted with a stream of riders young and old, all captivated by his team's performances out on the roads of Europe and spellbound by the cycling carnival that had taken place on the streets of their hometown.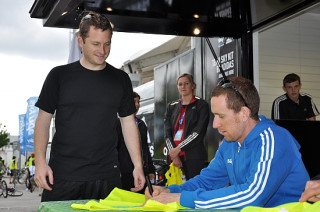 We looked at our watches and were shocked to find that it was 3pm - already, the day had been so full that it had flown by. There was only one thing for it, another flying lap of the route, one last chance to sample the sweet traffic free streets before the roads reopened at 4pm and normal life resumed. As we rode our thoughts echoed those of a child, who'd penned these words on a ' My cycling ideas' postcard at the Love Cycling stand - "More Sky Rides please!"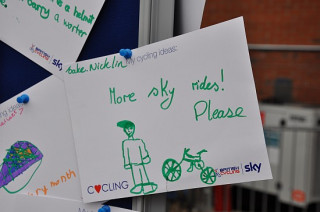 Here's what you thought of Sky Ride Manchester:
Francesca from Miles Platting
"I think the Sky Ride's great, it's a good experience for all the families. It gets everyone motivated."
Andy from Wirral
"I'm here today with my niece - we've really enjoyed the day out. I've just started to get into charity bike rides and this is perfect for me. Thanks very much!"
Hannah from Wirral
"I've really enjoyed the bike ride today and I love it. Thanks!"
Paul from Withenshawe
"I'm here with my team from Withenshawe Hospital Cycling Club. Thoroughly enjoyed it. Awful good turnout."
Clare from London
"I'm Mancunian by birth but live in London. I came to Manchester especially for the Sky Ride. It's fantastic for children to get the chance to cycle on the roads without too much traffic around."
Layla from London
"I think the Sky Ride is really cool. I don't really get to go on my bike that much and it takes a long time to pump up the tyres!"
Ste and Dan from Manchester
"We've come to the Sky Ride dressed as swimmers. We got our outfits from the pound shop yesterday! We've got flip flops, pink shorts and arm bands. We've got goggles in case it rains. It is Manchester! We've had a brilliant day, really looking forward to Gemma Atkinson. Thank you Sky and British Cycling"
For more information on Sky Ride got to www.goskyride.com