Follow britishcycling.org.uk on
Blackpool's 'Ride the Lights' Joins Sky Ride Programme
Posted: 5th July 2010
Blackpool's Ride the Lights will get an extra boost this year as a partnership with Sky and British Cycling has been made to incorporate the unique event into the Sky Ride series to promote cycling as a leisure activity.
Ride the Lights has grown in popularity since the first event, organised by visitBlackpool, in 2006, as residents and visitors take the unique chance of a leisurely, traffic-free cycle through the six mile Illuminations extravaganza. Once again this year the promenade will close on 31 August, but the ride itself will start earlier at 7pm to allow an extra hour for more riders - especially families. Last year's two hour event saw an estimated 8,000 people riding along the promenade who had a sneak preview of the Illuminations, which this year run from 3 September to 7 November
'Ride the Lights, in association with Sky Ride Blackpool,' will become one of twelve Sky Ride events taking place in 10 major cities across the UK this summer; with smaller local rides also taking place across the country. Since last July, Sky's national cycling activities have encouraged almost 300,000 people to start cycling more frequently and 92,000 of these people have become new regular cyclists (cycling at least once a month or twelve times a year). It is hoped that, by forming the association this year, plans can be put in place to extend Ride the Lights into a huge Sky Ride event next year.
Councillor Maxine Callow, Cabinet Member for Tourism and Regeneration at Blackpool Council, said: "Ride the Lights is a great way for residents and visitors to enjoy a special preview of the Illuminations before the official switch on. It has proved so popular that it is now a regular feature in the events listings for the year and it is wonderful that news of its popularity has attracted national recognition to the extent that Sky and British Cycling wish to be associated.
"Although the emphasis will remain on the event being a sneak preview for residents and visitors, Blackpool Council and Sky have the same goals - to encourage people to take up cycling on a more regular basis. We have great provision for cycling and I hope this event will encourage people to get on their bike for an experience they will not get anywhere else. I welcome the partnership with the Sky Ride series and I hope residents and visitors will not only benefit from the spectacle of the Lights but also the benefits of cycling as a whole."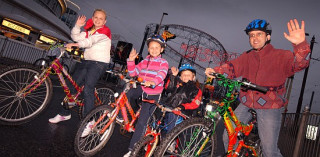 Sky Ride ambassador Sir Chris Hoy said; "Sky has a genuine opportunity to make a positive difference to people's lives by encouraging as many people as possible to get on their bikes. I had a fantastic time at last year's events in Glasgow and London and it was great to see so many families enjoying all the activities and having fun."
This year visitBlackpool are asking residents to register to 'Ride the Lights in association with Sky Ride Blackpool' by logging on to www.visitblackpool.com/ridethelights or for any further information about the event, call 01253 478222.
People interested in Sky Ride or cycling can visit www.goskyride.com for news and information for each of the Sky Ride events. The site will also feature tips and expert advice on how to ride safely and look stylish plus views from Sky Ride's cycling ambassadors.
If you haven't got your bike yet now is the time to get started. The Council's Cycle Blackpool team can offer training for new riders or those that have not cycled for a while and need to find new confidence to get back on their bike. The Hire a Bike scheme will also have been fully rolled out in time for 'Ride the Lights in association with Sky Ride' making 500 bikes available to join in with. More information about courses and how to get a bike can be found at www.cycleblackpool.co.uk.