Stuart's C2C Shanty
Blessed with spare annual leave at the end of the summer 2009, Stuart Wright decided to do the Sea to Sea (C2C) across the north of England. Things don't always go entirely to plan when taking on a epic challenge like this, but in sure makes for great reading. Here's Stuart's story.
Day One - Be Prepared
I started with www.c2c-guide.co.uk - an online resource centre for the C2C. I poured over advice, directions and accommodation recommendations along the route. I also bought Sustrans' 'Sea to Sea cycle route map' and 'Coast to Coast Cycle Routes' by Mark Porter and John Grimshaw.
Most attempts tend to go West to East because of prevailing winds are more in your favour. My C2C was going to be Whitehaven to Tynemouth. Both the outbound and the homebound tickets cost £36 each - standard advanced. The price is the only similarity in terms of the process and assurance offered to the touring cyclist attempting the C2C. The journey the National Rail recommended was London (Euston) to Whitehaven changing at Lancaster. Each leg of the journey gave details about the cycle policy.
Sadly the change of train also meant change of service provider and difference in cycle policy. To buy the tickets I was re-directed to Virgin Trains. You can not reserve a place for your bike online. Instead you must book your tickets for the train and "reserve a space for your cycle at any booking office or by calling". When I called up to reserve my cycle on the train I was told I can only reserve it to Lancaster. For the equally critical Lancaster to Whitehaven portion Northern Rail cycle policy is: "Two cycles spaces are available on all trains. Carried on a 'first come first served' basis."
The return to London was easier. It was a direct train from Newcastle and National Express allow you to add cycle reservations when buying online.
Accommodation is extensively covered at www.c2c-guide.co.uk. I cut the journey in three: Whitehaven to Greystoke (47 miles), Greystoke to Rookhope (45 miles) and Rookhope to Tynemouth (44 miles). When my C2C map finally arrived I got cold feet about attempting 47 miles in little under half a day and opted for Keswick (31 miles) as my first stopover. Which meant day 2 was going to be 61 miles.
I then set about getting me, and my hybrid Specialized Crossroads (2005) ready for the trip. My one concern reading the advice and looking at the pictures was the suitability of my bike and/or my tyres. A few visits to Bike Radar's forum proved my Specialised Armadillos (All terrain) would be fine. The handlebars felt too wide compared to what I had become used to on the singlespeed I commute on. I bought a hacksaw and took 3" off the width of my handlebars before adding new bar ends. I got the bike fully serviced at my LBS, this uncovered the need to replace the rear derailleur.
In my panniers I packed very little: toiletries, spare bib shorts, knee warmers, spare cycling top, two spare pairs of cycling socks, seal skin socks, two pairs of normal socks, long sleeve fleece, two t-shirts, two boxer shorts, jeans and white canvas plimsolls. Even travelling this light, it still felt damned heavy.
At 7.00am I left my house in London ready to start my C2C some six hours later in Whitehaven. At Euston my platform was announced a good half hour before departure. Walking my bike up along the train, I bumped into the driver. He directed me to the front of train. No check was made for my cycling reservation number. Three other cyclists added their bikes. The train manager said: "This is the first time I've had four bikes on my train." The space allocated for bikes is hardly bike friendly as the picture shows - but I was on and so was my bike.
At Lancaster the Northern Rail train to Whitehaven was waiting. I got my bike on and took my seat. For the first time I was comfortable I would reach Whitehaven. Ten minutes later two other cycling buddies joined me and squeezed their two bikes into the allocated space - making it three bikes on a two bikes only train.
The train ride up to Whitehaven is a long one. The beautiful west-coast scenery was overtaken by my urge to start the C2C. I read and re-read the instructions to get me out of Whitehaven and onto the C2C route. I needn't have been so worried. When I descended the short ride from the train station to the regenerated harbour in Whitehaven I soon picked up the C2C signs that directed away from the sea and onto the former 1850's railway line west to Keswick. This is now a sculpture trail that runs for nearly ten miles. The sun shone, and still being near the coast, it was reasonably flat, rolling countryside - completely free of traffic. For a cyclist who commutes regularly in London this was bliss. Even when I emerged onto my first minor road at Kirkland the volume of traffic was light in the extreme. I encountered very few vehicles - a pattern the C2C maintains right to the very end. I had also began my self-hypnosis via National Cycle Network signs. I could spot them from 50 paces or more very quickly and I only ever needed my map for re-assurance and/or to frustrate myself with the real distance that remained.
Entering the Lake District National Park, Loweswater was the first significant piece of evidence I was on my way. Then I met my first real challenge - the climb to Whinlatter Pass. The next four miles seemed to take as long as the previous 18. Climbing is hard with two loaded panniers, but the descent is equal to it because the surface is loose in parts. It's not off-road by any stretch, but to my 700c x 28 slick tyres and aluminium frame it was technical enough.
Above: The Whinlatter descent
Eventually (12 hours after leaving my home in London!), I was in Keswick and quickly found my B & B - the cycle-friendly Cranford House. They took my bike off me and locked it away in their shed. I was knackered and by 9.30pm I was sound asleep.
---
Day Two - 61 miles and 4 huge hills. Oh and some punctures too...

Day 2 started with the drizzly rain I was promised. However, with a full English breakfast inside me I was ready for 61 miles. The route out of Keswick was similar to Whitehaven, in so much that it followed an old railway line. The gradual climb out of Keswick didn't hamper my progress. I'd left at 9.40am and set myself a 30 mile target by 1.30pm.
The C2C route by-passes Penrith almost entirely as you head towards Langwathby, Little Salkeld and then onto what I only realised sat in the comfort of my home was, cumulatively, 1300m of ascent before I reached Rookhope. Before I reached the first of four climbs, I punctured. I'd been quietly celebrating completing 31 miles by 12.45pm and failed to notice my back wheel rim rubbing along the tarmac.
It rained continuously while I changed the inner tube. However, I also realised the limitations of my Crank Brothers mini power pump - a great tool around town when you need enough air to get you to the nearest bike shop/home and use the track pump, but out on Lake District country lanes it left me with a semi-inflated tyre to support me and two panniers.
When I put the back wheel back on it was now - surprisingly - buckled. I thought of ending my C2C here, but chose instead to release the back brake blocks and do the remaining 30 miles with just a front brake. Approaching Renwick, the worry of another puncture dominated and the rain and wind battered me for my attention - it was difficult to ignore either. I stopped before Renwick to eat my packed lunch and hope that another cyclist passed by with a decent pump. Fortunately for me a few did and they got my tyre to something like pumped up.
I was soon challenging my legs to their limits over the three-mile 400m+ climb up Hartside (624m above sea level). Exhausted and ravaged by the weather I rested at the Hartside Café - a motorcyclists' haven. I reflected on the lack of clothing I had packed for these kind of conditions. My windproof kagooule was useless. My Sealskinz Socks succeeded in capturing and retaining more water in them than they did repelling it.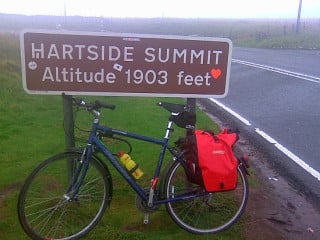 Above: Stuart's trusty steed at the (geographical) highpoint of the C2C
I phoned my wife to let her know I was okay. It had now gone 4.00pm. That's two and half hours to get just 10 miles. Still only 20 miles to go and the biggest climb was behind me. I also phoned The Old Vicarage in Rookhope to let them know I would probably get there after 7.00pm.
I was glad of the gradual descent into Leadgate and then Garrigill - the next six miles disappeared without incident. However, I got off at the short, but wall like climb out of Garrigill. This set me off up and down into Nenthead.
The rain stopped when I descended into the village of Nenthead, but as I did I got my second puncture. Taking my front wheel off a local, Carol, pulled up in her car and asked if I was ok. "I would if I didn't have such a useless pump," I quipped. With that she went home and returned with a much better pump. She even gave me crucial directions for the climb up to Allenheads that I could see winding into the distance.
However before starting the ascent I noticed I had put my front tyre on too hastily and it was blistering out of the rim. Pulling up at the Miner's Arms pub, a Coast to Coast stamp stop, I deflated my tyre and proceeded to battle on with my mini-pump. It was well past 7.00pm as I struggled up Allenheads, reaching the highest point on the C2C - 609m (Black Hill). It was then another gradual descent before the fourth and final climb out of Allenheads and down into Rookhope - somewhat delirious with the end of the day in sight. I eventually reached The Old Vicarage at 8.30pm. All told it had taken me a further four hours to complete 20 miles. Colin, the owner, was just leaving to come and look for me. Both him and his wife Pauline, and their six month old dog Alfie made a real fuss of me as entered their home.
Locking my bike away safely they took me in like a long lost relative. No mobile signal meant I couldn't quickly phone my wife, but a payphone in their hall was plan B. After showering and reflecting on the 30+ miles I'd completed on one brake I went down for my evening meal which I wolfed down. With all the plates nearly cleared their son said: "You know there is still your main course to come." I paused and laughed with them. Soon after a beef and a chicken enchilada was in front of me and quickly eaten. I escaped to my bed and lying there looking at the mobile phone pictures it was hard to imagine the peaceful tranquillity of the ride out of Keswick had taken place on the same day as the hard fought climbs up the fells I'd endured.
---
Day Three - All downhill from here (yeah right...)
The next day I had one more big climb up to Parkhead station and then it was a rolling descent to sea level. I established there was a bike stop at Parkhead station for much needed inner tubes and track pump.
Above: Is it just me or does Stuart look a trifle reluctant to be leaving the 'last homely house' of Rookhope vicarage?
A little after 10.00am I reluctantly left this perfect B & B. Colin's son followed me out of Rookhope and took action photos of me struggling up a hill and reaching the summit - a nice touch and added value to my stay at The Old Vicarage. I couldn't recommend them more highly as C2C hosts.

Leaving Colin's son at the summit, I descended carefully into Stanhope. Not carefully enough - I got my third puncture thanks to hot wheel rim. I walked the final 400 yards before replacing the punctured inner tube.
The climb up Parkhead looking back at the map seemed much longer than a touch over two miles. The beginning was steep. Parkhead station was an oasis I thought I'd never reach. Unfortunately, it quickly turned into just a café. The track pump had been stolen and they only sold inner tubes for mountain bikes size wheels. Just shy of the 100 mile mark I was going to attempt the next ten miles into Consett across the Waskerley Way without any spare inner tubes. Borrowing a pump from another cyclist I got as much air as I could before setting off again. The Waskerley Way was beautiful, traffic-free compacted gravel trail across a large common. Only wish I'd noticed it more at the time instead of haunting myself with the lengthy day before and the lack of inner tube back up going forward. Still I was making good progress - speeding passed other cyclists enjoying a more leisurely ride.
Then disaster! There is a severe switchback at the Parkhead Plantation. With just a front brake and more speed than haste, I crashed trying to slow down too quickly. Ploughing my left side into the loose gravely dirt, my pannier cushioning some of the fall, I emerged road rashed and with what I suspected and later confirmed was a sprained shoulder. A fellow rider (Anthony Wilson, as I later found out) appeared before I got up; moments after I'd sped passed him. He checked I was okay and led me into Consett, to the local bike shop and then back to C2C route - all told this helpful stranger took over an hour out of his day to help foolish and bruised me.
In Consett, I was taken to the bike shop Geared4. I asked about getting my back wheel unbuckled. The girl at the counter got the bike mechanic from the back. Unfortunately, he was getting trained on wheels next week. Just my luck! Still they let me use their washroom to clean up my roadrash. I also put some air in my tyres using their track pump, but they didn't have the inner tubes I needed. So with no spares and Anthony's help I was back on the C2C route - 26 miles still to go.
The ride to Newcastle from Consett via Rowlands Gill is along the Derwent Walk. By far my favourite section of the ride - probably because I was nearing the end. I seamlessly joined the Cumbrian Way that runs alongside the north bank of the River Tyne. This leads you through 13 miles of mixed inner city cycle paths, post-industrial wastelands and modern pathways. One particularly ugly section saw me approach a group of teenagers drinking under a bridge during a heavy downpour. They shouted and threw stones. So near to the end I refused to involve myself with a skirmish. 200 yards later a police car pulled up and they asked me if I'd seen a group of kids drinking near here. I nodded and added: "If it helps they threw stones at me too." It felt like good karma.
The rain never stopped all the way through Newcastle, I was drenched and becoming cold; mesmerised by the C2C signposts that guided me to the end. It's quite uneventful, but relatively traffic free over the last eight miles or so. I was walking down every descent because my rims were too slippery in the wet to rely on stopping for the roads I had to cross.
It took so long to finally make it to the sea. Looking at the water lap up against the shore I couldn't believe I was there. Cycling around the promenade I shot up a small hill and was greeted by a sign that read 'C2C Finish' - I'd done it.
---
Homeward Bound - lessons learned and tales to tell

Staff at Newcastle station were really helpful and I got on my train with my bike no problems whatsoever. The sun shone in through the window of my carriage as we headed south. I took in what I had just achieved, how much I'd underestimated it and reflected on the need for stronger wheels, more bike mechanic know-how, back up or at least company. I learnt a lot doing this ride and I did get a great deal from it. However, if I could change one thing it would be to have a full first day so I could reach Greystoke/Penrith ahead of the mammoth climbs during day two. Other than, it's all character building and if it doesn't kill you, it makes you stronger.
I was immensely impressed with the work of Sustrans maintaining and signposting the route. I have since set up a direct debit to do my bit and help ensure it keeps going for future C2C challengers.