Skyride Manchester sees 15,000 Cyclists Hit the Streets

Skyride Manchester, 2nd August 2009, Manchester City Centre
Report and Images: Eddie Allen
Skyride Manchester saw over 15,000 riders hit the traffic free streets of Manchester for a fantastic day's cycling. From 10am to 4pm, a loop from the city's historic Albert Square out to the futuristic Sportcity was closed to traffic, meaning that riders of all kinds could enjoy the street without the fear of tangling with heavy traffic.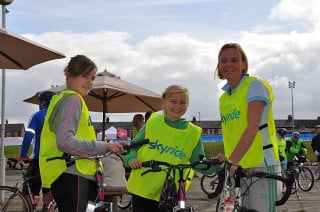 Above: What Skyride Manchester was all about - families on bikes having fun
I rode the event with my family (me and my two sons, aged 9 and 17). and found the whole concept utterly inspiring. We arrived at Manchester Velodrome in the morning, as the event was beginning to get into its swing. The Skyride Street areas were set up, with BMX and trials riders practicising. The Go-Ride skills area was there, ready to test the balance and skill of younger riders. Cycling Projects had a range of specialist cycles to try out and the area outside the world class velodrome had been transformed into an alfresco dining area, with delicious coffee, cakes and sandwiches being readied for the cycling masses. All we needed were the cyclists and the weather... and despite Lottery-style forecasts, the sun was shining warm on our backs as we got our bikes ready for the off.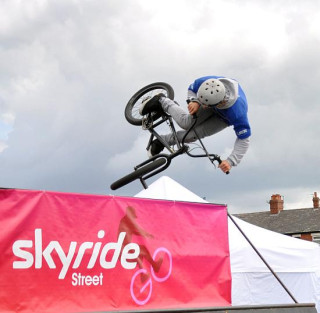 Above: Skyride Street saw top UK BMX riders show their skills
There's an expression that goes something like "Build it and they will come" and sure enough, as the magic hour of 10am approached, the Velodrome was awash with cyclists of all kinds; commuters, fixies, kids on BMXs, families, couples, people on custom cruiser bikes, folding bikes, unicycles, tall bikes, shiny bikes, old bikes, roadies, mountain bikers, you name it. It seemed that every cyclist in Manchester from every niche and clique was there to see what Skyride had to offer. And as we rode out onto the traffic free course, we began to understand why.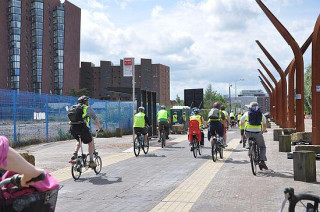 Above: Total takeover - the main route from the velodrome into town - wall to wall cyclists
We headed out of the Velodrome and looped around Phillips Park before joining the ruler straight road that heads into town - and all we could see far into the distance was a sea of yellow Skyride bibs, cyclists taking over the roads, smiling, talking as they rode along, heading in and out of town. It was a truly enlightening sight. A number of northern European cities experience high levels of cycle use where sights like this are common. But in a British city, this level of critical mass is rare and Skyride Manchester gave everyone taking part a fleeting glimpse of what things could be like if the balance was tipped and cyclists had strength in numbers.
Above: The Go-Ride Skills area was knee deep with young people all day...
We headed past the railway station and threaded our way into town. I was worried when I looked at the route, that we were going to tangle with tram tracks - tramlines and bikes are never happy bedfellows - however Skyride had thought of everything - the whole road had been covered with a special protective covering, making cycling a doddle.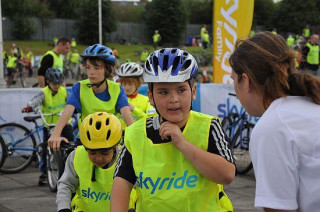 Above: At the velodrome top coaches were on hand to help young riders polish their skills
We headed towards Chinatown, past the impressive and intricate arch and found the whole area awash with Skyride barriers, giving riders taking part the feeling of being involved in a Tour de France stage. My sons immediately clicked into sprinter mode and were off, emulating their cycling heroes. We regrouped at the traffic lights - there were some areas where the route had to cross open roads. However, each crossing point was fully marshalled, making negotiating some of Manchester's busiest junctions safe and confidence inspiring, even for families with small children.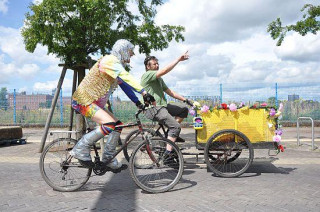 Above and below: Skyride Manchester attracted every kind of cyclist - and I mean every kind...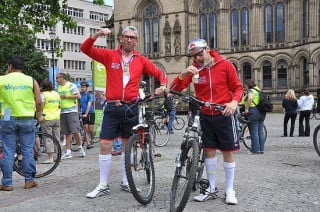 Soon we arrived at Albert Square, which was jam-packed with cyclists. In the centre was a huge Skyride marquee. Throughout the day, GB cycling greats and celebrities were on hand to sign riders' bibs. There was a huge catering stand serving delicious paella and and wonderful outdoor dining area under the trees in Albert Square, where riders could refuel and take in the spectacle.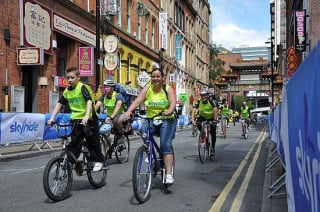 Above: Chinatown became Biketown for the day

The British Cycling stage was there too, with interviews all day with GB riders, coaches and celebrities, including TV's Gethin Jones, Skyride ambassador and GB Cycling Team's Performance Director Dave Brailsford, who spoke about GB cycling's world class success and how it inspires mass participation events like Skyride. Dave guessed that somewhere within the 15,000 riders out on the course, there were no doubt a few future Olympic hopefuls - and just across the Square, Wattbike was there, where people could test their power and leg speed on a 200m all-out sprint.
Above: Albert Square was the place to be, where you could rub shoulders with everyday cyclists and cycling greats like Olympic Champions Jason Kenny and Ed Clancy.
Throughout the day I spoke to riders out on the course, asking them what they thought of the day:
Debbie, 'born again family leisure cyclist' from Wythenshawe:
"It's fantastic to see the turnout. Can't believe it. I only bought my bike 3 days ago. We saw the ad in the Sky magazine and thought, 'Let's give it a go'. Glad we did and glad the weather held out."
Mal, 'hard-core roadie' from Bury:
"I've ridden in from Bury. I normally do loads of miles up in the hills, so this is different from what I normally do. It's great to see the families with little kids all having a go"
Dave 'cycling newbie' from Salford:
"Wasn't sure that I'd be able to make it around the whole route, but I did. Furthest I've cycled before is down to the shops... ...I've just been given a leaflet about the Local rides, so I might give them a go now."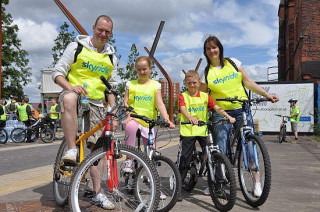 My family and I did about three laps of the course at a leisurely pace and as the afternoon wore on the sun got warmer on our backs and the cyclists just kept coming. The sight of thousands of cyclists taking up both lanes of Bradford Road is something I won't forget in a long time, and has really inspired me to get the family out more on the bikes this summer.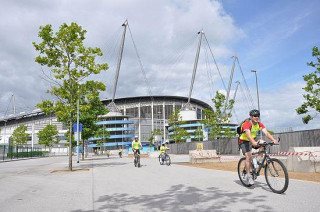 Above: Outside Manchester City Stadium, sunshine, cyclists and smiles - a perfect day in Manchester.
The next stop for Skyride is Hounslow on the 9th August. And if you're from Manchester but missed out on the big day, why not try out one of the regular Skyride Local events happening in and around the city throughout summer and autumn?