Bamboo Bikes Hit the UK Market
Is bamboo the new black? If the old black is carbon fibre, Manchester business RAW certainly think so. The ethically sourced and totally renewable material has been fashioned into ultra exotic road and MTB frames by US builder Calfee, and RAW's Rachel Hammond is bringing the innovative new material to the UK market. And don't mention Pandas. Rachel's heard it all before...
Above: The Calfee bamboo road bike and below, in MTB flavour...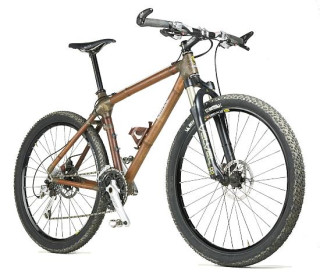 RAW, a new environmental business has recently began importing bamboo bikes into the UK. The bikes are high performance for the rider and greener for the environment.
RAW Bamboo Bikes - based in North Manchester and run by local Rachel Hammond - is the sole importer of the bikes, designed and built by hand in California, North America, by custom builder Calfee.
The bamboo frames - both road and mountain bikes available - offer incredible stiffness, whilst the natural flex in the material means that the ride is smoother, less vibration from the road, and the frame doesn't stretch and lose it's flex like carbon fibre. The frames are sold with a 10 year warranty from the manufacturers and RAW sell the frames as well as a bespoke custom build service on each frame type. The road bike is made in pro, tri and cross geometries
RAW Bamboo Bikes sells bamboo bike frames at £2175, and complete bikes from £3000 to individuals.
Calfee do not make a Mountain bike frame in any other material, claiming that bamboo's inherent resistance to failure means it offers the best performance on impact and its strength is incomparable on strength and durability. RAW claim that bamboo is easily comparable to steel in terms of weight and performance (indeed in China, bamboo scaffolding is regularly seen on modern, hi-tech building sites).
The frames are made using no electricity and are hand-built, each frame taking up to a week to build. The bamboo stems are joined using hemp fibre and tung oil.
Bamboo is a fast growing grass requiring significantly less land and water to grow than other trees, and can absorb up to 5 times more CO2 and release up to 35% more oxygen than an equivalent stand of trees. It can be harvested after 4 - 5 years, and re-grows easily.
For more information contact Rachel on rawbamboobikes@googlemail.com