Report: Skyride Hounslow
9th August 2009
Report and Images: Belinda Sinclair
Determined not to be outdone by the fabulous weather in Manchester last week for the Skyride Manchester, the Mayor of London's Skyride in Hounslow also basked in glorious sunshine that brought riders out in droves to take advantage of the 10k traffic free route in West London. But unlike the Manchester ride, this event had a surprisingly rural feel about it, winding its way through some of the often forgotten open spaces and large parks of the area, rather than around urban landmarks.
As Hounslow councillor John Todd explained, the setting was all part of Hounslow's careful plan: " We wanted to show people some of the greenery of our borough and encourage them to come and ride through what is essentially untouched countryside, right here in London. We're very lucky here in Hounslow to have so much open space but people often don't associate a big city with that - and we wanted a route that joined up bits of it to show people just what we've got here."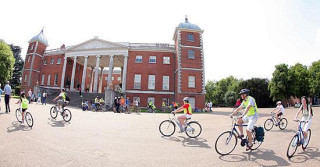 And with the planners having left most of the urban riding for the main Mayor of London's Skyride event in September, an estimated 11,000 riders were treated to a route that started on the Duke of Northumberland's estate at Syon Park, where a specially erected pontoon bridge took them past one of the oldest cast iron structures in the world, before continuing up into Osterley Park (pictured above), taking in a couple of miles of traffic free streets, then meandering along Isleworth Wharf and back into Syon Park.
Olympic track medallist Ross Edgar and the Mayor of London's Transport advisor Kulveer Ranger were on hand for the official start at 11am, but many riders had already done one circuit beforehand.
Tony from Hounslow started at ten o'clock:
"It was a sort of warm up 'cos I wanted to take full advantage of no traffic! It's brilliant to be able to ride along roads without having to dodge cars and buses. I only live down the road so it was easy for me to get here, but I'm going to stay all day and keep riding!"
And Brazilian novice cyclist Terezinha Freitas, who by the end of the afternoon had clocked up five circuits of the route:
"I started early because I don't usually ride my bike very far because I need to practice. But it's so good that I've just kept riding and riding. I've been stopping to talk to people and I've met new friends, and now I'm going to practice more because I want to do the one in London around all the famous places. It's lovely!"
Not all riders were novices however, and some were seasoned cyclists,. Lawrence O'Connor and his son had recently returned from an independent charity ride to Paris.
"This is our wind down for the summer. I'm here today with my son Lorcan and also my daughter Sian to take advantage of being able to ride without cars, and also just to cycle. Even Oscar (a ferocious sounding small hound riding in Lawrence's basket - I didn't get close enough to discover whether his growl was worse than his bite) is also up for it, and we're very much looking forward to today."
The start of the event - and the Skyride Family area - was set against the backdrop of Syon House, and a range of activities and stalls. The British Cycling Go-Ride try out course was busy all day. Speaking to BC coach Bill Wright, a steady stream of youngsters were keen to pitch their skills against the cones and limbo poles.
"It's great, they keep coming! We set out a little course first thing and the kids are loving it. I don't know how many have had a go, but there hasn't been a lull all day. And then they go off and ride round the route!"
The area immediately before the start was also the centre of last minute preparation and tune ups. Dr Bike had a long queue of people and had his work cut out with those wanting a last minute brake tweak or gear tune, whilst others who had prepared before the event, got ready to pedal off. Shquerra, mum Lorraine and dad Winston, were just about the leave as I chanced upon them.
"We're all ready to go. We don't live very far away, but we made sure we were ready before we left home, we got here easily, and we're looking forward to the day!"
Also waiting to move off - and entertaining other riders in the process - were James Hoare and Kirsty, who would perhaps, given the hot sunshine, live to regret their attire and the heavy bikes that they had chosen to ride. But none of that mattered at the start as they whipped up enthusiasm for the ride ahead.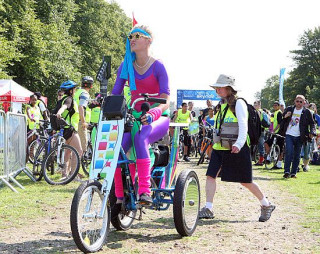 "We're here to get people excited about cycling and get that community feeling going, oh yeah! " exclaimed musician James. "Yep, and to get people rocking riding and disco driving" shouted Kirsty as the pair rode under the start gantry and off towards the Syon Park gates, to whoop their way along the traffic free London Road towards Osterley Park, followed by an entourage of grinning riders.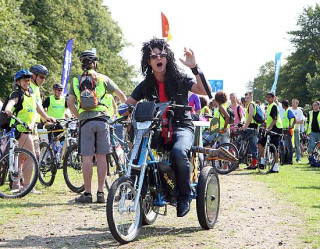 Amongst all the excitement however, the attention to detail and organisation was very clear, something commented on all day long by riders. Clearly marked direction signs, well marshalled barriers, and friendly, cheerful encouragement from Skyride staff got the attention of all riders all along the route, and as one observer remarked, created a bit of a first in the process:
"I think they should be given a medal - after all, they've managed to get all of these cyclists to stop at red lights! And how often does that happen in London? Hardly ever on my daily commute to work!"
But riding round the route, it became apparent that the London Borough of Hounslow had managed to create a very inclusive and community-minded event. With it being a very local event and with many local people riding, cafes and shops had put out chairs for people to rest on, while a couple of pubs were barbequeing in their car parks, and people were stopping to chat to neighbours and acquaintances. The the traffic-free environment on familiar streets had presented some unfamiliar experiences to some:
"I've only ever driven up Wood Lane but I rode up it today - and do you know, I never realised that hill was so steep! It was quite a surprise but I managed it! It's been a very good day" said Sandy from Whitton.
One person who seemed to effortlessly glide up the same hill, despite wearing full mayoral dress, but with as he put it, minimal bling and no chain, was Hounslow's Mayor, Councillor Paul Lynch
"Please note there is a definite lack of Ermine, but the mayoral badge is a must, as are the white gloves! And I'm also wearing the mayoral cycle helmet to protect the mayoral head should things go wrong - which I hope they won't but you never know!"
Fortunately, they didn't and after a well-earned breather on the steps of Osterley House, he made it safely back to Syon Park, with his cycle customised mayoral robes billowing in his wake.
Many others also took a breather and had a picnic in Osterley Park, amongst them, Pete and Clare from Buckinghamshire, and their friend Pelmina from Ferraria in Italy. All were very impressed with the day, not least Pelmina:
"I like to ride my bike in Italy. My town is Ferraria - and it is known as the town of the bicycle. Today here is very good!"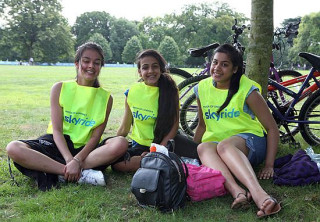 And three sisters - Jasprett, Manveet and Bavneet from Heston who had found out last week about the ride, and had been dropped off by their mother earlier in the day:
"Mum heard it on the radio, and we decided to do it. We've been practicing all week so that we'd be OK, and we did it! It's been a really good day! We couldn't get mum to do it though - she'd never go on a bike!"
But prize for persistence must surely go to the Suchak/Jain clan who were resting in Osterley Park, already having ridden round several times, and were getting ready to set off again:
"It's not often you get the chance to ride without traffic, and if the council has gone to the trouble of arranging all of this, then it's up to us to make the most of it! And that's what we're doing".
They were spotted several times later in various location, and confessed to having been home a couple of times, having a bite to eat (several times) before getting back on their bikes to do it all over again. By 4pm, they were preparing for one last circumnavigation:
"I think we'll call it a day after this time round. Well we probably will - but we have said that several times already, but it's been such good fun that nobody really wants to go home!"
And with that accolade setting the tone for the day, it would seem that the efforts of all of those who worked so hard to make the Mayor's Skyride in Hounslow happen, earned a very big thumbs up from the local residents.