Harriet Harnden and Gianni Siebens thrived in the York mud once again as they took their second win in as many years at the National Trophy venue.
Following their successes in last year's event both were grateful for similarly tough conditions as they rode away from their rivals to victory once again.
Meanwhile, a third place in the women's race for Ffion James (Hope Factory Racing) and second for Gosse van der Meer (Bombtrack Bicycles) saw them secure the overall National Trophy series titles in the men's and women's event.
Over 650 riders competed for National Trophy honours over two days of racing in the sixth and final round of this year's series.
The course was again a gruelling one with technical off-cambers and testing descents which pushed the skills of riders and the soft ground turned muddy by Sunday's senior events.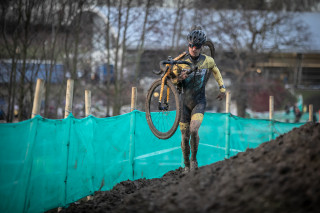 Senior men
IKO-Crelan rider Siebens took a fine solo victory in the Yorkshire mud pulling out a slender margin before making it an unassailable one.
From the opening lap Belgium under-23 rider Siebens was joined by round three winner van der Meer at the front of the race.
The pair matched each other stride my stride as they pulled out a large gap over the chasers.
In the chasing group behind was previous round winner Arne Vrachten (Acog-Pauwels Sauzen-Balen BC) along with fellow under-23 riders Toby Barnes (RST/Cycle Division RT) and Sean Flynn (Team Inspired).
They were also joined by overall series leader Ian Field (Neon-Velo CT), looking for his seventh National Series victory in a row.
However, after Field, who had been suffering from illness, faded away from the chasing group he abandoned the race giving series honours to Dutch rider van der Meer.
Behind Vrachten eventually pulled away from Barnes to take third place.
Meanwhile, after initially losing ground Flynn rallied to pass Barnes for fourth overall and third under-23 rider.
"The feeling was good today," said Siebens.
"Yesterday I raced and didn't have the best race but today I had better legs and it was a good day for me.
"Gosse (van der Meer) was with me and then on the third lap I went faster. A year ago I won here in York and I like the mud."
Speaking after being crowned overall series winner, van der Meer added: "It wasn't easy.
"On the first lap I saw I was going quite well and I saw Ian (Field) wasn't there so I decided to keep pulling."
Senior women
Under-23 rider Harnden showcased her technical ability once again on a York course which she thrived on.
The T-MO Racing rider, from Malvern, showed her mountain bike skills to gap her rivals on the opening off-camber technical section on the first lap.
Harnden then powered through the mud to grow out a gap of 50 seconds after the opening lap which kept growing throughout the event.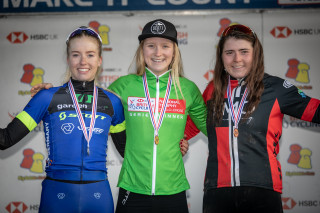 Behind Ffion James (Hope Factory Racing), chasing overall honours, led the initial charge before being passed by Beth Crumpton (Tarteletto-Isorex).
Fresh from a spell of racing on the continent Crumpton powered away for second place while James took third.
James' third place was enough to take the overall series title off the shoulders of local rider Sophie Thackray (Scott Racing).
However, Thackray's seventh place was enough to secure the under-23 overall series victory.
A sixth place finish for under-23 rider Katie Scott (Garden Shed UK-Scott) saw her take third overall and second under-23 in the series.
Winning junior rider Josie Nelson (RST/Cycle Division RT) was amongst the podium places in the senior riders before falling away for a fine fourth place on the day.
Second junior was Maddie Wadsworth (Beeline Bicycles RT) while Lotta Mansfield (RST/Cycle Division RT) took third.
Despite leading the overall series going into the final round an absent Anna Flynn (Edinburgh RC) was pushed down into third as Nelson clinch the victory and Mansfield second.
"It was great to be back and it was very similar conditions to last year," said Harnden.
"It was cool that they did the course kind of the other way around, so it was very different and I'm looking forward to hopefully coming again.
"I like the mud and technical aspect and I'm getting into my running as well so I thought that was a good bit for me."
Meanwhile James took the overall title on the final round, she said: "I'm super happy and have came really close over the last few years. Last year and the year before it came down to the final round, so to get it this year feels really good.
"I always want to win a race, I can't help it I'm competitive so it was all out for the win if I could do.
"You had to ride your own race and it was really tough, the time gaps were big and you just had to pace it.
"Hattie (Harnden) went from the start and she was absolutely flying. I got into second and tried to go for her, but she was just gone.
Women's race result
1 Harriet Harnden (T-MO Racing)
2 Beth Crumpton (Tarteletto- Isorex)
3 Ffion James (Hope Factory Racing)
Overall senior women
1 Ffion James (Hope Factory Racing)
2 Sophie Thackray (Scott Racing)
3 Katie Scott (Garden Shed UK-Scott)
Under-23 race result
1 Harriet Harnden (T-MO Racing)
2 Katie Scott (Garden Shed UK-Scott)
3 Sophie Thackray (Scott Racing)
Overall under-23
1 Sophie Thackray (Scott Racing)
2 Katie Scott (Garden Shed UK-Scott)
3 Harriet Harnden (T-MO Racing)
Junior result
1 Josie Nelson (RST/Cycle Division RT)
2 Maddie Wadsworth (Beeline Bicycles RT)
3 Lotta Mansfield (RST/Cycle Division RT)
Junior overall
1 Josie Nelson (RST/Cycle Division RT)
2 Lotta Mansfield (RST/Cycle Division RT)
3 Anna Flynn (Edinburgh RC)
Junior men
Rory McGuire (Leslie Bike Shop/Bikers Boutique) took a dramatic sprint finish to win the junior men's race after recovering from a last lap crash.
Looking to secure the overall series Dan Barnes (Garden Shed UK-SCOTT-Verge Sport) pushed the early pace away from the fast start road into the slow and sticky mud.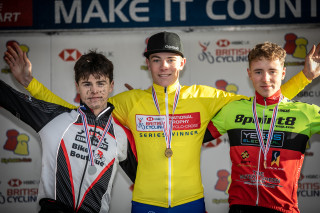 Only McGuire and Oliver Stockwell (Team Flamme Rouge CT) were able to live with the yellow jersey wearer's pace and the trio took a large gap.
With two laps remaining McGuire forced the pace and Barnes payed for his early efforts and was left in a lone chase in third, leaving the two leaders to battle it out.
Coming into the hurdles on the last lap McGuire crashed giving Stockwell a handful of seconds advantage coming into the final stages.
However, Scottish rider McGuire, who also won at Derby and Westmorland Showground, used his running speed on the off-camber descents to close the gap.
Coming into the short road finish Stockwell led out the final corner but McGuire had the finishing speed to take his third win of the series.
"It was really tough racing and I crashed trying to hop the hurdles so Oliver (Stockwell) got a little bit of a gap but it was only five or 10 seconds, so I worked really hard to catch him," said McGuire.
"I bent my hanger as well so couldn't actually change gear but when I changed bike, I was catching him up. I was quicker on the running and technical bits and caught him up.
"It was hard running on the off-camber when you are tired, I slipped quite a bit and I think Oliver did as well.
"We were trying not to make as many mistakes as we could. We worked really hard about half-way to try and get rid of Dan and it worked.
"I was just as tired as him (Stockwell) so I couldn't get past before and then when you see the finish you give everything you've got. I got a good line into the finish which did it I think.
"I just got him in the end which was good, I was happy with that."
Barnes' third place finish secured him overall honours while the race win gave McGuire silver and Alec Gregory (8point8 Group) bronze overall.
Talking about securing the overall series title, Barnes said: "It feels really good.
"I'm happy with that, I've done five races in the National Trophy and got four podiums and a win.
"I got a good start so there was no point in wasting it so I got us three away, but they were just stronger."
Race result
1 Rory McGuire (Leslie Bike Shop/Bikers Boutique)
2 Oliver Stockwell (Team Flamme Rouge CT)
3 Dan Barnes (Garden Shed UK-SCOTT-Verge Sport)
Overall standings
1 Dan Barnes (Garden Shed UK-SCOTT-Verge Sport)
2 Rory McGuire (Leslie Bike Shop/Bikers Boutique)
3 Alec Gregory (8point8 Group)
Veteran men
In the veteran's 50+ age category, Nick Craig (SCOTT Racing) duly completed his series win with a fifth straight victory and another ride-away performance after an early race tussle with Pete Middleton (Zepnat).
The veteran's 60+ category was a much less predictable affair as the two riders vying for the series title were immediately put on the back foot by World Champion Dave McMullen (Cotswold Veldrijden) who took an early lead which he retained for the first half of the race.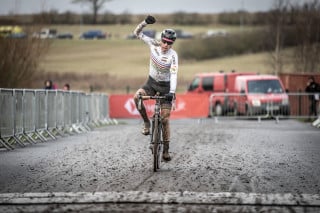 Series leader Robin Delve (Mid Devon CC) was holding fourth place, keeping a close watch on his closest rival for the series' win Malcolm Cross (VC Venta).
Between them was the perennial Mick Davies (Pedal Power Loughborough) who forced his way up to McMullen to contest the lead in the penultimate lap before McMullen produced a strong finish to eventually take the race.
Behind them Delve gradually overhauled Cross and opened a gap that secured him a first series win.
The veteran's 40-49 was an unusual affair as two riders finished ahead of Adrian Lansley (Pedalon).
Going for a clean sweep Lansley could only manage third after a strong display of technical skills in the worsening conditions saw Lewis Craven (Wheelbase Cab Tech Castelli) take the win.
Paul Lloyd (Banjo Cycles Raceware Specialized) duked it out with Lansley for the remainder of the race, eventually talking the second podium spot.
Veteran women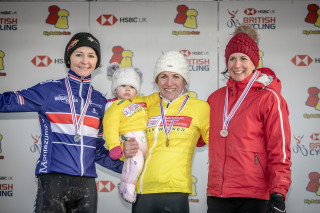 In the veteran's 40-49 age category Kate Eedy rode away from the field to become the only rider in any category to secure six out of six Trophy wins this season.
The Team Empella rider and recently crowned World Champion never looked under threat and was followed home by Helen Pattinson (Hargroves Montezuma) with Caroline Rueter (Dulwich Paragon) a fine third place.
Everything was up for grabs in the women's veteran's 50+ age category and it duly delivered a cracking race with Miriam Whitehouse (Somer Valley CC) leading for most of it ahead of another titanic battle between the two series title contenders Tracey Fletcher (Magspeed Racing) and Catherine Kilburn (Mid-Devon CC), separated by a single point going into the final race.
Those two exchanged the front position a couple of times in an exciting battle that eventually overhauled Whitehurst with Fletcher pulling away to take her third straight win with a narrow victory and the series win overall.
Youth Girls
It was business as usual in the under-16 age category as the only thing noticeable about Zoe Backstedt's (Storey Racing) fifth straight win was the apparent ease with which she completed it.
She needed less than half-a-lap to open a gap which kept growing to the line for a convincing win and she never looked under threat.
As in previous rounds, Backstedt's Welsh compatriot Ella Maclean Howell (Cardiff Jif) took second with Niamh Murphy (Pedalon CC) continuing to show that she is a fast-emerging talent taking her second straight National Trophy series podium in third.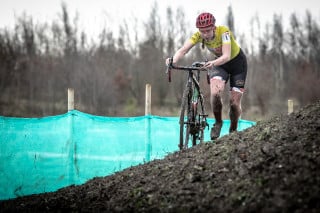 Carys Lloyd (VC Londres) took a healthy point lead into the under-14s race and despite a gruelling race to finish fourth, easily won the title as two of her main rivals Lucy Glover (Derwentside CC) and Cat Ferguson (Cycle Sport Pendle) struggled in the conditions, finishing 9th and 10th respectively.
A brilliant display of technical bike handling at the head of the race saw East Bradford RT's Florence Greenhalgh floating over the boggy terrain, staying poised and balanced where others were rolling around in the mud to take a maiden National Trophy win, ahead of Lucy Wollaston (VC Londres) who also took second in the series overall and another emerging talent, Imogen Wolff (Holmfirth Cycling Club) in third.
Youth Boys
The usual cavalry charge off the line saw two massive fields of youth boys start their races in poor conditions as freezing showers swept through making the ground conditions unpredictable.
Ben Coppola (Hillingdon Slipstreamers) was the first to show his hand in the under-14s category with a strong start, but the race quickly settled into the predicted dogfight between the two leading contenders Sebastian Grindley (North Cheshire Clarion) and Finlay Tarling (West Wales Cycle RT).
The pair put on a real show of attack and counterattack as each time Grindley attacked and opened a gap Tarling somehow managed to find the legs and the skills to pull him back.
Eventually the elastic snapped and Grindley pulled away to take his fifth win of the series and the title.
The under-16 boys' race lived up to its billing as what was likely to be the most closely fought battle of the opening day.
Max Greensill (Hope Factory Racing) and Oli Akers (Garden Shed UK-SCOTT-Verge Sport) were locked together in a shoot-out for the series and as expected traded places at the head of the race several times in the opening laps.
Joe Smith (Iceni Velo) was in no mood to let the pair take all the glory and got involved in the mix, taking the lead himself on more than one occasion as the three made light of the conditions with a high-speed exhibition of all the traditional cycle cross skills.
On the penultimate lap Akers finally made a move that the chasing pair could not respond to and opened a race-winning move that saw him take a fourth series victory and the series title overall.
Smith held on for his second podium of the series with Greensill in third.
Gallery
(Click to view on Flickr)