The penultimate round of the 2019 HSBC UK National Trophy series sees the action move to the South Wales coastline and a new host-venue to cyclo-cross racing, Pembrey Country Park, this weekend.
You can follow all the race action with live updates at @NatCXTrophy on Twitter with results at http://results.smartiming.co.uk/ all through the weekend.
With five out of six rounds counting, the series has reached the point where a number of riders will be looking to consolidate a strong position with just one more round to follow, if not actually tie-up the series win a strong performance this weekend.
As with the previous round, a large contingent of continental riders will make the racing even more hard-fought.
Senior/U23 Men
Another very strong entry from Belgian and Dutch riders looking for valuable UCI points adds to the quality of the men's race, despite ride-away winner at Ardingly, Thijs Aerts (Telenet Baloise Lions), not making the trip to Pembrey.
A number of the riders who challenged Aerts in that race, including Yannick Peeters (Pauwels Sauzen-Bingoal) and Gianni Siebens (IKO-CRELAN) return in search of the win this time out, along with other continental challengers including series regular Yorben Van Tichelt (Neon-Velo Cycling Team) and Arne Vrachten (Acrog-Pauwels Sauzen-Balen B.C.).
Gosse van der Meer (Bombtrack Bicycles p/b Hunt wheels) will be looking to score more points than Ian Field (Neon-Velo Cycling Team) as the two contest the overall series lead. Field, in search of an incredible seventh national trophy series win, holds a 24-point advantage with two rounds to go, with the pair having won a round each, so this race could be crucial.
Leading the UK challenge in the U23 competition is Toby Barnes (RST/Cycle Division Racing Team) who also sits third in the overall series. Hhe can expect a strong challenge from Team Inspired's Sean Flynn, who starts from the row behind him on the grid.
Senior/U23/Junior Women
Leading U23 rider Sophie Thackray (SCOTT Racing) also starts this race in the overall series leader's jersey and, in the absence of a number of previous round winners, should prove the main threat to Ffion James (Hope Factory Racing) who starts from position one on the grid.
With no less than six of the top ten series high-flyers missing, Pembrey is a real opportunity for the chasing pack to cement a high-placed overall series finish, so expect the racing at the sharp end to be close and hard-fought.
U23 rider Kätlin Kukk (Spordipartner) leads the European challenge for Estonia, with Fiona Turnbull (Slingshot) alongside her on the grid while Ireland's Lucy O'Donnell (Verge Sport PI Cycles) is the leading junior on the front row with Lotta Mansfield (RST/Cycle Division Racing Team) and Roisin Lally (Scott Eurocycles.com) also looking to challenge in that category.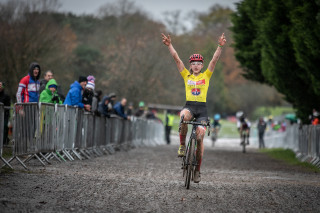 Junior Men
International duties also mean that none of the top four leading riders in the series are down to start in the junior men's race, leaving the door open for others to close and possibly overhaul the 34-point gap to the series front runners.
Joe Blackmore (Rotor Racing) and Joe Kiely (Welwyn Wheelers) have already had some tight scraps in both national and league races this season and should go close here with Alec Gregory (8point8 Group) starting from pole on the grid and William Truelove (Abergavenny Road Club) likely to be challenging for the podium.
Veterans
The V40s categories in both men's and women's divisions sees two riders who have dominated the series so far returning in pursuit of maintaining their 100% win-rate. Kate Eedy (Team Empella Cyclo-Cross.Com) and Adrian Lansley (Pedalon) have both won four out of four and are looking to tie up series wins at Pembrey.
Paul Lloyd (Banjo Cycles/Raceware/Specialized) and Alex Forrester (www.Zepnat.com RT - Lazer helmets) have been the two riders closest to Lansley this season and are both on hand to try and usurp him while Helen Pattinson (Hargroves Montezumas) once again looks like being the main challenger to Eedy's dominance in the women's series.
In the 50s category Pete Middleton (Zepnat) retains the leader's jersey in the men's division despite Nick Craig (SCOTT Racing) wining the last three rounds, and these two look likely to battle it out again from the front two positions on the grid but, racing on home soil, both Mark James (Dream Cycling) and Tim Davies (CC Abergavenny/JP Signs & Print) will be hoping to pick up the pieces of any mistakes made by the leading two protagonists.
In the women's race the dominant force in the opening two rounds, Maddi Smith (Bolsover & District CC), is once again missing with injury, leaving the door open for another battle between series leader Katherine Kilburn (Mid Devon CC) and winner last time out Tracey Fletcher (Magspeed Racing).
The V60s category sees a mere eight points separating Nicola Davies (www.cyclocrossrider.com) from second placed Sally Reid (Magspeed Racing) and with both riders down to start at Pembrey this should be another exciting tussle.
The men's division in this age group is even tighter, with just six points between series leader Robin Delve (Mid Devon CC) and second-placed Malcolm Cross (VC Venta) who won the last round in Ardingly, so another tight scrap could be on the cards here.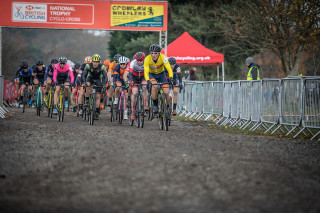 Youths
All the leading youth contenders are in action at Pembrey so we should be in for another great weekend of hotly-contested racing. The U16 girls sees Zoe Backstedt (Storey Racing) and Ella Maclean-Howell (Cardiff Jif) looking for wins on home soil. Backstedt has been in dominant form, winning all three of the rounds she has so far contested and looking unbeatable, but Hope Inglis (Team JRC) has been a podium regular and starting from second on the grid will be trying to at least retain her second place in the series overall.
Maddie Cooper (Jam Cycling RT) won round three on a similar type of links course in Irvine in Scotland so will be looking for another good result, and Libby Bell (Leicester Forest) has recovered from a slight injury concern that forced her out of the previous round when running close to the front, so should be a contender.
In the U14s race Carys Lloyd (VC Londres) holds the series leader's jersey by 30 points having won the opening three rounds but an uncharacteristic slip saw her finish down the field at round four, keeping the series open. Cat Ferguson (Cycle Sport Pendle) won that race after a titanic battle with Lucy Wollaston (VC Londres) and both will be looking to keep the series alive to the final round with a win here, as will Lucy Glover (Derwentside CC) whose consistent high finishes see her in second on the grid and in the series overall.
In the boy's division it looks to be business as usual in the U16s as Oli Akers (Garden Shed UK-SCOTT-Verge Sport) and Max Greensill (Hope Factory Racing) re-join battle after a terrific head-to-head in the series so far. Greensill starts in the yellow jersey of series leader but with Akers just eight points back, having won the previous three rounds, this battle could go right down to the wire.
In the U14s race Sebastian Grindley (North Cheshire Clarion) holds a massive 58-point lead in the series having won the previous three rounds, but second on the grid Finlay Tarling (West Wales Cycling RT) is on very familiar home turf at Pembrey and has been an improving cross rider with every race so would expect to go well here. Third and fourth-placed riders in the series, Alfie Amey (DB Racing) and Ben Coppola (Hillingdon Slipstreams), are also on the front row of the grid and looking to put pressure on the front two.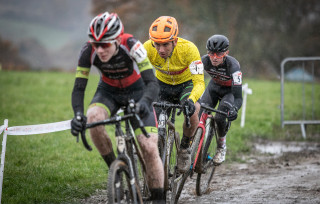 Event Schedule
Saturday
23 Nov 19 09:35 Veteran Men 50-59
23 Nov 19 09:36 Veteran Men 60+
23 Nov 19 10:35 Veteran Men 40-49
23 Nov 19 11:40 Veteran Women
23 Nov 19 13:45 Under 16 Girls
23 Nov 19 13:46 Under 14 Girls
23 Nov 19 14:30 Under 14 Boys
23 Nov 19 15:15 Under 16 Boys
Sunday
24 Nov 19 11:20 Junior Men
24 Nov 19 13:15 Senior/U23/Junior Women
24 Nov 19 14:20 Senior/U23 Men