Thijs Aerts and Beth Crumpton were the big winners at round four of the HSBC UK National Trophy series held at Ardingly in West Suffolk.
A fantastic event at the South of England Showground attracted a large contingent of Dutch and Belgian riders with their support crews and families across the channel which, along with some 'traditional' cycle cross conditions, gave the whole event a really continental feel.
Senior men
The men's race was always going to be a case of how many UK riders could mix it up with the large number of continental based riders in the top ten of the race and, in the event, it was series leader Ian Field (Neon Velo) who finished highest in 10th - a result which underlined the quality of the competition as Field himself is in great form. It could have been different as U23 rider Jenson Young (Garden Shed UK-SCOTT) had a storming couple of opening laps which saw him comfortably holding position in the top five until an unfortunate mechanical dropped him out of contention. He still fought back to finish a credible 18th but the signs were all there that Young has a bright future. At the head of affairs nobody was able to stay on terms with a flying Thijs Aerts (Telenet Baloise Lions) who wasn't in mood to hang around in the bunch and took off the front of the race early, opening a comfortable gap which he never looked like losing.
A couple of chasers separated him from a high speed train of seven riders which included Field, trying to get back on terms but the heavy conditions started to take their toll in the second half of the race and the group fractured into its individual components as the race drew to a conclusion. "Even just a couple of seconds in this mud is so hard to close down" explained Field "so I just stuck to my pace and ground it out for the hour. I put a few places between me and Gosse so that was the main aim from today really." Gosse van der Meer (Bombtrack Bicycles), Fields main contender in the series and winner of the previous round could only finish 17th on the day leaving Field to retain the Yellow Jersey. Yannick Peeters took second behind Aerts with his Pauwels Sauzen - Bingoal teammate Jelle Camps rounding the podium and also winning the U23 category with Callum Macloed (Canyon dhb p/b Bloor Homes) the highest placed UK rider in 8th in that category.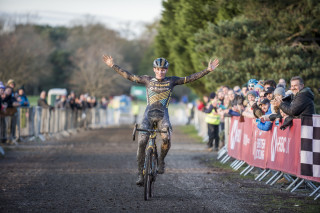 Women
The women's race also saw a number of continental riders involved but Beth Crupmton was in no mood to let that get in the way of a strong performance which saw her take her first Trophy win of the series and the first win for her new Tarteletto - Isorex team. Taking the lead early on Crumpton pulled away from the field initially with Fiona Turnbull (Slingshot) in second, Ffion James (Hope Factory Racing) in third, Sophie Thackray (SCOTT racing) in 4th and Amy Perryman (Hargroves Montezumas) in fifth, leaving the watching crowds wondering where the continental challenge was coming from. In the end it came from Suzanne Verhoeven (XALT Cycling), who managed to pick her way through the chasers to a third-place finish but never managed to get on terms with Crumpton or James what took first and second places. Turnbull hung on for an impressive 5th while Thackray's 4th, despite a nasty, late-race crash was enough to win the U23 category as well as earn her the overall series leader's jersey for the next round at Pembrey. "Everywhere was hard going out there" admitted Crumpton after her win, "the whole body working, pulling on the handlebars and trying to find enough power to get through that mud. It was pretty tough."
Maddie Wadsworth (Beeline Bicycles) finished 10th overall to win the junior category ahead of strong rides from Lotta Mansfield and Amo Wayte, both taking their first podiums of the series for RST/Cycle Division RT while Abbie Manley (Hargroves Montezumas) finished strongly in 8th overall to round out the U23 podium behind Thackray and Turnbull.
Junior Men
The Junior men got proceedings under way on day two on a very muddy, but drying course. Dan Barnes (Garden Shed UK-SCOTT) quickly opened up what looked like a decisive lead of 30 seconds by the start of lap two with Ben Chilton (Derby Mercury RC) his only real challenger. With Joe Kiely (Welwyn Wheelers) locked in a battle for third place with Joe Blackmore (Rotor Racing) some distance back, the race looked effectively over before halfway until Barnes dropped a chain that got stuck in his chain catcher allowing Chilton to pass and take the lead. Recovering, Barnes managed to close the gap, aided by a slip in the pits by Chilton, and with the possibility of taking series leader's jersey on the line, Barnes wasn't going to miss the opportunity and powered away from on the last lap for the win, Kiely holding on for third to round out the podium.
Vet men
The Vet 50's got the weekend's race action underway with Tim Davies taking a grip on the opening lap, after a strong hole-shot by Nigel Gregory (8point8group). Ian Jeremiah (Cardiff Jif), defending series champion Pete Middleton (Zepnat) and Andy Peace (Shibden Cycling) were all chasing hard with pre-race favourite Nick Craig (SCOTT Racing) slightly further back but still in the top 10. Davies paid the price of an error and got tangled in the netting momentarily, which allowed Craig, recovering from a slow start, and Middleton to escape while Mark James (Dream Cycling) came through to join Peace and Jeremiah to contest the battle for third. The technical nature of the course took its toll when Middleton hit a course marker allowing Craig to escape and open a gap on lap three which he extended to the line to take the win. James won the battle for the remaining podium spot taking third behind Middleton. The V60's saw a close battle between Malcolm Cross (Velo Club Venta) and Dave McMullen (Cotswold Veldrijden) in the early stages before Cross pulled away for a 30 second win at the line, local rider Nick Welsh (Crawley Wheelers) taking third.
Adrian Lansley (Pedalon) continued his domination of the series by winning a fourth straight Trophy, In the V40s, but although the margin of victory looked convincing, the manner of it was anything but. "I needed a good gap at the start because with about 20 mins to go I realised we had a problem with the spare bike - so I had to borrow a friend's bike which was a size too big," admitted Lansley, "I was all over the show but I didn't lose too much of the lead". Paul Lloyd (Banjo Cycles/Raceware) couldn't quite do enough to enough to capitalise on Lansley's discomfort, finishing 15 seconds down in second with Alexander Forrester (Zepnat) in third.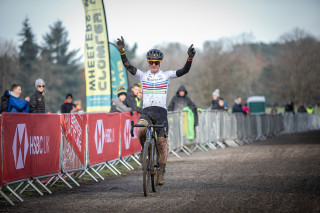 Vet Women
Helen Pattinson (Hargroves Montezumas) lead out in the early stages of the vets race with series leader Kate Eedy (Team Empella Cyclo-Cross) in close contention. As Eedy pushed through to take the lead Caroline Reuter (Dulwich paragon) stormed through into second and looked like a genuine contender to take the lead but In the drying, muddy conditions, even the most benign looking straights and flat sections were fast becoming walking-pace, attritional drags taking a mechanical toll on many riders and Reuter was soon forced out of contention with two broken rear mechs. Eedy extended her lead to the take a 4th straight series win while the battle for second was won by Pattinson, holding off Lucy Siddle (Allen Valley Velo) in third. A reduced field in the V60s event saw Sally Reid take a convincing win while her teammate Tracy Fletcher took the win in the V50's making it a memorable day for the Magspeed Racing team.
Youth Girls
Returning from a highly successful trip to Belgium to experience some of the classic European CX races the previous weekend, Zoe Backstedt (Storey Racing) returned to winning ways on UK soil with another dominating performance which wasn't as comfortable as it seemed on the surface. Firstly, a cleat problem necessitated a change of footwear in the pits before she punctured on the next lap, but Backsted always looked like having significant enough pf a gap. Ella Maclean Howell (Cardiff Jif) came through in a clear second place, while a powerful second half of the race saw Hope Inglis (Team JRC) power through the field. After a slow start left her well down the field Inglis eventually overhauled previous round winner Maddie Cooper (Jam Cycling RT) to take third. The U14s saw a maiden trophy win for Cat Ferguson (Cycle Sport Pendle) who made a last lap escape from Lucy Wollaston (VC Londres) the two having been locked together wheel-on-wheel for most of the race, series leader Carys Lloyd (VC Londres) struggled in the conditions but finished high enough to retain the leader's jersey while Imogen Wolf (Holmfirth Cycling Club) had a fine ride to take third.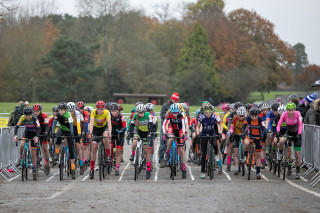 Youth Boys
The U14s saw another ride-away victory for Sebastian Grindley (North Cheshire Clarion) who, after a similar performance in similar conditions at Milnthorpe in Round two, looks to be something of a specialist in the muddy conditions. The real battle of the race was for second as Finlay Tarling (Worx Factory RT) eventually overcame Ben Coppola (Hillingdon Slipstreams) after a real mano-a-mano battle which saw the two exchange places several times during the final laps as each tried to get away in the worsening conditions.
The much-anticipated battle between rivals Oli Akers (Garden Shed UK-SCOTT) and Max Greensill (Hope Factory Racing) for the win in the U16s didn't really happen as Akers made a break early on lap one and opened a lead that he never looked like giving up. As heavy rain drenched the course, the more slippery conditions made the riding faster if a little more treacherous as riders in the chasing pack started sliding into the fencing and tapes with regularity, but both leading contenders provided a masterclass of how to ride in typical 'cross conditions, Akers taking the win and Greensill cannily riding to second to retain the series leader's jersey with two rounds to go. Ben Askey (RST/Cycle Division RT) rode impressively to take third place on the podium.
With two rounds remaining, the series moves to Pembrey in South Wales in two weeks' time.
A gallery of today's action can be viewed here.