Dutch rider Goss van der Meer won the senior men's race at round three of the HSBC UK | National Trophy Series after a thrilling weekend of racing that also saw a breakthrough first win for Katie Scott in the women's event.
On a course that offered long, bumpy straights, a multitude of switchback bends and off-camber sections, plus enough elevation to keep rival competitors in sight, the racing was fast-paced all weekend, despite the odd heavy shower that made the occasionally rendered the top-surface a little slippery.
Men
A fast start in the men's race saw Toby Barnes crest the hill first time up with Ian Field (Neon Velo), Goss van der Meer (Bombtracks, Jenson Young (PH-MAS/Paul Milnes), Steve James and Matthew Taylor in close attendance, with no significant gaps as the pack sorted itself out on lap one.
Van der Meer took over the lead at the top of the climb on lap two when Barnes left the door open on the off-camber drag, and the pair opened a small gap of five seconds ahead of a chasing pair of Field and Jensen Young.
With just two laps gone the two pairs of riders had already established a huge lead over the chasing riders and the race already looked to be between these four. Other notable rides included Sean Flynn (Team Inspired) who from a start position of 54 powered through to be contesting the top 10 as the race entered lap three.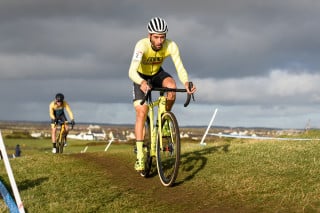 The next couple of laps saw a high-speed game of poker develop with the leading four testing how far they could push the edge of their tyres through the bends and cambers in the super-fast, dry conditions. Young blinked first, dropping back from Field, leaving the series leader to chase down the lead pair on his own.
Tantalisingly van der Meer and Barnes remained just out of reach of Field and when Barnes faded slightly, van der Meer opened a solo lead of around 14 seconds by mid-race, with Field quickly closing in on Barnes. Behind, Young was riding solo ahead of a chasing group of Callum Macleod, Flynn, Giles Drake, George Thompson and Jacob Scott, who were chasing hard.
Despite the frantic high speed, van der Meer looked smooth and technically accurate in the bends and opened a gap of 24 seconds at the bell, a lead he never looked like giving up. Field caught and passed Barnes to take second and retain the leader's jersey at the midway point of the series.
"I'm pretty happy with the weekend and where I am in the series," revealed Field after the race. "It was a 10-hour journey up for me but worth it; it's a great course. The next few rounds suit me so I'm pretty happy with how things stand."
Van der Meer was understandably elated to take the win, saying: "I had a block of training in Switzerland for the last week, so to come here and take the win is very special, all the hard work has paid off."
Women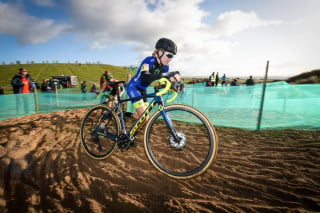 The women's race started with the customary charge off the front by Josie Nelson (RST Cycle Division) who held the lead for the first half lap or so. Behind her, the race quickly developed into a battle between the various series' leader's jerseys with juniors Anna Flynn (Edinburgh RC) and Millie Couzens (PH-MAS/Paul Milnes Cycles), U23 leader Sophie Thackray (SCOTT Racing) chasing hard along with Ffion James (Hope Factory Racing).
However, the first clear break came from an impressive attack late on lap one when Scott (Garden Shed UK-SCOTT) opened up a six-second gap following a strong attack. A chasing group of four formed with James, Flynn, Nelson and Couzens fighting hard.
Behind, previous round winner and pre-race favourite Hattie Harnden (T-MO) was struggling to get on terms as Scott's lead opened to 13 seconds at the end of lap two, with Flynn chasing hardest, Nelson a further five seconds back and James in 4th.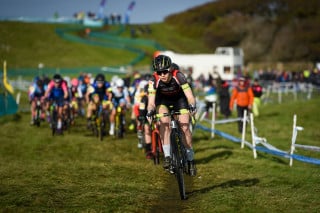 By mid-race Scott's lead was out to 18 seconds with James sensing a podium, closing in on Nelson in 3rd. The gap to the leader went out to 26 seconds with two laps remaining, Flynn holding second by a slender six second lead ahead of James. At the bell Flynn got caught by the James/Nelson pairing to form a chasing trio but Scott was smooth and powerful at the head of the race and took a very impressive win with James outsprinting Flynn for second.
"It was a bit nerve-racking," admitted a very emotional Scott after her maiden national trophy win. "I didn't have a great start but then went very hard, I saw Anna and Ffion behind me and I was trying stay focused and not make any mistakes."
Veterans
The racing kicked off on day one with the veteren men's 50-59 category where previous round winner Nick Craig (Scott Racing) made a decisive early break, quickly opening a gap of eight seconds over a chasing group containing all the strong contenders.
Series leader Pete Middleton (Zepnat), Murray Swanson (Pedal Power), Mark James (Dream Cycling), Simon Hale (Army Cycling Union), Tim Davies (CC Abegrgavenny) and Andrew Peace (Shibden CC) initially kept the leader in their sights but Craig consolidated his lead mid-race and converted it into a second straight series win.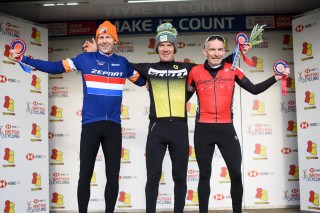 Peace looked like the main challenger to Middleton for second spot on the podium but dropped back as Swanson put in a great late-race effort, which secured third place behind Craig and Middleton.
In the veteran men's 60+ category, Robin Delve (Mid-Devon CC) consolidated his series lead by winning after an initial skirmish with main challenger Roy Hunt (Team Kinesis UK) and Barry Kipling (MTS Cycle Sport).
Hunt eventually failed to finish, leaving the door open for Michael Davies (Pedal Power Loughborough) and Malcolm Cross (Velo Club Venta) to take second and third podium spots respectively.
The veteran 40-49 race was dominated by Adrian Lansley (Pedalon) who, in typical fashion, opened up a small a gap by the end of lap one, then spent most of the race extending it to take his third consecutive series win.
The real battle was for third as Paul Lloyd (Banjpo Cycles/Raceware) and Tony Fawcett (Scott Raing), were locked together in a tight battle for the podium places, and went head-to-head right down to the final quarter of a lap, with Lloyd managing to sprint away before the final chicanes to take second.
In the women's event, the veteran 40's saw another hat-trick of wins as Kate Eedy (Team Empella CX) established a decisive lead by the end of lap one and extended it to the line for a 30-second win over national champion Helen Pattinson (Hargroves Montezumas), with Lucy Siddle (AllenValley Velo) a further 20 seconds back.
With dominant force Maddie Smith (Bolsover & District CC) missing from the women's veteran 50 category the door was opened for the rest of the field, and the race proved to be one of the most exciting of the day.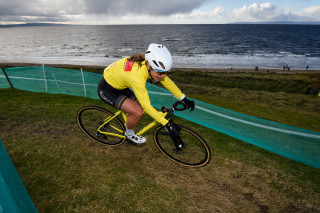 Katherine Kilburn (Mid Devon CC) and Brenda Callander (Stirling Bike club) locked horns in a near race-long, wheel-to-wheel battle that eventually saw Callander, mother of British Cycling Senior Academy rider Rhona, break away on the drag across the top of the course on the penultimate lap to take a fine win.
It was business as usual in the veteran 60 women's race as Nicola Davies (www.cyclocrossrider.com) rode away from the field for a comfortable solo victory, with Suzanne Young (Vitfor) in second and Carolyn Speirs (Kendal Cycle Club) rounding out the podium.
Junior Boys
The start of the junior boys' race saw Daniel Barnes (Garden Shed UK-SCOTT-Verge), storm off the line with series leader Rory McGuire Leslie (Bike Shop/Leslie Boutique) chasing hard in close attendance pursued by Corran Carrick-Anderson (Peebles CC) and Simon Wylie (Halesowen A & CC).
After two laps, Barnes' tactic seemed to be to try and break away on the drag up the banking at the bottom of the course, setting a pace too high for McGuire to follow. Barnes and Carrick-Anderson forced a gap of around 13 seconds by mid-race with two chasing pairs, Wylie and McGuire, and, a further 10 seconds back, Joe Blackmore (Rotor Racing) and William Truelove (Abergavenny RC).
With two laps to go Wylie dropped McGuire to go solo in third, as Carrick-Anderson and Barnes remained glued together at the front of the race. Blackmore and Truelove worked well in chasing down and overhauling McGuire before closing in on Wylie.
As heavy rain started to fall and surface conditions got a little greasy, neither Carrick-Anderson nor Barnes pitted for a bike change and, going into the final lap the gap was around 30 seconds to the newly-formed group of three chasers pursuing the final podium place, Truelove, Wylie and Blackmore.
On the final climb Carrick-Anderson managed to ride while Barnes was forced to dismount and a gap of three seconds opened. Carrick-Anderson extended that slightly between there and the line for a very popular, local win to kick off day two with Barnes in second and Wylie sprinting to third to round out the podium.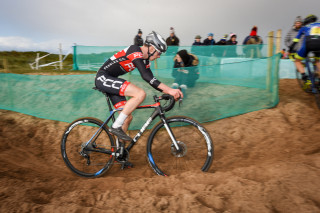 Youth Girls
The youth races got under way with the U14 and U16 girls taking a slightly staggered start. With the leading two riders in the U16 series not present, a number of riders were looking to take their first series win and the intent was written plainly on the faces of a strong group of four who quickly broke away from the field on lap one.
The likes of Maddie Cooper (Jam Cycling RT), Niamh Murphy (Pedalon) Emily Carrick-Anderson (T-Mo Racing) and Libby Bell (Leicester Forest CC) were present, and Cooper made the first attempt to go solo but it was Bell who opened up the first significant gap before by running out of steam on the last lap and getting overhauled by Cooper, who held on for a very impressive first national trophy victory. Carrick-Anderson took third behind Bell on the podium.
In the U14s race another hat-trick of series wins saw Carys Lloyd (VC Londres) take a third straight victory. In this one she hit the front on lap two after an early battle with Aine Doherty (VC Glendale). Doherty dropped back to third on the final lap as Lucy Glover (Derwentside CC), who had always kept in touch during the race, finished strongly to overhaul her for second.
Youth Boys
A big field blasted off the line in the U14s race and a big group of around 15 of them, including all the leading contenders, quickly formed at the head of it. By lap two the size of the group kept yo-yoing between six and a dozen riders as the pace increased and riders started to drop off, and get back on again, the effect of the continuous slingshots out of the numerous bends, climbs and obstacles.
With two laps to go the race resembled a road event as all riders took turns on the front with no-one seemingly able to break the elastic and establish a solo lead. The pattern continued until deep into the last lap before Sebastian Grindley (North Cheshire Clarion), wearing the series leader's jersey, attacked just before the technical descent into the sand and opened up a slender lead to take his second consecutive victory ahead of a fast finishing sprint won by Finlay Tarling (West Wales CRT)) ahead of round one winner Alfie Amey (DB Racing).
An even bigger field got the U16s race going and initially it looked to be a repeat of the previous round as Oli Akers (Garden Shed UK-SCOTT-Verge) made a first-lap attack that saw him open clear daylight on a small chasing group, until series leader Max Greensill (Hope Factory Racing) emerged to join Akers in a two-man break.
Joe Smith (Iceni Velo) and Nathan Smith (Birkenhead North End CC) formed a two-man posse in trying to chase the leaders down but with two laps to go the gap already looked decisive as it widened.
Smith managed to ride away to challenge the two leaders alone as heavy winds and rain showers made the course a little more slippery in the latter stages, before Akers once again found the energy to launch another attack to finish solo, some 20 seconds ahead of Greensill.
The series continues with round four at Crawley on 9th/10th November.
Gallery