Round three of the HSBC UK | Cyclo-cross National Trophy returns to the Beach Park in Irvine, Scotland.
Last year's senior winners Ian Field (Neon Velo) and Ffion James (Hope Factory Racing) both return this time out but a large field of entries in both categories will make repeat performances tough on the sandy, off-camber banks that permeate what proved to be one of the most popular venues on the circuit last season.
Veteran men
The action kicks off on Saturday with the veterans' categories where, on paper at least, Nick Craig (SCOTT Racing) looks favourite for the V50 class having showed such good form in winning round two at Milnthorpe. Cross however doesn't often conform to predictions and on hand to challenge Craig are podium finishers from the previous round, Pete Middleton (Zepnat) and Mark James (Dream Cycling), as well as Simon Hale (Army Cycling Union) who has been a strong contender in both of the opening rounds.
Robin Delve (Mid-Devon CC), Roy Hunt (Team Kinesis UK) and Barry Kipling (MTS Cycle Sport) head up the V60 category while the dominant force in V40, Adrian Lansley (Pedalon), looks to continue his perfect start to the series with a third consecutive win.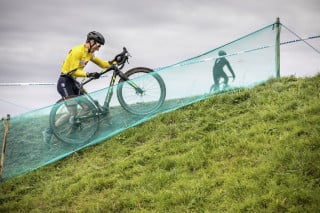 Veteran women
The women's veteran categories will see all three series leaders attempt to retain their jerseys in Scotland. Kate Eeedy (Team Empella Cyclo-Cross.Com) is the rider to beat in the V40 race but despite two wins in the series so far a number of riders were in close contact at round two for the majority of the race, so expect a challenge from Helen Pattinson (Hargroves Montezumas), Helen Dussek (Garden Shed UK-SCOTT-Verge Sport) and Lucy Siddle (Allen Valley Velo).
The V50 women's category is the only one of the three that has seen a rider go virtually unchallenged in the first two rounds with Maddi Smith (Bolsover & District CC) in imperious form, and she once again starts as clear favourite for a third win in succession. One of the most exciting head to head battles of the series so far continues as world champion Nicola Davies (www.cyclocrossrider.com) goes up against Sally Read (Magspeed Racing), the two having been locked together for much of the previous two rounds, with Davies narrowly coming out on top.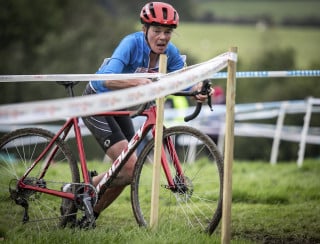 Youth girls
With the two big names in the U16 girls' category Zoe Backstedt (Storey Racing) and Ella Maclean Howell (Cardiff Jif) not on the start list for round three, the door is open for a number of riders to take a first national series win of the season. Hope Inglis (Team JRC) has been a revelation this season and starts in poll position but she can expect a big challenge from a number of riders led by Katy Carrick Anderson (T-Mo Racing) who will be desperate for a win on home soil.
In the U14s category Carys Lloyd (VC Londres) is looking for a third straight win but her team-mate Lucy Wollaston, who pushed her hard at round two, doesn't make the trip leaving the door open for a number of other riders to challenge Lloyd for valuable series points. Expect to see Lucy Glover (Derwentside CC), Florence Greenhalgh (East Bradford RT), Millie Coleman (Welwyn Wheelers) and Greta Carey (Pedalon) all pushing for podium places.
Youth boys
Winners of the opening two rounds in the U14 boys' category Alfie Amey (DB Racing) and Sebastian Grindley (North Cheshire Clarion) are both on the front row for round three and looking to consolidate their good . In round one Amey took the win by a wheel in a tight sprint finish while Grindley rode away from the field in round two to take the series leader's jersey. The two should again feature near the front of a highly competitive field.
In the U16 category, Max Greensill (Hope Factory Racing) holds the leader's jersey after riding smartly to keep hold of it at round two after some early mistakes saw Oli Akers (Garden Shed UK-SCOTT-Verge Sport) take off from the front for a solo victory. Both are on the front row of a stacked U16 field that includes strong challengers Natahan Smith (Birkenhead North End CC) and Bjoern Koerdt (East Bradford RT) plus an impressive Iceni Velo pairing of Callum Laborde and Jospeh Smith.
Junior Men
Sunday's action kicks off with what is likely to be one of the most hotly contested races of the weekend as 50 junior men take to the start line. Scotland will be looking for a home win here as Rory McGuire (Lesley Bike Shop/Bikers Boutique) looks to defend the series leader's jersey after an impressive opening two rounds.
Daniel Barnes (Garden Shed UK-SCOTT-Verge Sport) and Simon Wylie (Halesowen A & CC) are both strong challengers, and on home soil Corran Carrick-Anderson (Peebles CC) is capable of closing the gap on the series leaders.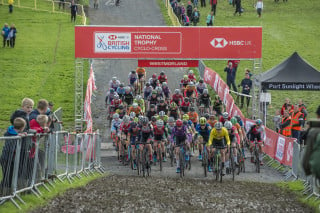 Senior Women
The women's race sees Ffion James return to a course that she won on last season but round two of this year showed that Hattie Harnden (T-Mo Racing) is in great form, riding through the field to win the overall and U23 prize. "I was super happy with my performance in Westmoreland, as I'd just had my break and time off the bike after world championships" revealed Harnden, "Also, because the standard of women's cyclo-cross is constantly rising, with so many juniors and under-23 riders on the podium, you have to be at your best to compete with the standard here in Britain."
That youthful looking podium in seniors, juniors and U23s in round two is likely to be repeated here with only Fiona Turnbull (Slingshot) missing due to racing in Belgium. Katie Scott (Garden Shed UK-SCOTT-Verge Sport) and Sophie Thackray (SCOTT Racing) will try to push Harnden for the U23 as well as the overall win but the strongest challenge could come from the junior ranks. Home favourite Anna Flynn (Edinburgh RC) who has been in great form racing in Europe since the previous round should go close, as will Millie Couzens (PH-MAS Paul Milnes) who had a barnstorming finish in round two. Another one to look out for is Kerry MacPhee, the national MTB series champion keen to build on her success at the Three Peaks with further cyclo-cross experience here.
Senior Men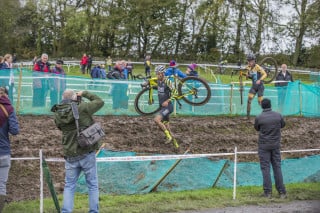 Ian Field (Neon Velo) is in pursuit of an incredible 7th series title, and was the class act of round two with a typically fluid ride in the tricky conditions. Gosse Van Der Meer (Bombtrack Bicycles) challenged Field in the early stages of that race and returns to renew that battle, while a strong threat looks likely to come from any number of the U23 contingent who rode impressively at Milnthorpe. Toby Barnes (RST/Cycle Division) and Callum Macleod (Canyon dhb) head up the challenge this time out.
For regular, live updates over the weekend, follow the HSBC UK | Cyclo-Cross National Trophy Twitter account @NatCXTrophy.
SERIES STANDINGS AFTER ROUND TWO