This Sunday sees the 2019/2020 HSBC UK Cyclo-Cross National Trophy Series kick into action with round one at the popular Moorways Leisure Centre in Derby.
A regular venue for National Trophy Series events, Derby usually provides fast, exciting racing, the organisers always coming up with imaginative ways to optimise the twisting, grassy banks and cambers that define much of the circuit. With at time of writing, the weather forecast set to be dry all weekend, this year looks to be no different.
Senior Men
Defending Champion Ian Field (Neon-Velo) has been the class act of the series over many recent years but last season's National Championship race saw something of a watershed for domestic Cycle Cross with many of the Junior and U23 riders dominating the event and promising to be the leading lights in the sport for this and many seasons to come.
Add in the growing number of European riders entering the UK National Trophy races in search of UCI points and Fields' pursuit of a staggering 7th consecutive title this time around looks like an even more difficult task. "I would obviously love to win a seventh series in a row this year" explains Field, "and I know that to do that, I have to score as many podiums as possible along the way. Winning is one thing, but trying to maintain that success is even tougher, so it will be a big challenge."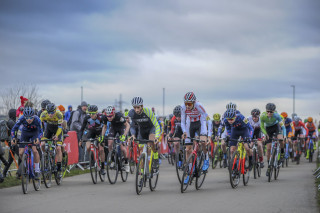 National Champion Tom Pidcock is not on the start list for round one but the other two riders who kept Field off the podium that day are in contention; Ben Turner (Corendon Circus) and Thomas Mein (Tarteletto-Isorex) leading the UK challenge. Regular National Trophy winner Yorben Van Tichelt (Neon-Velo CT) is back and another previous winner on these shores, Braam Merlier (Creafin-Fristads) leads a strong entry of European challengers.
Junior Men
World and UK Champion Ben Tulett (Corendon Circus) is not on the start line for round one but last season's series champion Simon Wylie (Halesowen A&CC) is back to start the defence of his title. It'll be interesting to see how a whole slew of talented juniors moving up from the youths' division fare this time out as in attendance are Corran Carrick-Anderson (Peebles CC) who, following a stellar season, holds both the MTB and CX youth national champions jerseys. Other strong riders moving up include Adam Bent (Green Jersey RT) who won at the Crawley round last season and Joe Kiely (Welwyn Wheelers) who finished on the podium at the National Championships earlier this year, just two to keep an eye on for the future.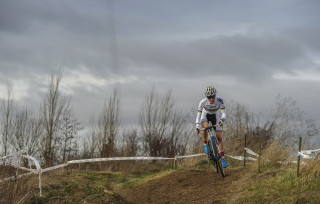 Senior Women
Reflective of the men's division, the women's domestic scene sees a whole new generation of young stars in the making emerge following a couple of the established greats Nikki Brammeier and Helen Wyman retire from the sport over the summer. Leading the charge has been Anna Kay (Experza - Footlogix), not in action at this opening round as she targets the early season World Cup events but a string of up and coming riders will be looking to challenge defending champion Beth Crumpton (Tarteletto Isorex) for the yellow, series leader's jersey. Crumpton has been a model of consistency in winning the title in the previous two years but is mindful of the growing threat from the competition. "The overall standard of girls racing this year is ever-increasing, and the under-23 and junior ranks are full of exciting young talent" explains Crumpton, "it's great to see... that's what's needed to continue to inspire the next generation."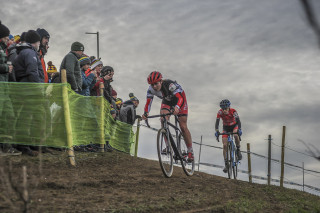 Winner of a couple of previous National Trophy rounds Ffion James (Hope Factory Racing) will be one of Crumpton's biggest worries on the day, with two very fast juniors in the shape of Josie Nelson (RST/Cycle Division) and Anna Flynn (Edinburgh RC heading a crop of emerging young riders to look out for.
Veterans
The weekend's action kicks off on Saturday and launches a new 2019/2020 series development that sees all National Trophy events now using a two-day format with veteran and youth races take place on the Saturday, and once again massive fields in both these age groups show how popular cyclo-cross is for the over 40's and the under 16s alike.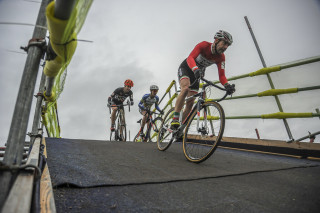 The vet mens' categories get the action underway and once again a battle between legends of the Golden era of Mountain bike racing Tim Gould (Zepnat RT) and Tim Davies (CC Abergavenny) in the V50-59 category is expected over the course of the seires but with Gould not on the start sheet for round one, the rider who split them in the top three in last year's series standings Chris Taylor along with his Shibden Cycling Club team mate Andrew Peace should make the race highly contested and there are a number of riders in this category who could challenge the established order. Kirby Bennett (Team Jewson MI-Racing) is back to defend his 60+ series title in the 60+ category but can expect a big challenge from Robin Delve (Mid Devon CC) and Dave McMullen (Cotswold Veldrijen) to name just two contenders.
The 40-49 category is usually a three-hander played out between Adrian Lansley (Pedalon), Paul Oldham (Hope Factory Racing) and Nick Craig (Scott Racing) but with Craig, recently back from another storming ride at the Three Peaks opting for the senior men's race here and Oldham not on the start sheet, the door is open for any number of contenders to lay down some early series points.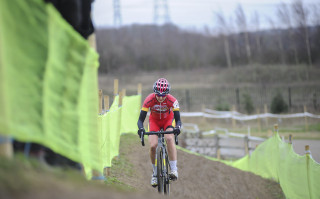 The women's division sees a stellar field of 50 riders race for the various age category prizes with a number of familiar faces back to defend their titles. Look out for another titanic head to head between Helen Pattinson (Hargroves Montezuma's) and Maddi Smith (Bolsover & District) in the 40-49 category, while Tracy Fletcher (Magspeed Racing) will be on hand to begin the defence of her 50-59 title as will Nicola Davies (www.cyclocrossrider.com) in the 60+ category.
Youth boys.
A massive array of talent is on show in the U16s and with a lot of riders maturing to the junior division this category looks likely to be hotly contested. Max Greensill (KTM) had a remarkable season winning national Youth B jerseys in road, MTB and Cyclo-cross disciplines and will be a strong contender as will Oli Akers (Garden Shed UK-SCOTT-Verge Sport) who comes in on the back of a fine win in the final stage of the North West Youth Tour road stage race. The U14s race looks to be a complete lottery. With Greensill and Akers having moved to the U16 category not one of last season's top five series finishers takes the start line for round one this year so this first race will be a good indicator of who this season's likely contenders will be.
Youth Girls.
A mightily impressive field of 80 riders contest the two age categories for the girls' National Trophy titles and as with the boys' division, a number of the top riders in each category have moved up an age group, opening the door for others to contest race and series wins. Libby Bell (Leicester Forest CC), Elizabeth Mckinnon (Derwentside CC) and Emily Carrick-Anderson (Peebles CC) enjoyed some cracking scraps in the U14s series last season and will continue to go well as they move up, but overcoming Zoe Backstedt (Storey Racing) might be too big an ask. The defending series and National champion, Backstedt has once again been on imperious form coming into the cross season having dominated everything she entered on the road circuit and barring mechanical incident it's hard to see her being challenged here.
With so many strong riders moving up from this age category, the door is once again open for the remaining U14s and a whole string of riders are capable of an opening round victory. As a season opener this is a tough race to call but likely to go close are Carys Lloyd (VCL), Millie Coleman (Welwyn Wheelers), Florence Barnett (Kings Lynn CC), Florence Greenhalgh (East Bradford RT) to name just a few of the likely contenders.