Ian Field (Neon Velo CT) cast aside Derby disappointment to take his first win of the HSBC UK | Cyclo-Cross National Trophy and snatch the leader's yellow jersey in Irvine.
A mechanical cost him the chance of glory in the season opener in Derby but the five-time national champion looked on good form this time around, a strong opening lap helping him on his way to top spot.
The elite women's race was dominated by Storey Racing meanwhile, with Ffion James getting the better of Bethany Crumpton for her first win of the series.
Though it's Crumpton who remains in possession of yellow, with teammate Anna Kay claiming third place – with all three riders repeating their previous podium success.
Field digs deep for victory

A strong opening lap for Field alongside teammate mate Yorben Van Tichelt and Sleaford Wheelers' George Thompson got the race going in Scotland, though the relentless nature took its toll on the latter.
A group of four riders, including Paul Oldham, Steve James (Hope Factory) and under-23 riders Callum Macleod (Pedalon.co.uk) and Cameron Mason (Endura-Pedal Power), joined Thompson for the chase but the gap to the lead pair proved too much.
The last lap saw Van Tichelt make a play for victory, bunny-hopping the hurdles and creating a few bike lengths of lead ahead of Field, who looked like having to settle for second spot.
But Field dug deep and got back on the wheel of the leader before overtaking his teammate, coming into the finish straight to take a fine solo win.
Macleod took the final podium step beating Mason in a sprint for the finish.
Storey Racing dominate elite women's race

Taking the top three spots on the podium, it was little surprise that Storey Racing made plenty of early pedalling in Irvine, going to the front early.
But they were not alone, the returning Eileen Roe helping set the pace alongside a flying Katie Scott (Hargroves-Ridley) – who was riding as a junior but joined the elite leaders.
An injection of pace from James and Crumpton saw both Roe and Scott dropped off the front but the pair and Anna Flynn (Edinburgh RC) weren't done there.
In the end the difference proved too much as Kay also fell away from the leaders, though she still picked up third place, leaving James and Crumpton to battle it out for top spot.
James jumped way at the beach end of the course and, with Crumpton unable to respond, did enough for a first win of the season.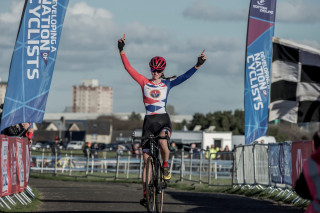 What they said
"After getting third in the first round, I was aiming for a win but I really didn't expect it," admitted James.
"I felt like I was suffering a lot early on, but I had a bit of a second wind in the last lap and gave it everything.
"Beth and I are really good friends, we travelled together and we get on really well, but as soon as it gets to that race we're really competitive. We do want to beat each other.
"I won two rounds first year but this is the first of this season so it's a nice feeling, I felt I was hanging on for third place but the race was so fast, I didn't want to go much earlier so I wanted to go tactical and hold on until the last minute."
While Field said: "Derby fired me up, it was one of those days and I had really good legs in what was one of the strongest fields in years so it was a shame I didn't get to race them.
"I tried to put things right this time, it was a cracking course and a brilliant addition to the series, it was really good for the team to get the one-two and dominate.
"We wanted to get away and work together before racing at the end, we had a decent gap but I had to go quite deep to get across to him.
"This was well worth it, if we have this weather every year then I'll definitely be back!"
What's next?

After the historic debut round in Irvine, round three takes us back to England for a weekend in Crawley on November 10-11, two weeks before the next event in York.
Results

Elite Men
1 Ian Field (Neon-Velo Cycling Team)
2 Yorben Van Tichelt (Neon-Velo Cycling Team)
3 Callum Macleod (Pedalon.co.uk)
Elite Women
1 Ffion James (Storey Racing)
2 Bethany Crumpton (Storey Racing)
3 Anna Kay (Storey Racing)

Gallery