British Cycling is delighted to confirm that the 2019 HSBC UK | National Road Championships will be hosted in Norfolk in a week which will see all levels of the sport celebrated.
The championships will be staged in partnership with Golazo, one of Europe's premier sporting event organisers, and will see the national time trial champions crowned on Thursday June 27, while the road races will be contested on Sunday June 30. Meanwhile, amateur cyclists will have the opportunity to ride the same, closed-road course as the professionals in a 100-mile sportive and the best of British mountain biking will be on display as Norwich hosts the fifth round of HSBC UK | National Cross-country Series.
The week will combine a true celebration of cycling at all levels as part of a new concept created by Golazo, the Great British Cycling Festival.
Jonathan Rigby, British Cycling's Commercial Director, said: "We're thrilled to confirm the award of the 2019 HSBC UK | National Road Championships to Norfolk. The championships are the flagship event of our road racing calendar, and the list of previous winners – which includes Sir Bradley Wiggins, Laura Kenny, Geraint Thomas, Lizzie Deignan and Mark Cavendish – gives some indication of the prestige of the event.
"While these championships represent the pinnacle of domestic road racing, they are also a celebration of cycling as a whole. We're delighted to be staging a mass participation ride alongside the elite races, and are pleased to have linked up with Golazo, Active Norfolk, Norwich City Council and Norfolk County Council, all of whom share our ambition to make our communities fitter, greener and healthier through increased levels of cycling."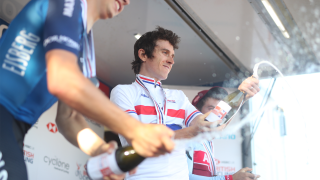 Tom Caldwell, Director of Golazo, said: "Golazo is delighted to be delivering an incredible festival of cycling incorporating the HSBC UK | National Road Championships and a mass participation, closed-road sportive in partnership with British Cycling and all of the authorities in Norfolk.
"This festival will be unlike anything witnessed before and fits perfectly with our core mission to create a partnership between elite sports and mass participation. Our objective is to encourage more people to live healthier lifestyles through participation in sports - Let's Move."
Ben Jones, Director of Active Norfolk, said: "We are pleased to be supporting British Cycling and Golazo in bringing this prestigious event to Norfolk. We look forward to working with our partners in Norwich City Council, Broadland District Council, North Norfolk District Council and the Borough Council of King's Lynn and West Norfolk to ensure that all cyclists taking part in the activities enjoy the fantastic events that are lined up.
"We hope this unique opportunity to take part in the sportive will encourage new people to take up cycling, whether that's for active commuting to work or as a fun family activity. There are many health and wellbeing benefits to cycling, and we are lucky to have excellent cycling infrastructure that enables cyclists to get around safely. We look forward to seeing lots of spectators coming out and supporting the riders and all the participants at these exciting events."

Councillor Andrew Proctor, Leader of Norfolk County Council, added: "We are absolutely delighted to be partnering with Golazo and British Cycling to host the HSBC UK | National Road Cycling Championships in Norfolk in June next year.
"Since our Pushing Ahead cycling and walking initiative launched in 2016 we've encouraged more people to get on their bikes and engage in active travel across the county, and hosting a prestigious cycling event such as this will only help inspire more people to consider cycling as an alternative way to get about.
"Whether it's watching the championships, taking part in the Great British Cycling Festival sportive, or participating in the community and family events that will be held, Norfolk residents will have a great time.
"We anticipate the event will attract a huge number of visitors to the county which will not only bring in additional revenue for local businesses county-wide but will introduce many new visitors to Norfolk."
Entry to the sportive will be open to all with pre-registration beginning on November 24. British Cycling members will receive priority access and a discount code, with the members-only pre-registration period beginning tomorrow, here.
Full routes for the elite races and mass participation event will be announced in due course.