Grant Ferguson says his enjoyment and passion for cross country racing is showing no signs of diminishing as he prepares for his 12th HSBC UK | National Cross-country Series.
Ferguson goes into this year's series – which begins at Hadleigh Park next weekend – as defending champion, and says that the constantly evolving landscape of the sport is something that keeps every year interesting.
He says:
"I had a great time racing the series last year. The level of competition in the elite men's category was high, with some international riders contesting the opening rounds and lots of fast younger guys coming up from the junior and under-23 categories.
"I think the general standard of cross country racing in this country is improving – there are those riders coming up through the age categories, and the courses are always improving and becoming more demanding, which is great to see and something I enjoy about the sport.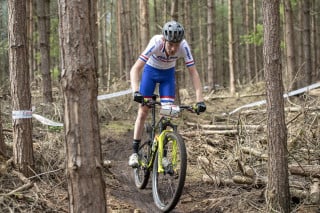 "I started racing the series when I was an under-14, so this must be my 12th year – it's great to have grown up in this environment and made friends along the way, while trying my best to promote the sport and encourage everyone to have a good time and do their best."
As for his aspirations for this year, Ferguson continues:
"I've had a good off-season this year. I decided not to race any cyclo-cross as I have done in previous years, and instead find some more sunshine as the weather in Scotland has been a bit wet and wild!
"So I've made that change and I'm hoping that the preparations have been enough for the forthcoming races this summer. I'm planning to compete in all the national series rounds this year; I'm excited for the variety of tracks on offer.
"I'm looking forward to getting started at Hadleigh Park and I'll be doing my best to defend my overall title."