The fifth and final round of the 2019 HSBC UK | National Cross-Country Series sees riders travelling to Thickthorn, Norwich, this weekend, which is forecast to potentially see the warmest weather in the UK as well as the hottest racing of the series with many of the categories too close to call.
After round 4 was cancelled due to bad weather, final overall series standings in every category will be decided by riders' three best scores from the four rounds, with many of the categories due to come right down to the final few metres this weekend, on a fast course punctuated by sharp short climbs and short technical features.
Men
The elite win is likely to come down to a battle between series leader Grant Ferguson (Hope Factory Racing) - who has had to settle for second in all the previous rounds – and Jason Boutell, whose punchy, power-based style is potentially more suited to the course.
Behind them there promises to be an intriguing fight for series positioning, with Chris Rothwell (BW Cycling) Ben Wadey (Clee Cycles), currently third and fifth respectively, looking to take advantage of their good form and improve on those positions. With just five of the top 15 riders due to start, some fresh faces could reap the rewards, with Cam Mason (Endura – Pedal Power) and Max Gibbons most likely to profit.
In the junior race, Charlie Aldridge, who has already claimed the series win, won't start, nor will the riders who have claimed all of the second place finishes so far, Jamie Johnston and Harry Birchill. With two third places in the series so far, Rory McGuire (Leslie Bike Shop) will be favourite to take a victory which would see him move into second place overall.
The Scot will be pushed hard by Marcus Holmes (Torq Performance), who is the only other rider to break into the top three this year. Snapping hard on their heels should be a pack of riders including Tristan Davies, Scott Williams, Lee Harvey and Thomas Timberlake.
The expert category is also already wrapped up – by Jonathan Brain – but with eight riders who could still fill the last two places on the overall podium with a good performance this weekend, this could be one of the tightest races of the weekend.
Almost as tight is the sport category, which will see seven riders racing for the race win and the series title. Alex Powell (Cardiff Jiff) is current series leader, but Max Filleul (N+1 – Lindfield Coffee Works), Oliver George (University of Leeds CC), Andrew Snowball, Daniel Sampson (Vector CRT), Joshua Jones (Zero BC), Will Dorset and Alex Hinks (Lyme RC) could all still take that number one spot.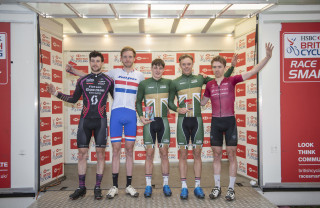 Women
Series leader Amy-Jo Hansford (Torq Performance) and third-placed Jane Barr (Velocity 44 RT) will be among the favourites at Thickthorn, however defending champion Kerry Macphee (Genesis) has come back after the winter mentally stronger than ever, with a first and a third in the last two rounds, and the Scot could take a series win with victory this weekend. Eilish Gilbert will be looking to step up the table but will also need a strong ride in the last round to overtake Sharn Hooper and Emily Ashwood, who will both be looking to take away a top five finish in the race and overall standings.
Junior series winner Anna McGorum (Peebles CC) will be looking to reach a hugely impressive 176 out of a possible 180 points by taking victory at Thickthorn. Second-placed Josie Nelson (RST/Cycle Division) is not riding, so the destination of the overall silver will be in the hands of Amy Perryman (Hargroves-Montezuma's) who currently occupies third. Mieke Kalmijn (Glasgow Riderz) and Niamh McKiverigan (Cycling Ulster) are tied on points in fourth and fifth respectively, and both still have a chance of a top three finish.
Expert series leader Nicky Hughes (Specialized Racing) isn't racing this weekend, leaving the door open for any one of six riders to take top spot. Second-placed Steph Weaver (Army Cycling Union), third-placed Rachel Connerney (KTM UK), round 2 winner and potential favourite for the series win Alanda Scott (Army Cycling Union), sixth-placed Melissa Baker (Empella Cyclo Cross), round 3 winner Kerry Jago and Agne Kurdikaite (WDMBC / Specialized Ruislip) are all in contention in what should be a cracking race.
U14 Juvenile & U16 Youths
It's a family affair for Corran and Emily Carrick-Anderson, who have won the U16 Boys and the U14 Girls categories respectively. Both riders are unbeaten with three wins each - can anyone deprive them of another win at the last round?
Chasing Corran is Benjamin Bright, who has taken every second place so far to claim second overall, but third is wide open with three riders in contention – Joeseph Blackmore, Nathan Smith and Ben Chilton. In the girls' U16 category, Carrick-Anderson's teammate Elena McGorum leads narrowly from Ella Maclean-Howell, while behind them, the fight for third spot is between six riders - Isla Mason, Charlotte-Louise McGreevy, Leah Clegg, Amelie Prior, Lotta Mansfield and Rosie Andrews.
In the girls' U14 category Libby Bell (Leicester Forest CC) is favourite for second, but Christina McGorum could in theory tie on points if she takes the race win. Aine Docherty and Phoebe Roche will be also looking to take a series top three, so we can expect a hard-fought race. In the U14 boys catetory, one of six riders could yet take the title, with current series leader Ioan Oldfield (Marsh Tracks Racing – Trek) having the most to lose.
Veterans (40-49), Grand Vet (50-59), Super Vet (60+)
The veteran women's competition has developed into a two-rider battle, with Verity Appleyard (Brotherton Cycles) leading Julia Hamlyn (Bournemouth Cycleworks – Vitec) by four points, however Appleyard is not down to start and if Hamlyn wins she will take the overall series win despite being tied on points with Appleyard. Behind the top two, Dani Humphey should bunny hop non-starter Alison Rushton to claim third in the series.
The top three in the veteran men's competition should put more ground between them and the rest of the riders in the final round at Thickthorn. Current leader Adrian Lansley (Pedalon) and second-placed Marc Chamberlain (Cotswold Cycles-Trek) are separated by a mere three points, but either rider could reach 172 points with a win, meaning it will all be down to who performs best on the day.
Grand veteran women's series winner Maddi Smith has a perfect score, and wrapped up the overall win at Cannock Chase. Behind her Virginia Roberts and Lucy Rogers have cleaned up the rest of the podium places so far this year, meaning the ongoing fight for second and third has been one of the best so far this season. Alison Bagnall and Eleanor Firth have the same potential end-of-season points score, so the fight for the last places in the top five should also be close.
It's a blast from the past at the top of the standings in the grand veteran men's competition, with Tim Davies (Ex-Alpinestars) one point clear of Tim Gould (Ex-Peugeot). It could be a spectacular finish to the series, with Jimmy Piper and Dean Morgan challenging for second and third.
Both super vet category winners have a perfect score of 180 points, with both Carolyn Speirs (Kendal Cycle Club) and Bruce Rollinson (All Terrain Cycles) claiming three wins apiece. Speirs has consistently beaten riders in the vets and grand vets categories on her way to the series win and is relishing the opportunities racing in an all-women's race offers. In the men's competition Donald MacGregor needs to hold off the threat of John Galway who could take away second overall with a good performance at Thickthorn. However, you can't discount any rider in what is a big super vets field that has had over 20 points-scoring riders to date.
Commentator Matt Payne's take on round 5:
"The pressure is on the majority of riders who need to have a good ride to maintain or improve their series standing as we move into the critical last round. The minority are those riders who cannot be touched at the top of the series who are literally riding for fun this time out which often results in a good performance.
"To excel at Thickthorn - which includes a number of features specially included for this race by the experienced organisers Mud, Sweat and Gears – East, riders - will need to be capable of maintaining a very high pace all race with little chance for rest. Add in the projected temperatures, and hydration before and during the race will be almost as important as having bike ninja-like skills to handle the tech and keep fellow competitors at bay!
"With many of the categories still wide open I am looking forward to putting words to some of the closest action we will have seen this year and it should be a good guide to who has carried their form well prior to the HSBC UK | National Championships at Cannock Chase, which are only three weeks away."
Event Programme:
Saturday 29th June
11:30 – 13:30 Official course practice
12:00 Under 12s skills sessions
13:30 – 14:00 U12's
14:30 Race 1: Sport Male and Fun categories
16:00 – 18:00 Official course practice
Sunday 30th June
07:45 – 08:45 Official course practice
09:00 Race 1: Youth and Juvenile Categories
10:05 – 10:35 Official course practice
10:45 Race 2: Vet, Grand Vet and Super Vet Men's Races
13:00 Race 3: Elite Women, Junior Women, Sport/Expert, Vet, Grand Vet and Super Vet Women's Races
15:15 Race 4: Elite Men, Junior Men, Expert Men's Races