British Cycling is pleased to announce the dates and venues for the 2023 National Four Cross Series and the National Four Cross Championships, as well as the first ever Dual Slalom National Championships.
The series begins at Chicksands BikePark in Luton with the opening round on the 9 April, before heading to FlyUp 417 on 7 May in Witcombe. A double header weekend for rounds three and four on 27 and 28 May will take place at Falmouth, which also hosted the 2022 National Championships.
Redhill in Gloucestershire will host another double header weekend on 24 and 25 June, before rounds seven and eight will be hosted in Afan, South Wales on 29 and 30 July.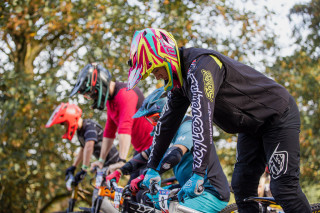 The riders will then head to Eastnor Castle Deer Park in Herefordshire for the first ever Dual Slalom National Championships on Friday 25 August, followed by the 2023 National Four Cross Championships on Sunday 27 August, where Josie McFall and Connor Hudson will hope to retain their national champions' jerseys.
The National Series winners will then be crowned on the ninth round at Twisted Oaks in Ipswich, which made its series debut as a venue in 2022, on Sunday 17 September.
The 2022 season saw Josie McFall secure the elite women's series win after a brilliant fight with Sophie Cade throughout the year, while Zac Hudson pinched the pro elite title from Tom Bell.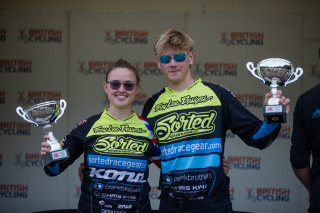 Series organiser, Chris Roberts, said:
"2023 will be a great year of Four Cross racing. We are celebrating our 20th anniversary and want to make this season the best yet. With nine rounds in 2023, there will also be more chances for riders to get involved in Four Cross and discover just how great this sport is. From the gateway to gravity for rippers, to the head-to-head racing fix for older riders, Four Cross always delivers.
"I would also like to say a huge thanks for the continued support from Schwalbe tires. Schwalbe have been a partner with our series for the majority of our 20 years and we can't thank them enough for their belief and support of our sport."
2023 National Four Cross Series
Round 1: Chicksands (Luton), Sunday 9 April
Round 2: FlyUp 417, Witcombe (Gloucestershire), Sunday 7 May
Round 3: Falmouth (Cornwall), Saturday 27 May
Round 4: Falmouth (Cornwall), Sunday 28 May
Round 5: Redhill (Gloucestershire), Saturday 24 June
Round 6: Redhill (Gloucestershire), Sunday 25 June
Round 7: Afan (South Wales), Saturday 29 July
Round 8: Afan (South Wales), Sunday 30 July
Round 9: Twisted Oaks, Ipswich (Suffolk), Sunday 17 September
2023 Dual Slalom National Championships
Eastnor Castle Deer Park (as part of the Malvern Festival) (Herefordshire), Friday 25 August
2023 National Four Cross Championships
Eastnor Castle Deer Park (as part of the Malvern Festival) (Herefordshire), Sunday 27 August