The market town of Stockton-on-Tees in County Durham will be the stage for a host of British cycling talent, as they compete for the white, red and blue striped jersey.
Olympic gold medallists, national champions, including leaders in the HSBC UK | National Circuit and HSBC UK | Grand Prix Series will all be present.
Racing begins at 6pm on Friday evening with the women's race - the men's race will follow at 7.45pm.
Women's race
National road race champion Jess Roberts (Team Breeze) will take to the start line in search of another national champion's jersey in 2018, after Roberts took a dramatic victory in Northumberland.
Team Breeze have looked in brilliant form heading into Friday's racing, Eleanor Dickinson won bronze at the national championships alongside Roberts, Rhona Callander recently sprinted to a win in the Otley GP where Megan Barker also finished third. All three riders will race this Friday.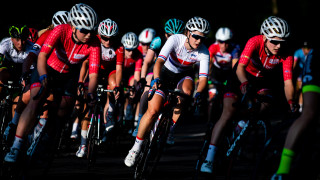 The notable missing entry from this year's race is the Olympic champion, world champion and last year's winner, Katie Archibald. After returning from an injury to the OVO Energy Women's Tour, Archibald was the subject of another fall on stage two which has placed her out of action.
Nicola Juniper, 2015 national circuit champion (NJC – Biemme – Echelon), Anna Henderson (Cycle Team OnForm) and Rebecca Durrell (Storey Racing) are other riders who are in excellent form this year and all of whom find themselves near the top of the HSBC UK | National Women's Road Series standings.
The women's race will be broadcast live on Eurosport from 6pm until 7pm.
Men's race
18-year-old Tom Pidcock (Team Wiggins) will return to defend his current national champion's jersey he won in Sheffield last year. Tipped as one of Britain's hot prospects, Pidcock recently found himself in a break away with Tom Moses (JLT Condor) at the Otley GP. The riders were unfortunately caught on the final lap, but the form and tenacity are clearly there.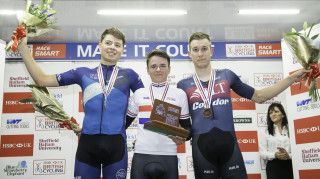 Another rider who looks untouchable at the moment is Connor Swift (Madison Genesis), the new national road champion - taking that emphatic win at the beginning of July, Swift has been putting his good form and confidence to good use.
The Yorkshire-born rider has since won round two of the HSBC UK | National Circuit Series in Abergavenny and missed out with a narrow third place at the Bristol Grand Prix.
Harry Tanfield, second placed in Sheffield last year is always a rider that can't be ignored and will return to his home race in Stockton, telling British Cycling earlier this week, "It's not often that you get the opportunity to race so close to home, so I'm looking forward to hopefully seeing some familiar faces in the crowd."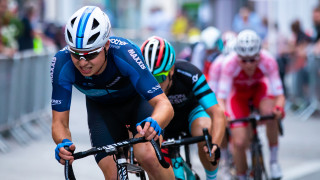 Notably 46 out of the 100 taking part are under-23 riders including the three latter riders mentioned, highlighting the strength of British talent. One of the riders who also falls under this bracket is Matt Gibson (JLT Condor), current leader of the HSBC UK | National Circuit Series.
Gibson has been the most consistent so far finishing second and third at rounds one and two, the young rider will be one to watch.
The course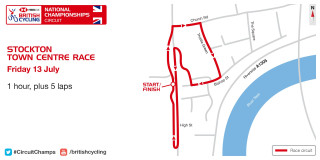 The women's race will be 50 minutes, plus five laps whereas the men's race will be one hour, plus five laps. Starting on Stockton High Street, the riders will initially head north before turning right on to Church Street and another right-hander to head south past Stockton Parish Church.
Heading back towards the high street, the circuit takes another two right turns before a narrow chicane that feeds into a left-hand hairpin on to a long straight, bound to string out the peloton, riders will be fighting for position into here.
After heading south, the riders will have a second hairpin as they take the right-turn back north along High Street for a fast sprint to the finish line.
Schedule
6pm: Women's race starts
7.45pm: Men's race starts
How to follow
Watch live coverage of both races with all the action from Stockton streamed on the British Cycling website and Facebook page.
Follow @BritishCycling on Twitter and Instagram for updates, images and videos.
Full report, reaction and gallery will appear on the British Cycling website