---
Defending downhill mountain bike world champion Danny Hart will not join the Great Britain squad to defend his title, having not recovered from shoulder surgery earlier this year.
The British team for the 2012 world championships still retains strength in depth, which includes six world champions from the past four years – but that will be of little consolation to Hart who dislocated his left shoulder in a crash while in France on July 12.
Surgery to repair torn ligaments followed, but the recovery period proved too long to come back for the world championships.
Hart's place in the squad cannot be taken by a replacement athlete either, because he gained an additional slot as champion.
Hart's breathtaking run in Champery will remain a distant memory for those competing for the rainbow jersey in Leogang, with 2009 world champion Steve Peat, 2008 world champion Gee Atherton and 2008 junior world champion Josh Bryceland all hoping the domination of America's Aaron Gwin ends in September, just as it did in 2011.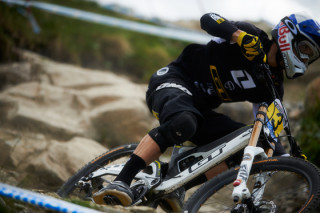 Gee Atherton - Britian's best performer on the 2012 downhill circuit
Hart was the beneficiary then, but in 2012 Gwin has looked impenetrable, winning four of the six world cup rounds, dominating the international circuit. Atherton has been the only regular British representation on the podium, finishing third at three rounds and second in Val d'Isere.
The rest of the men's squad have been less consistent, but have recorded some standout results nonetheless – Bryceland fifth in Fort William and third in Val d'Isere, Marc Beaumont fourth in Val di Sole and top ten results for Matt Simmonds and Jo Smith.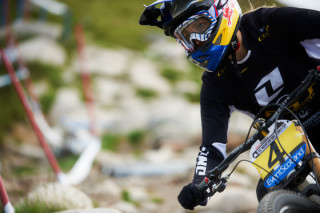 Rachel Atheron - back in unbeatable form
Rachel Atherton leads the elite women's lineup and starts the race in her best form since winning the title in 2008. Having finally put together a consistent, injury free season – her acknowledged aim at the start of the year – Atherton is in sparkling form. Winning every world cup in 2012, (except the opening round which she elected to skip to be fully fit) she has been untouchable in a way even Gwin would envy.
Junior world champion in 2011, Manon Carpenter will want a positive end to a season interrupted by injury. Third at the opening round of the world cup, a crash at round two meant Carpenter only returned to the top five in July at Val d'Isere, but a podium placing is still possible in Leogang. Following another varied year of mountain bike racing, Tracy Moseley will return for the world championships – her only world cup result a fifth place in Fort William.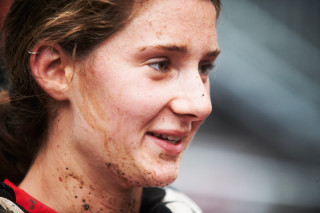 Manon Carpenter - junior world champion in 2011 and one of the next generation of talent.
A junior development squad British Cycling's downhill coordinator Will Longden describes as "an exciting prospect" will compete following their completion of a pre-race training camp in Leogang to give them every chance of a great performance on the day.
George Gannicott will not travel having sustained a broken collarbone after selection, but the rest of the team, including British junior champion Joe Connell will all travel and hope to continue the heritage of British downhill junior world champions, which included Danny Hart, Josh Bryceland, Rachel Atherton and Manon Carpenter.
Stay tuned to British Cycling for coverage of the championships throughout competition.