Road To 2012
Mountain Bike Olympic Academy: Sharing The Dream
Homepage: Road To 2012 | British Cycling's Performance Programs Explained
Team GB Mountain Bike Roster | Join Team GB
Mountain Biking: Olympic Qualification Explained | UCI National Rankings
---
Annie Last, Kenta Gallagher and Grant Ferguson may all be at different stages of their development as part of British Cycling's Olympic Academy, but they're all sharing the same dream.
For Last, it's the dream of being the first British woman at the Olympic Games since 2000, for Gallagher there's a chance to prove himself in the under-23 ranks after a year of hard-earned lifestyle lessons, while Ferguson is just happy to be here, still in the honeymoon period of being a full-time bike rider.
The trio have created a symbiotic relationship best described by Gallagher, who retains the memory and experience of a "period certain to challenge a new rider in all areas of being an athlete" in the words of Olympic Mountain Bike Coach, Phil Dixon.
Gallagher has a more insightful breakdown.
"Nothing comes as a surprise, I'm used to it now," reflects the British under-23 cross country champion, who talks of a complete lifestyle change in the past twelve months.
"The last year I've gained a lot of experience learning basics like how to cook, clean, stay healthy; you've got to be more self sufficient. I guess now I've done that year, coming into 2012 seems a lot easier, more second nature. I'm more organised, I plan things more, which makes things easier for training, I know what I have to do, when I'm meant to do it and what's best for me at that time.
"It's the lesson of how to be self sufficient and it takes time to adapt from a situation where normally my mum would take me to the races, cook and clean the kit, but now we have to do all this for ourselves and make sure we do it right, plan your day and do as your plan says.
"Results won't show what I've learned this year, but I think next year my results will be better, it's not a shock to the system being full time now and it makes riding a lot easier if you are organised. That's the big step I've learned. You learn new things every day and you always remember things that you learn on the Academy."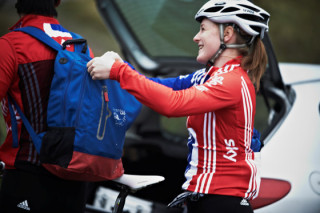 Annie Last packs Kenta Gallagher's bag prior to a trail ride
Now the middle child in the family, Gallagher instantly recognises the help he received from senior member Annie Last and how he must show the same support to newest inductee Grant Ferguson.
"Being with Annie Last, she knows what she's doing so you just follow her footsteps. When I started, I couldn't have done it without her and I'm going to have to do the same for Grant to make that transition easier for him. We have to help each other out because we are all sharing the same dream.
"It's like a family because you do argue and fall out but not all the time. You do get annoyed with people but you always are if you spend a lot of time with them. I spent all of this year with them, Grant and I are now sharing a flat, with Annie just across the corridor and we still get on really well, there's always banter floating about no matter what it is and it is a good place to be."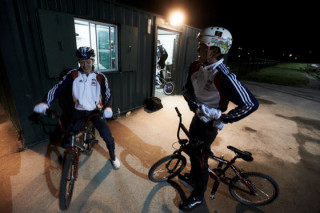 Grant Ferguson and Kenta Gallagher take on a BMX session
TIME OF TRANSITION
In a time of transition a strong unit is especially important and 2011 saw two riders leave the Olympic Academy for very different reasons. David Fletcher progresses to the Olympic Podium Programme following a full four years of Academy experience and despite a season hit by injury Dixon is confident the move is right.
"Dave has moved on to the elite ranks and will begin to operate as Liam Killeen did as a youngster. He will hopefully confirm signing to a team in the near future. As a Podium Programme rider, he will still be coached and will receive training camp support and there is a plan in place from British Cycling, but his team will provide his race schedule and sponsor obligations, which is a good step really. You don't want to see guys holding on and Dave is old enough now, he knows the business. He needs to take this step and it should feel like a job now, he has a job to do for his team and in terms of his job for the Programme we want to qualify two spots for the Olympics, for which he has a good race programme in place."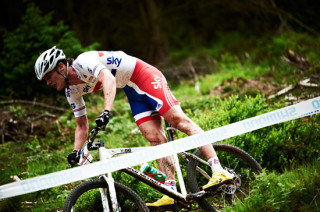 For the second rider to leave the Olympic Academy however, the story is somewhat different and much to the disappointment of Dixon.
"Unfortunately, Lily Matthews had some really disappointing news this year following an elbow injury. Medically, that injury isn't going to allow her to return to mountain bike racing. The consultant has said it won't stand up to the demands of the sport so Lily at the minute is looking at other options in cycling. It's a massive blow to us because she was developing really well. Despite coming in late, she became an Olympics points scorer through year one of qualification and more than likely would have been an Olympics points scorer again, allowing us to gain a position on the start line at the Games. In these respects it's a big blow for the Programme and personally it's a real disappointment for Lily's mountain bike career to end this way. It is game over for her and mountain biking.""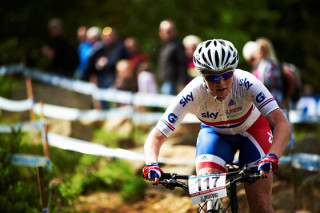 REALITIES
Such harsh realities and the huge rewards of being on British Cycling's Olympic Academy are only highlighted over time and for Grant Ferguson will be an integral part of the learning process. But if it's any encouragement, Dixon points out the Academy's greatest exponent to date has come through the system and won't be changing anything going into Olympic year.
"Annie will be in the flats, getting up in the morning and working hard, the same as first year Academy rider would. It's good to see and she is a great talent and hopefully she continues to progress next year and people get behind her.
"It's great to see Grant come on board to start his learning – of which he has a lot to do. But if he puts the building blocks in place over the next couple of years he can go and achieve great things in his sport. The Academy is definitely the right place for him; we know he can ride a bike fast, but there are a lot of things you have to put in place to become a World Champion. And that's what the Academy is all about."