---
Speaking to Beckingsale at the final round of the British XC Series, Andy Whitehouse talks winning the British XC Series, coming back from injury and riding a fourth Olympic Games.
Oli Beckingsale won the British XC Series title by round four but the rules of the competition meant he had to attend the final round to collect his title. The Endura rider broke his hip in the Czech Republic at the sixth round of the World Cup in August and is currently midway through a twelve week rehabilitation course to repair the break. Even though the injury meant the Bristol based rider missed the World Championships recently he still remains upbeat and positive about next season.
Congratulations on winning the British XC Series. How's the injury coming along?
Thanks, I broke my hip at round six of the World Cup but it's doing ok, I'm six weeks into a rehabilitation programme so its half way, I've got a scan next week so we can see how it's going. I should be able to put some weight on it then and hopefully be able to get on a spin bike.
When are you hoping to be back on the road, you must be keen to start racing again?
At least another six weeks, I've got my head round the fact its a long process. The doctors told me early on the break was bad so I have to look after myself if I don't it could lead into long term health problems and when someone tells you that you know it's a bit more important than riding a bike. Luckily it came towards the end of the season.
Will you be looking at riding any cross races this season?
To be honest, probably not, I won't have chance to, at the earliest I will be race fit for around next March if things go really well. Any earlier than March I probably won't be fit enough. I have to build up the strength in the leg before I can start training again but I should be 100% in March. The first round of the World Cup is mid-March so it should work out well. That's what the aim is. You can't go to these races half-hearted.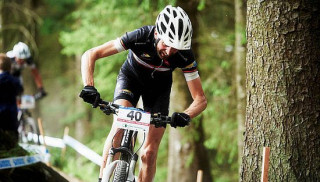 Focusing on today's race, you must be a little unhappy you couldn't ride and maybe take the Series with a win today?
Definitely yes, I've raced down here for years and I've won the last two years it was here, it's my local race and people who know me come down to watch me race and I don't like sitting on the sidelines.
It would have good to watch yourself and Liam Killeen race today.
We like to race against each other but luckily I'd done enough to win the Series although you still want to go out on a high with a win.
How will missing today affect your chances of competing in 2012?
As a nation we need all the points we can get from a National Series to get a place on the start line of the Olympics, so not racing today has been a pain and it means there are points going astray that I could have got if I was racing but I'm 35 years old now and I've had a long career and this is the first time I've broken my leg or had a serious injury so it's just one of those things but I'll bounce back.