| | | | | | | | |
| --- | --- | --- | --- | --- | --- | --- | --- |
| | Follow britishcycling.org.uk on | | | | | | |


Road To 2012
Olympic Mountain Bike Course Unveiled
Wednesday 23 March 2011
Homepage: Road To 2012 | British Cycling's Performance Programs Explained
Team GB Mountain Bike Roster | Join Team GB
Mountain Biking: Olympic Qualification Explained | UCI National Rankings
Video: Phil Dixon & Kenta Gallagher's reaction to the new Olympic course
Full Flickr Gallery of the Day
A revolutionary Olympic Mountain Bike course became the latest London 2012 venue to be unveiled to the media as Lord Coe enjoyed an extended tour of a brand new facility at Hadleigh Country Park, close to Southend in Essex.
In front of representatives of the mainstream and specialist mountain biking press, Lord Coe was joined by local school children as he inspected the course and watched demonstrations by leading British mountain bikers, including Liam Killeen, who finished in the top ten in both the Athens and Beijing Olympic Mountain Bike races.
However, it was the course itself which emerged as the star attraction on a sun-kissed spring day. For those familiar with international Mountain Bike Cross-Country courses of the last couple of decades, the Hadleigh course represents a breath-taking break with convention, with its short 5km lap length and numerous man-made technical features.
Much of the course occupies a natural amphitheatre, with far-reaching views over the Thames estuary. Relatively treeless, the venue promises perhaps the best spectating experience this branch of the sport has ever seen. The 20,000 plus people expected on site for the women's and men's races, on Saturday and Sunday the 11th and 12th August 2012, will be able to keep tabs on the action for much of the lap as the race twists and turns its way over the gorse-clad hillsides. With races expected to last up to 8 laps, the viewing experience, both at the venue and on TV should be spectacular.
The world governing body, the UCI, has been pushing for Cross-Country racing to embrace shorter lap times, technically unrelenting courses and improved spectator and TV sight lines and the Hadleigh course is the most complete realisation of this vision the sport has yet seen.
For the purist, these changes to the sport are a shock, but for those who recognise London 2012 as a unique opportunity for sports to inspire and engage with a new, young audience, the underlying logic is undeniable. The venue hosts a test event in July this year, when the theory behind the concept will be put to the test. On the evidence of a warm Spring day, exactly 506 days out from the women's race, Cross-Country Mountain Biking looks set to entertain like never before!
The course is currently closed to the public, who will have their first chance to inspect the venue on Sunday 31 July 2011 when LOCOG's test event, the Hadleigh Farm International, brings an invited field of riders to the course. Spectator tickets will go on sale for the event in May.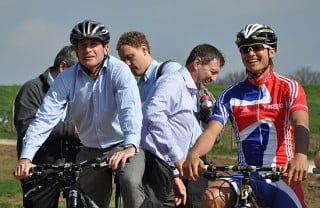 Kenta Gallagher and Lord Coe share a joke as they prepare to ride the start loop together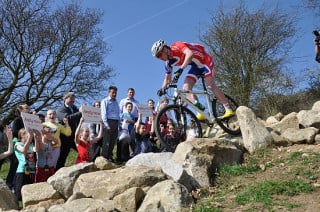 Dave Fletcher demos one of the rock-garden descents for Lord Coe and local school children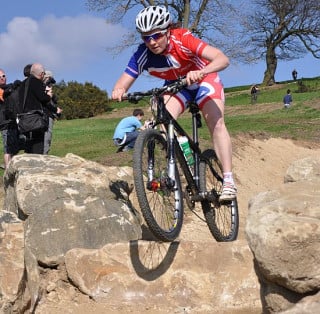 Lily Mathews tackles the final descent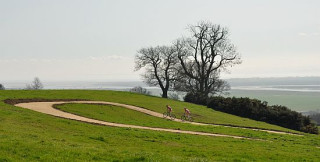 With far-reaching views over the Thames Estuary, Hadleigh is a spectacular setting