| | | | | | | | |
| --- | --- | --- | --- | --- | --- | --- | --- |
| | Follow britishcycling.org.uk on | | | | | | |

Road To 2012
Talking Heads: ODP Mountain Bikers Get Taste For Academy
Posted December 28 2010
Words And Photography By Luke Webber
Homepage: Road To 2012 | British Cycling's Performance Programs Explained
Team GB Mountain Bike Roster | Join Team GB
Mountain Biking: Olympic Qualification Explained | UCI National Rankings
One week before the winter holidays, British Cycling's Olympic Mountain Bike Coach, Phil Dixon, invited Olympic Development Programme riders to spend one week training with the Olympic Academy.
Designed to give ODP athletes a taste of a lifestyle they could be part of in just eleven months time, Grant Ferguson and Katy Winton joined Steve James, Kenta Gallagher, Annie Last, Dave Fletcher and Lily Matthews for seven days of training and lifestyle lessons, the Academy way.
In keeping with Dixon's rider-led Programme, Luke Webber has the riders run through exactly what British Cycling's Olympic Academy has on offer - and more interestingly gives them one word to describe each of their peers!
A WEEK ON THE ACADEMY IN PICTURES

Tuesday morning started with a road ride. Phil Dixon hands out the radios for each rider.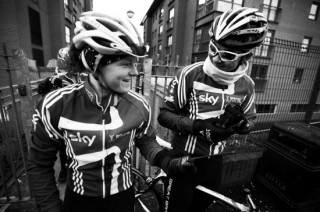 Testing, testing...Annie Last and Kenta Gallagher check their frequency

A snapped chain resulted in an unplanned stop at the bike store. £50 later and training resumes

HQ for British Cycling's Olympic Mountain Bike Coach.

Directly after the road ride came a classroom session.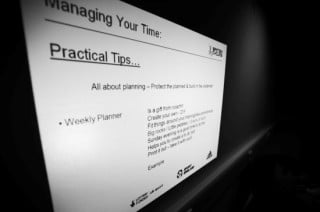 Today's class focussed on time management, and why it's important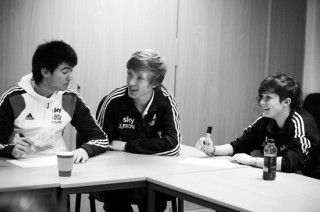 Kenta Gallagher, Grant Ferguson and Katie Winton discuss the best way to spend time...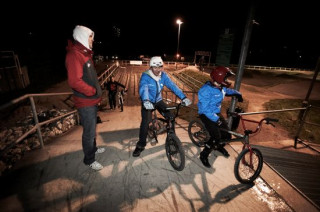 Thursday night is BMX night at Manchester's Platt Fields track

In a previous life, Kenta Gallagher was OK at BMX riding.

In his present life, Kenta Gallagher prefers to play the joker.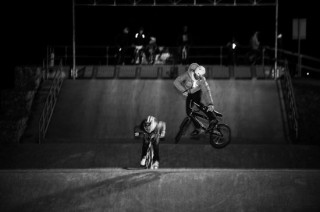 Kenta Gallagher demonstrates how to clear the first straight, to Grant Ferguson.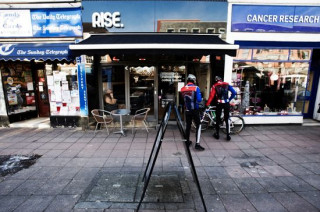 On a rare morning off, riders enjoy a cafe ride.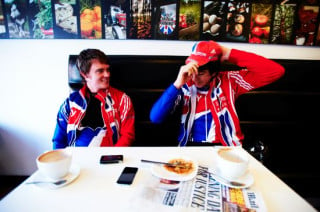 Dave Fletcher recovers from a broken arm (sustained on the BMX track), Steve James recovers from tonsillitis and an alleged fashion sense failure.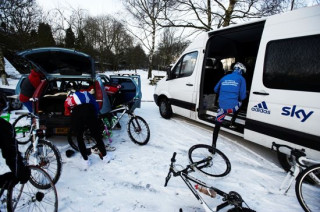 A mountain bike ride in the snow concludes the week of work.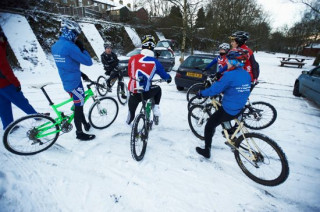 Mountain bike and cyclo cross legend Nick Craig is today's leader.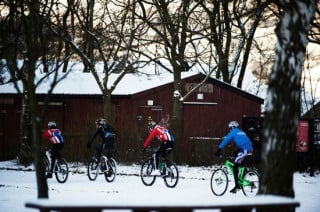 Lily Matthews misses out on the mountain bike ride. Like Fletcher, she's also recovering from a broken bone and is restrained to smooth rides.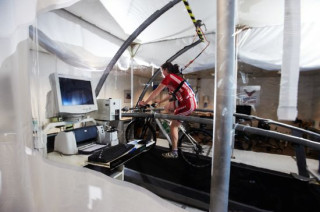 Like a hamster in a wheel, the treadmill provides a better option than the turbo-trainer.
---
TALKING HEADS - BRIITSH CYCLING'S DEVELOPMENT RIDERS
Katy Winton - Olympic Development Programme Year Two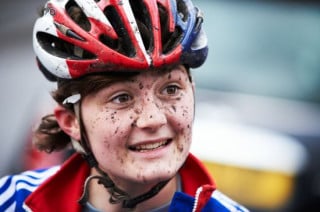 In one word...brave, talented, hair-stylist, careful
"The whole Academy experience has been awesome because you're around people that all want the same thing as you and that all have the same goals so you can just feed off of that and get on with your job. The main differences between this and ODP is the training, then getting to come back to your own place with other riders. You're coming back by yourself and you're doing everything on your own and it's your own responsibility.
"I really look forward to the whole setup, from the training to the support. Being in Scotland is always a bit harder, since you're always a way away, but in Manchester, everything is right in one place.
"The whole Academy is sports-specific and you're getting everything in detail, ultimately you can keep track of how you're improving which means you can improve a lot more. After this week I go away with so much motivation, I know what's coming and it just makes you hungry for it."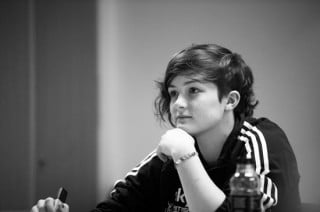 Grant Ferguson - Olympic Development Programme Year Two
Grant Ferguson has already established himself on the Junior World Cup scene - despite being in his rookie year. Recording two top five results and finishing second first-year Junior at the World Championships have raised the level of the mountain bike ODP.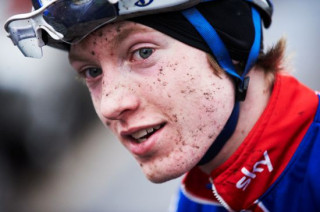 In one word...frog, chirpy, muscley, determined
"This experience has given me a good insight into what the Academy is like, it seems like it will be hard work, but worth it, I'm quite looking forward to getting the opportunity again. Training has been quite good fun, nice and relaxed. This year is my last on ODP so I'll just try and improve as a cyclist. I think the main thing I have taken away is just to be a bit more organised with everything."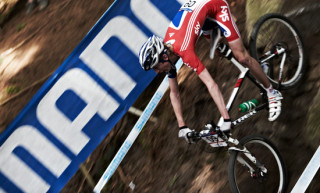 Steve James - Olympic Academy Year One
Steve James joins the Olympic Academy following one year on the ODP. He leaves the Junior ranks as British Champion and with a podium finish at the Dalby Mountain Bike World Cup.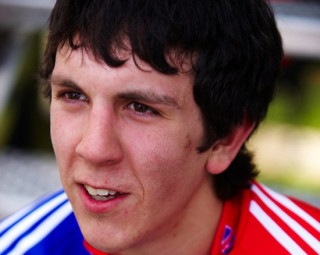 In one word...ill, relaxed, lacey, someboy, likeable
"The Academy is the best way to get to where you need to be. Everything you want is there; you don't sit around at the end of the day wishing for things, it is all there for you. It is just a case of using it. Having this much support does take time to get used to though, it takes time to use the people at your disposal.
"It's quite a big change from ODP as there's a lot of interaction with coaches and a lot more support; people-wise, coach-wise and carer-wise. Obviously the bike support side is a lot better, there is always access to mechanics, you get bikes and kit supplied, so it's nice not having to worried about that. Even down to being ill - it is easy to get to a doctor - it is all on site really".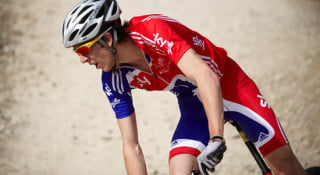 Kenta Gallagher - Olympic Academy Year One
Kenta Gallagher redefined the standard for an ODP mountain bike athlete in 2008 according to Phil Dixon, and has since progressed to join the Academy in winter 2010. With four years of development in the under-23 category, the former British Junior Champion will look to adapt to life as a full-time cyclist.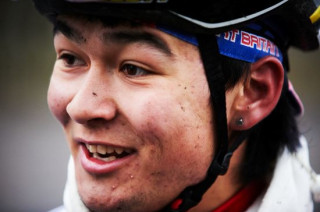 In one word...joker, random, unpredictable, jolly-chap, special, fearless
"The Academy means I get to ride my bike. I like riding my bike every day and not stacking shelves, the whole experience is a good one, it's been banterful, I've really enjoyed it so far and I'm sure ill enjoy it for a while now. I feel a lot more matured a lot better on my bike and I don't feel like a little boy any more."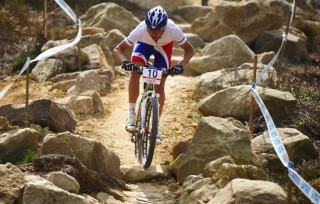 Lily Matthews - Olympic Academy Year Four
Lily Matthews enters her final year of the Olympic Academy in 2011 as one of Britain's most improved mountain bike racers. Coming onto the Programme with no international experience, Matthews quickly progressed to record top-sixty rides at World Cup events against many more-experienced competitors.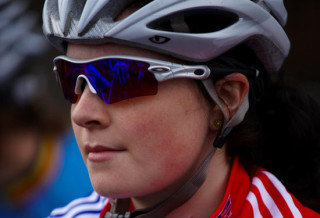 In one word...determined, sensible, focussed
"To be on the Academy is good for learning; you're in an environment which contains some of the best coaches and hardest-working athletes in the country. It's a good place to be in to feel pushed, and there are some pretty inspirational people around."
Dave Fletcher - Olympic Academy Year Four
Dave Fletcher enters his final Olympic Academy year in 2011, having recaptured the British Championship for under-23s. The first rider selected onto Phil Dixon's Olympic Programme, Fletcher has paved the way for all riders coming through the system.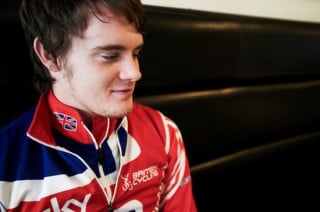 In one word...professional, X-Box-lover, knows-his-stuff, laidback
"After 2007 and getting a medal at the Worlds - something which was the major highlight of my career - the Academy became the next step before I could progress onto the podium at the Olympics and the World Championships. It was the best thing for me, I had all the support, all the equipment I needed to make that step. Being based in Manchester through the year, means everything is on the doorstep, the setup is also toward performance. I can get everything I need, whereas on a pro team I would have had to have a different coach. I'm looking forward to my final year now, where I will be racing for results on the World scene."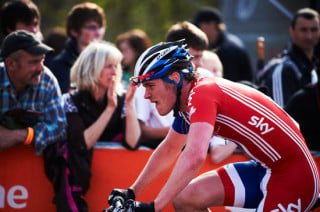 Annie Last - Olympic Academy Year Three
Annie Last starts her third year on the Olympic Academy. During that time she has captured several headline results riding in the under-23 ranks, including a silver medal at the World Championships, third in the UCI Mountain Bike World Cup Overall and is current British Champion.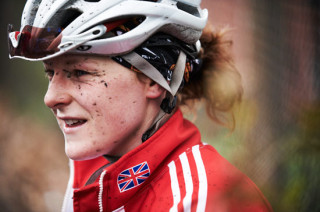 In one word...role-model, sound, professional, hardworking, world champ, strong
"I've really enjoyed my time on the Academy; being able to ride my bike full time and getting the chance to do that is amazing. For me the Academy is a place about learning, progressing and moving forward with bike riding to become a full time rider. Being full time, being based on-site, being in full-time contact all adds value compared to being at school."