| | | | | | | | |
| --- | --- | --- | --- | --- | --- | --- | --- |
| | Follow britishcycling.org.uk on | | | | | | |
Road To 2012
"It's Obvious; British Cycling Is Working"
Dixon Reviews Mountain Bike Performance Programme Selection
Posted January 13 2010
Words And Photography By Luke Webber
Homepage: Road To 2012 | British Cycling's Performance Programs Explained
Team GB Mountain Bike Roster | Join Team GB
Mountain Biking: Olympic Qualification Explained | UCI National Rankings
Last month, British Cycling's selections for the 2010/11 Performance Programmes were released. Luke Webber talks exclusively to British Cycling's Olympic Mountain Bike Coach Phil Dixon about the forthcoming year, the role each Programme plays and what it means to be part of the setup.
Four years. That's how long it has taken Phil Dixon to create his vision of British Cycling's Olympic Performance Programme structure for mountain biking. From Dave Fletcher's bronze medal as a Junior at the 2007 World Championships, to the resurgence of Liam Killeen and the arrival of Annie Last, Dixon says the best outcome for British mountain biking in 2012 would be an Olympic medal.
And though Dixon is frank about priorities shifting from development athletes to those on the Olympic squad in the forthcoming 18 months, British Cycling's Olympic Mountain Bike Coach remains optimistic that the focus on delivering future talent will be consolidated rather than overlooked.

Grant Ferguson: A rider on British Cycling's Olympic Development Programme
BUILDING THE SYSTEM
That's because a system has been built specifically for that purpose; allowing Olympic athletes the best opportunity to win medals and developing athletes the best chance to realise their potential - and it's a model Dixon can't help hiding his excitement over.
"I think the mountain bike Programme has moved on, mainly because there is success at the top of each level. Each year I can see the progression - both male and female - and the latter has been quite a challenge. Best of all I think those looking in see the progress too.
"Five years ago, if a cyclist wanted to win as part of the British Cycling setup the track machine was the only route. But I think now, when riders see Liam on his game, Annie up there, Dave and Lily progressing, Steve, Grant and Kenta with top five World Cup results; it is obvious - British Cycling works for mountain biking."
Highlighting the biggest changes in the last four years as structured programmes, hard work and talented athletes, Dixon has also seen a five-fold increase in quality applications to the mountain bike Programmes - but points out it wasn't' always that way.
"When I came to British Cycling this wasn't in existence. I set up the Olympic Development Programme for mountain biking, I invested in youngsters. Back then it was Annie Last and Dave Fletcher - both are now on the top end of the Academy. This has bought a new breed of youngsters through. In today's setup, the only rider still on the scene from the original roster is Liam. Every other rider is new to British Cycling."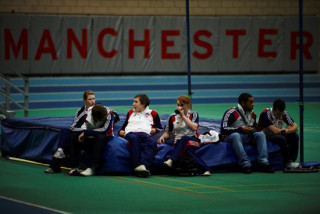 Based in Manchester, British Cycling's Olympic Academy brings riders from all disciplines together.
REDEFINING STANDARDS
Central to this new approach was creating competition for places on the Performance Programmes both from within and outside of the setup, forcing all racers to compete for a position, in racing and training environments. And with five riders making up the Olympic Academy, and more besides pushing through the ranks, benchmarks are once again being redefined.
One factor heads such change; the proximity of the Olympic Games. Dixon anticipates that come 2011 those shortlisted for the squad will take priority over the British Cycling Development Programmes looking to compete in 2016. At the same time, the entry level for the Programmes has been significantly raised, resulting in a tougher selection criteria compared to years previous.
And the first measurable effect of that is the slimming of the Olympic Development Programme squad - something for which those trying to put a first step on Phil Dixon's performance pathway have Grant Ferguson to thank.
Matching Dixon's priorities when selecting a first year ODP rider, Ferguson went on to achieve top-five results in the Junior World Cup and as a consequence, keeps the ODP selection for 2010/11 an exclusive one.
However, Dixon is confident - even with only one male and one female ODP rider on the squad at present - that there are enough opportunities to join the Programme through the provided pathway.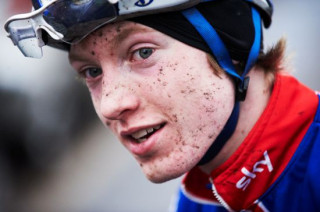 PROVIDING PATHWAYS
That pathway is British Cycling's Olympic Talent Team - a point at which Dixon's direct coaching involvement ends - and whose responsibility it is to deliver mountain bikers of ODP ability to Britain's Olympic Mountain Bike Coach. And that ability is one Dixon has clearly defined.
"For any prospective ODP rider the key word is fast. They need to be a fast rider who starts fast and can be in the range of a top Junior over one lap. They may struggle over two laps, but if you start with a fast bike rider they should be able to hold that speed as they get older and progress. Secondly, they have to be technically sound - with the ability to ride World Cup courses. So a good, fast, technically able rider is a sound racer.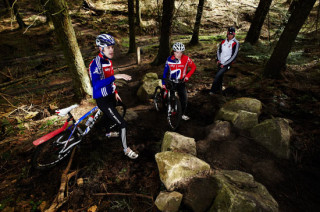 On the trail skill development is a crucial part of becoming a world class mountain bike racer.
"All of this needs to be delivered with the consideration of an individual rider's development. One of the shifts is to focus on the second year Talent Team riders, because what you get between year one and year two is a massive change and massive development. You can see a rider and compared to three months ago they are completely different. To a degree, it is also true for the ODP rider. Here, I don't hold a big focus on watts produced; that can change massively in a year. Instead, I look at the total package the rider has - from speed to technical ability.
"There are a number of factors in the delivery of riders with better technical skills from the start. I think Scotland have been doing a great job; there are trail centres with technical sections that give the riders the opportunity to ride, coaches have taken the message that you can go up the hills fast, but you have to come down - that's especially important since modern mountain biking is a technique-based sport. There are no longer 20 minute climbs. Now there are two minute climbs followed by technical sections.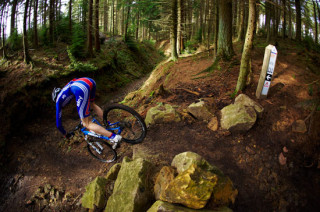 "This is the trend of modern cross country racing and it is reflected by those who have been at the top of the sport in the past decade. The World Champions in the past decade are all round bike riders climb well, technically very good, consistence in their weekly performance, Hermida, Schurter, Sauser, Absalon, Green - they are not athletes that just climb well. This proves that to be a fast rider today needs a combination of skills, being compounded by the changes in the courses."
That is a message British Cycling's Olympic Mountain Bike Coach takes to British Cycling's Talent Team and Regional coaches, while some of those who didn't make the ODP grade this time around have been given specific targets, which will be reviewed next season - with one proviso.
"Twelve months is a long time for someone of that age range - in twelve months time when we are selecting for 2011/12, most of those riders will look very different. Some will be in the position of being ready for a place on the ODP, but others won't. So, treat this season as a bit of a gap year. But after this cycle, there will be an opportunity to develop this. If the riders on the fringe show progression opportunities will follow."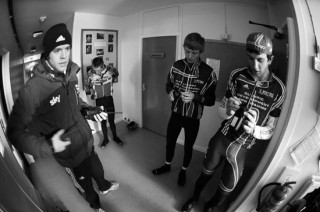 THE ACADEMY EFFECT
Meanwhile, for today's ODP riders, progression starts with observation - another concept Dixon has been keen to introduce.
Giving ODP members the opportunity to travel and train with Academy and Podium athletes is - Dixon believes - an essential element for all riders progressing through the pathway and a benefit which is already paying off; most notably as Kenta Gallagher and Steve James move from the ODP to the Academy setup.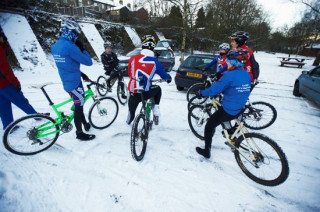 "It's essential every athlete at every level knows what to expect and by allowing the athletes to mix with each other we now have a system that looks after the individual a lot. They have a good idea of where they are going since there are plans in place. That's important, because changing from the training camp and events-based ODP, to the Academy is big. There's no cutting corners; it's a boot camp I am on top of seven days a week so there's no hiding. One rider described it to me as a continuous training camp. It is.
"In year one, riders come into the Academy not to focus on results, but to learn how to cope with the load and requirements of a full-time athlete and show progression as an athlete. The results then follow. It is a big change, and the structure of the year reflects that.
"It is also about the development of the bike rider - and they develop at their own pace. If you give them the tools they make their own gains rather than just throwing them into a pro team. They need time to develop, and the programme should nurture them through that phase, progressing to the top of their game at international level.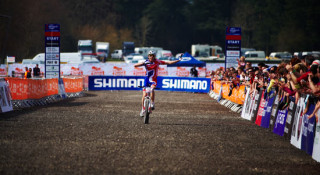 Top performances at Junior level take time to transfer to the under-23 ranks.
"Technically though, the aims of the Academy haven't changed from day one when Annie and Dave came on board. However, they were the first riders on the programme; they were going into the unknown. They didn't walk in with a setup with a pathway in place - there was nothing - they were going to define the pathway. But Steve and Kenta, they have seen what Dave and Annie have experienced and can come in with some expectation through having camps and racing alongside the Academy. Yes; training theory and methods move on but the process that the older guys went through is very similar."
OLYMPIC MEDALS VS. OLYMPIC POTENTIAL
Perhaps crucially, Dixon believes it will be the lessons learned by athletes observing how each individual operates, will ensure the success of the Development Programmes while he is away; focussing on winning Olympic medals, providing competition and the right kind of pressure, which will force natural progression at the top end.

The Academy reflects a full-time commitment to cycling
What's more, it is hoped the skills British Cycling's Olympic Academy teaches to riders, will provide each rider with the ability to live the lifestyle of a professional athlete without constant support which, as their career progresses may not always be available.
"Ultimately, I like my riders to drive their own Programmes and to be responsible for themselves; that way they aren't totally reliant on coach input every day. This will be especially important in the period building up to and during 2012,
All of this leads Dixon to conclude that the forthcoming year will be an exciting one - even when considering the lack of a female Podium Programme rider - the in the only area earmarked as a particular weakness.
"In 2011 I think we could progress at all three levels; from ODP to Podium I don't think there's one area of weakness - apart from Senior women. In saying that I know there are a couple of names out there who have contacted me, who are interested to help score UCI points to qualify a place for the games, who are looking at what opportunity we have for them, I think shows the buzz created by Annie and Lily being successful on the Programme.
"Their success has bought a few out of the woodwork which is positive; and backs up the achievements of the past four years. Overall it shows that the system is working."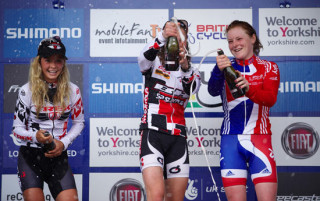 Annie Last (right) one of the standout riders in British Cycling's Mountain Bike Academy