Follow britishcycling.org.uk on
Atherton Racing Team Launch 2010

Words And Photography By Luke Webber
The Atherton team launch was less of a media event, and more of a mass jolly up - but that's no bad thing, as the heavy attendance showed. Because when you promise a day of free food, great riding and sunshine in north Wales - alongside the biggest deal in UK mountain biking, then that's an offer few can match.
We'll get the question of what it was like to ride with the Atherton's out of the way right now. Pretty much amazing. From one guy in full-on lycra, to a fully committed downhiller riding the blue XC loop in a beanie topped with a full-facer, everyone had a good time. There were plenty of stops to chat and get photos, before riding some more and hitting the pump track before lunch.
There was supposed to be a ride in the afternoon, but that got canned by most in favour of sitting in the afternoon sun, eating cake and chatting some more with the Atherton collective. Who said riding XC with pro downhillers would be easy?
Team Launch Video - Clay Porter produced this beast!
WHAT THE ATHERTON'S HAD TO SAY
To save time taking endless interviews, the team launch started with coffee, followed by a series of on-stage interviews. Conducted by Rich Cunningham, each Atherton, alongside team manager Dan Brown, psychologist Jamie Edwards and mechanic Andy, were all grilled about the previous season and what's to come in 2010.
If you want to catch up with the team and their new look, you can do that at the British Downhill Series, this weekend in Rheola.
You should never underestimate the interrogation qualities of a mountain biker who dons a modern-man scarf, so with that in mind we've digested the interview transcript so you can read what the riders had to say.
First up was Gee, who started out by analysing the 2009 season, where he finished fourth overall in the World Cup. Not a bad result by any standard - but when you're exiting World Champion, some expect wins every weekend.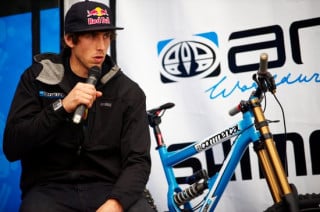 "Last year wasn't bad, but following 2010 you always want to push it and feel like you're advancing. Fourth overall in the World Cup was good for me, but it was frustrating to finish in that position.
When analysing 2009, it's always important to pull a season apart and see where you can improve and where you can make time. We did that at the end of the season and saw where we were weak and where we could make improvements and that's what we've focussed on over winter. Because of this our training has changed a bit.
Last year I was super-fit, we all entered the season strong, but downhill is such a difficult sport; you have the technical aspect, you have the fitness aspect, the bike has to be on form. There are so many different things that could go wrong that every aspect has to be thought out and well prepared and I think last year I was good and strong and I was feeling fast, but there were a few certain areas which maybe I could have done more on.
So this year with the season being so technical we're focussed on the riding aspect of the sport a lot more over winter. The season starts with Maribor where I've had some good results in the past. It's an amazing track, I feel like I am well prepared for it, but it's also a great example of why downhill is such a tough sport. There is the speed, the technical and the fitness on that track; to be prepared for that at the start of the season will mean you have to be going well from the gun.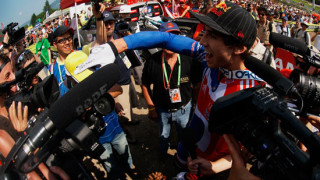 Right there. That's what it means to be World Champion. Val di Sol, 2008.
Definitely, the World Champs are a huge goal for everyone, it's what everyone focuses on, and the one everyone wants to win. Nobody's there for second, nobody's there for third. But after winning in 2008 it made me want it even more. Last year maybe it was a case of wanting it too much and pushing too hard for something. Sometimes you ride at your best when you are relaxed - maybe last year I wasn't. Last year, it wasn't a great race for me."
Gee then went on to talk about his winter, which included filming for the new film by Anthill; Follow Me. There are premiers across the UK in the coming month where you'll be able to watch what Gee described as one of the best parts of his job.
"It is released in a month - and it's going to be a huge movie, my section is filmed in New Zealand. We were out there in January filming and it was an amazing experience, filming every day from dawn 'til dusk, riding huge mountains, filming with helis. It's definitely a good part of the job, and I can't wait to see the result. It will be worth the hard work for sure.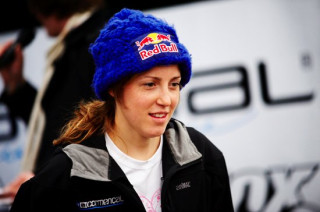 Next up was Rachel, who is making a much-scrutinised return to racing following a crash while training over a year ago. Although untested so far against world-class competition, she exited as the World Champion and World Cup Champion - totally dominating women's downhill racing. Her comeback will be one of the most anticipated events when the season starts in a few weeks time, and Rachel was visibly as excited about racing her bike again as everyone else was.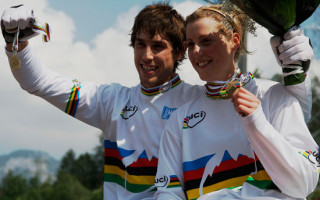 "I'm very excited to be back, I've done two races already and it is so good. To be back racing and riding again is just the best feeling, to have all the new team and everyone back in their right places it just feels right.
"It was really difficult watching everyone racing in 2009, it was hard and it was a good time to learn about myself, to learn more control to make the best of a bad situation. I'm almost grateful for it.
As time has passed I've been able to pull something good back from the break. I've always known downhill is what I want to do, but having that time off has just reinforced that. It is a cliché but it's true."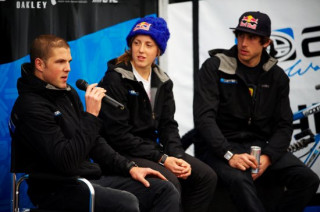 The final rider to talk was Dan, who has been on the search for inspiration (arguably since the triple win in Andorra). This has lead to the pursuit of BMX racing at a world-class level - something that several of the worlds best fourcross riders already have history in. What was perhaps more revealing however, was the way Dan came to a decision to train seriously for BMX over the winter and the effect that had on the rest of the team.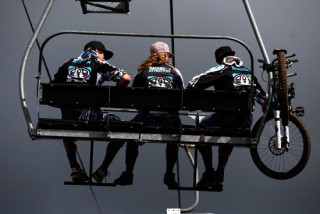 Andorra 2008. Three Athertons, three wins. Can you say perfect day?
"I took this whole BMX thing on board at the start of the year. At the end of 2009 with Rachel out, with Gee getting asked what went wrong in his season - it was an eye opener. As for what went wrong with Gee's season, well, nothing did. Every race he was bang on the nail, but for a few small things it would have been his best season ever. However, I think we were all a little stale at the end of the year. By taking up BMX I have been inspired, it has inspired the whole team. I feel we're in a different place now.
"I spent the whole winter preparing myself for the first BMX Supercross; time in the gym, time with the British Cycling Olympic Coaches. But nothing could have prepared me for that race. Every guy there, every one was a big unit, they were body builders who could ride a BMX. It certainly opened my eyes as to how far I still have to go - it's not unreachable - but there is a way to go.
"On London 2012, me and Dan Brown sat down, talked to sponsors. We haven't set anything in stone, but it's an option, a goal to reach for. And it's no secret my gates aren't fantastic. I'm not naturally a big guy, but it's something I've worked hard at over winter. I think the whole team is inspired because it is a goal. Downhill will always be the number one thing because we are mountain bike riders, that's what we love to do."