Follow britishcycling.org.uk on

XCRacer.com 29ers Team Launch
Posted March 17 2010
Words And Photography By Luke Webber
The only British mountain bike team to exclusively ride big-wheeled bikes, the XCRacer.com 29ers met for the first time last weekend for some pre-season motivation, classic banter and a trip to A&E. OK, so the last bit wasn't planned, but certainly proved when it comes to hiding bloodstains the anodised red chainrings from TruVativ do a great job!
As Mel Alexander took a lethal slide down the grass bank and onto her exposed and rather sharp 44-tooth outer chainring, there was no doubt of the result. It was enough to end the photoshoot and result in a hasty retreat for the cars. However, with posing for the obligatory team shot out of the way and the hillside temperatures driven down by a brutal southerly wind, Mel's 'accidental' fall could have easily translated into taking one for the team and getting everyone back into the warm!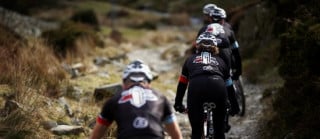 One thing is for sure; there will be more painful experiences left on the racetrack than a little blood and bone if previous seasons are anything to go by. Already, Phil Morris has race-ready legs, something which goes down a storm at work - the boys at the firestation having more than a little fun with the man who is as smooth as silk.
Still, his results through the 2009 season - Morris' debut in the Masters (or ex-pros) category - were more than a match for his billing. Winning the final round of the British XC Series revealed his potential and in 2010 the key aims will revolve around further wins here, as well as the British XC Championships and Welsh XC Championships.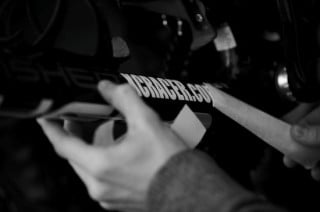 A LITTLE HISTORY...
Formed in 2006 as the home of XC and endurance racing, XCRacer.com and resulting race team are symbiotic in their existence. Long-term supporters since the teams inception, Gary Fisher again supply the team both carbon Superfly hardtails and full-suspension bikes which serve the traditional XC racers and enduro or 24-hour specialists equally.
Created by Martyn Salt for "riders that work hard and love their sport", justifying supporting the biggest and most varied team - which includes 24-hour soloists and XC racers alike - has been easy.
Proving the team ethos goes beyond turning up and racing, James Hampshire adds the title of team manager to a list which already includes Midlands XC and British Short Track Championships organiser. Now in year three, the Midlands Series has achieved sellout status and is expected to be oversubscribed once more in 2010.
Rejoining the team for a second year is Matt Lewis who aims to help the team retain their Bontrager Twentyfour12 title, with three new riders - Niall Frost, Mel Alexander and Iain Payne completing the 2010 lineup. The introduction of Payne as a dedicated 24-hour racer marks a first for the team, with Alexander racing her first ever World Cup event at Dalby Forest.
The team's first appearance will be on March 28 at round one of the British XC Series which takes place at Sherwood Pines.
XCRacer.com 29ers Team Lineup:
Phil Morris
Niall Frost
Mel Alexander
Iain Payne
James Hampshire
Matt Lewis
A WORD FROM THE RIDERS
What are the big aims for 2010?
Phil Morris: "My main race aims are the National Champs, I'd love to improve on last years silver with the gold at Pippingford. The Welsh Champs last year were a disaster so a better time there for sure! Finally the British XC Series, I'm aiming to win but top three would be great."
Niall Frost: "My aims are to achieve a top five overall in the British XC Series and be as competitive as possible in the Expert class, along with winning a team event with like Bontrager Twentyfour12 or Ten at Kirroughtree. I'd like to achieve a top 15 at the British Marathon Champs and improve on 22nd in 2008. I'm definately looking forward to racing the UK Short Track Champs as I think the format will work very well for spectators and for lactic acid lovers!"
Mel Alexander: "The main focus of my training at the moment is for the opening round of the UCI Mountain Bike World Cup at Dalby. I want to compete and feel I have done so to the best of my ability in my first World Cup. I plan to improve on last year's XC racing experience in Elite. Not focusing on position (although a sixth place finish at an NPS would be very nice again) but more in areas which will make me a stronger racer. I aim to be more involved in how the race plays out, decreasing the gap between me and the leading Elite riders, maintaining speed throughout the race and racing confidently."
Iain Payne: "My aims for the season are to carry on enjoying my riding and racing and get some decent results in 24 solo's!"
James Hampshire: "Fight my way into the top ten in Expert at the British XC Series, retain our title at Twentyfour12, kick some Euro ass in the summer at some sunny continental races, make the Short Track Champs the event of the year!"
What makes the XCRacer.com 29ers such a different team to the others on the start line?
Phil Morris: "I think the team is different to others, because it is not built around results and more to do with promoting the sport; especially the racing side of it! I originally joined the team four years ago and Martyn Salt (team boss) has always been more than helpful in supporting my racing, which is always a challenge with two children under three."
Niall Frost: "I was initially attracted to the XCR team by the well supported website and the frequent event reports. The focus is very much on team too and not supporting individuals, which was very much what I was looking for after being a member of a 400 strong "team" and only knowing two other members, neither who did mountain bike events. This part was important to me."
Mel Alexander: "I applied to XCRacer as I wanted to be part of a team, I love racing in a team which I have done so on many occasions over the years. Entering 24 and 12 hour teams as part of the team really excites me because everyone's clearly enthusiastic, friendly and keen to participate in many races. The 29er frame was also a big attraction to me and as Gary Fisher make some of the few really racy 29ers it seemed like a fantastic opportunity. During a 12 hour singlespeed race a coupe of years ago I traded my 26er for a friend's 29er for a few laps and was amazed at the difference."
Iain Payne: "The XCRacer team is different to others as it has a broad range of riders of different abilities, and is a lot more laid back results wise, it's more about getting out there and enjoying the racing and try and attract more people to the sport."
James Hampshire: "Amazing opportunity being part of a global team, seeing what the 29er Crew riders are up to in other parts of the World and getting the chance to race with the 'Fish! Writing reports is a great way to spread some excitement about a fun race you've just done. Team-mates are all top guys, so it's easy and fun doing events together and supporting each other."
How do you find riding a 29er? How does it work against the conventional bikes you've used?
Phil Morris: "When I was originally asked if I wanted to ride a 29er I was a little apprehensive, but having ridden one for the past two years I wouldn't change it now even if I could. This is my first year on the full suspension bike, I went for the susser because it just looked a stunning bike and I fancied a change!"
Niall Frost: "I'm riding a 29er because whenever I have ridden them in the past I've been amazed by how smooth they ride. I'm a larger rider too (6'2" and 78kg) so I think the larger wheels really suit my size. I'm on a hardtail because I like the direct tracking and as I'm entering the shorter events I don't need the extra travel the Superfly 100 offers."
Iain Payne: "I decided to ride a 29er as I've heard so many good reports about them that I just had to see what it was all about. I chose full suss as I do longer distance events so I need the comfort!"
James Hampshire: "29ers are the future! I love the way the big wheels flow and I think 29ers are better looking than kiddie wheeled bikes! It had to be the hardtail, keep it real, purity, simplicity, light and stiff."
What special reporting skills can you bring to the infamous XCRacer VFTP?
Phil Morris: "I will continue to write reports for any races I attend, which will be most weekends from here onwards! I have no specialist reporting skills, just to try and give people an insight to my race and the event as a whole."
Niall Frost: "I'm looking to contribute the Northern view being the furthest north of the team! I'll be dipping my toe into the Nutcracker and Scottish XC events throughout the season and trying to provide views from those events. As for specialist reporting skills as a newcomer to the team I'll be able to provide a bit more of an outside perspective and previous reports have generally been written with a twinge of dry humour, or self deprecating whichever works."
James Hampshire: "Trying to uphold a high standard of reporting and gentlemanly racing!"
The 2010 team lineup is the most varied yet; how do you think this will affect the racing?
Phil Morris: "This should be a good year for the team as we have a couple of guys who will be doing more of the extreme endurance stuff, something we haven't really covered before. As for me there is a possibility of a trip to the Euro Masters XC Champs or the Roc d' Azur, but nothing confirmed yet."
Niall Frost: "I'm looking forward to a stable team to enter the team events and to help each other perform as well as possible. I've never done Bontrager Twentyfour12 before and there is a possibility we may be attending a foreign 24 hour event this year too. So that would be really cool. If Kielder 100 is dry this year then I am hoping it will feel like a completely new event after the sodden wet event last year."
Mel Alexander: "I started my competitive racing with endurance events. Whilst I now compete at cross country I enjoying maintaining my participation and competitiveness in endurance. I have already ridden a variety of events, such as 24 hour solo events and multi day events like Cape Epic, Trans Alp and Rockies. New races I am looking forward to are the team events we will be participating in; the relays at the British XC plus the 24 and 12 hour events that we plan to race as a team or pairs."
James Hampshire: "Looking forward to the team relays at the British XC Series and at the other end of the spectrum planning on doing a stage race. Might also dabble in some road racing for the first time on my shiny Gary Fisher road bike...