| | | | | | | | |
| --- | --- | --- | --- | --- | --- | --- | --- |
| | Follow britishcycling.org.uk on | | | | | | |
Road To 2012
Days In The Life Of The Academy
Posted February 10 2010
Words and Photography by Luke Webber

Homepage: Road To 2012 | British Cycling's Performance Programs Explained
Team GB Mountain Bike Roster | Join Team GB
Mountain Biking: Olympic Qualification Explained | UCI National Rankings
With unprecedented and exclusive access to British Cycling's highest tier of athlete development, Luke Webber reveals the lifestyles of Dave Fletcher, Annie Last and Lily Matthews in a typical week at the Olympic Academy.
In part four of Road To 2012, we track the progress of the mountain bike Academy; a group of under-23 riders who have been selected to be supported by British Cycling full-time. Relocated to Manchester for the five-month winter period with access to the facilities of the English Institute of Sport (EIS), British Cycling staff and specialist coaching all riders are development athletes with an explicit focus on moving successfully from the Junior to Senior ranks in International competition.
Riders on the Academy are fully supported by British Cycling, while expected to lead an independent lifestyle in accordance with their peers. Accommodated alongside all other Academy athletes from road, track and BMX also provides the opportunity for riders to train together in different environments while retaining focus on their specialist discipline.
This photo-feature chronicles days in the life of the Academy, an exclusive insight of the Academy experience.
Day One
Through winter Thursday nights are spent on the BMX track. Riders work to improve their technique on flat pedals through berms, manualling jumps and practicing gate starts. All techniques translate through core strength and maximal power on the XC race circuit.

Phil Dixon (right) waits with Annie Last as Dave Fletcher rolls in.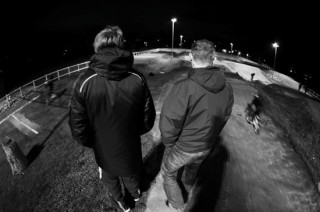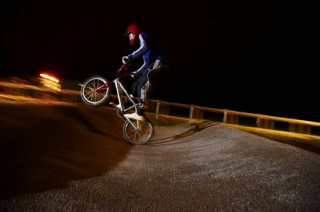 David Fletcher through the rollers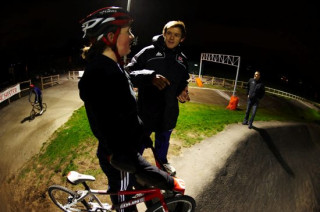 Phil Dixon coaching Lily Matthews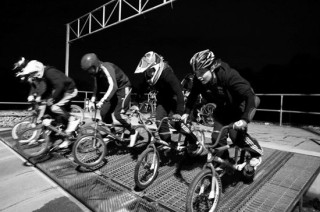 From R-L Lily Matthews, Annie Last and Dave Fletcher out of the gate

Post-session analysis
Day Two
Gathering hard facts to train from is an essential tool in the bike racer's armoury. It gives a quantifiable value from which to improve upon and set new records. In accordance to the successes achieved on track the mountain bike academy riders undergo regular lab tests for differing purposes dependant on time of year. Living in such close proximity to the English institute of Sport allows for such invasive training and gathering of data year-round.

Annie Last positions herself on the bike, which is a custom fit.


Last, at 100% effort, observed by Fletcher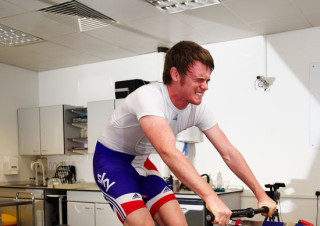 Fletcher, starting his effort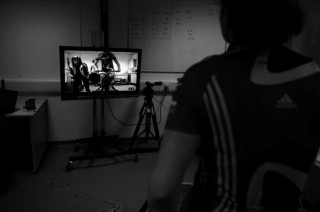 Post session analysis of body position and technique is a tool as vital as the numbers produced

Day Three
Living away from home for the first time, adjusting to responsibility and still maintaining a lifestyle with maximum recovery time is a tough transition. That's why riders from across the Academy system have weekly lectures on everything from cookery through health and hygene. Hosted at the English Institute of Sport between lab test and therepy sessions, riders take a few minutes to learn some totally bike-free facts of life.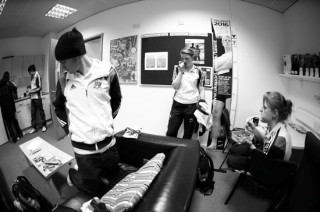 Relaxing in the green room, Fletcher (left), Last (far right) with riders from the track Academy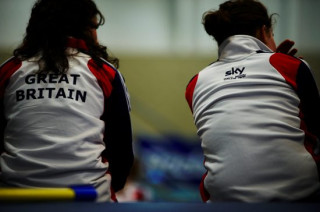 Waiting on the start of the lecture, riders take to the high jump landing mats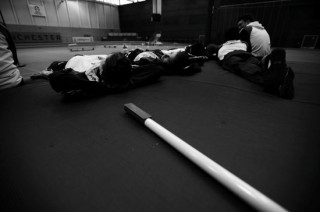 When you're a pro rider, taking time to relax at every opportunity is essential. Often the difference
between a good and great result is all in the recovery.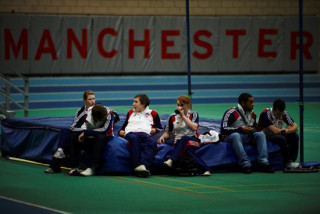 Day Four
The off season is a key period during which both skills and fitness are developed to cope with the rigors of international racing. One day per-week is dedicated to specific skill-sessions, in this instance under the tutelage of professional downhill rider Will Longdon. Perfecting bunnyhops and jumping is not enough though; riders must learn how to apply each style to the trail where applicable.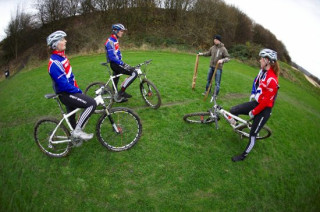 Will Longden gets his sticks out. They comply with all HandS requirements.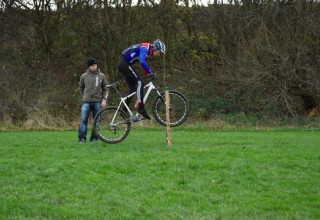 Fletcher cleared the 18-inch mark most times. Except for the attempt where I had the close-up dialled.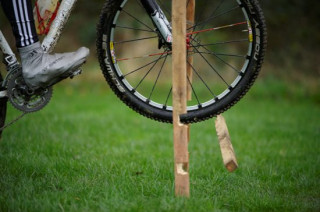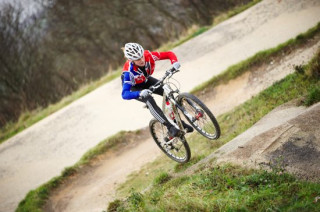 Annie Last on the BMX track, clearing the first table.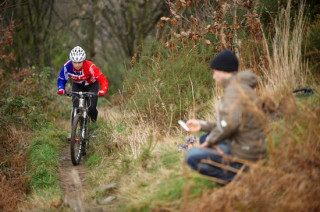 Will devised a small trail-based exercise where riders would be timed over a set section . Using a trials based points and time system the exercise looked simple but no rider managed to complete it clean. Here, Will debriefs, discussing areas for improvement and targets for next week.
Day Five
If you're riding a bike, it's a prerequisite to know how to strip it and rebuild. All Academy riders get pro-mechanic lessons from Spike. Today it was bleeding Avid brakes - which as anyone knows can be a real pain, thanks to their lever/hose/caliper system. Even more reason to RTFM and learn how to get it done right then.

Spike dictates, riders decide how many people it takes to bleed an Avid Ultimate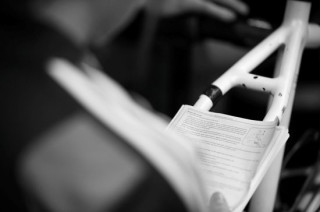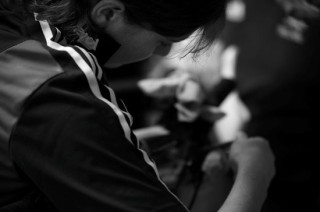 Lily on the T25 duty

If Fletch didn't ride a bike, he'd work as an actor on a daytime TV hospital drama

Whatever you do now, don't drip fluid onto the bike or drop that T25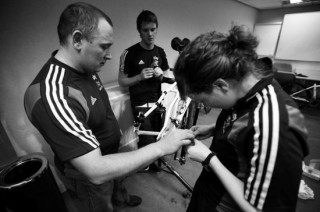 Lily, with clean hands, relocates the pad spring without contaminating the brakes
Day Six
For Lily and Annie, the week of training ends with a morning of racing. Arriving at Bradford for round four of the Cyclocross National Trophy - their first of the 2009/10 season - both riders are nervous. Forty minutes later there's a different story; the one-two complete following two untroubled performances.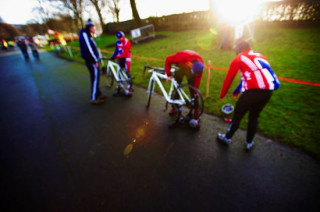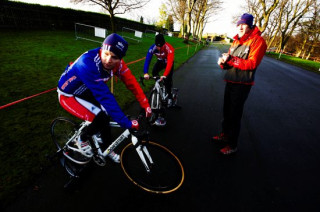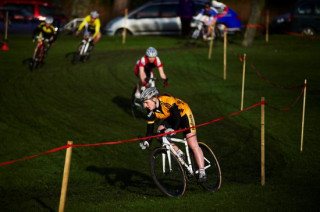 Lap one; Last and Matthews string 'em out on Bradford's finest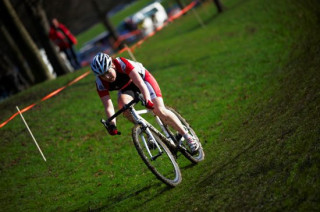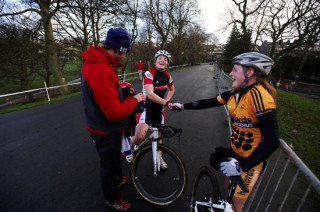 Post race reaction. All is well in the GB camp.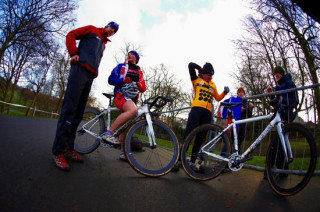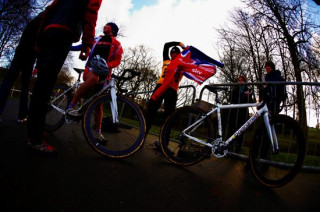 The end of a hard few days. Class resumes tomorrow first thing.