| | | | | | | | |
| --- | --- | --- | --- | --- | --- | --- | --- |
| | Follow britishcycling.org.uk on | | | | | | |
Road To 2012
2009 Season Review With Phil Dixon

Posted November 25 2009
Words and Photography by Luke Webber

Homepage: Road To 2012 | British Cycling's Performance Programs Explained
Team GB Mountain Bike Roster | Join Team GB
Mountain Biking: Olympic Qualification Explained | UCI National Rankings
Following twelve months of selection, racing and reselection, part three of Road To 2012 is a commentary from mountain bike performance manager Phil Dixon. Talking for the first time about the past year in detail, Dixon assesses performances since Beijing and concludes where the British Cycling team is headed in 2010.
Never stand still. That could easily be the mantra by which Phil Dixon lives his life as British Cycling's mountain bike performance manager - because as we sit to eat, he cannot relax. First it is the menu, then the wallet and the phone. I start recording to interrupt, negotiating the Dictaphone into his personal space, forcing a reaction. Immediately it comes.
"Within a year Britain has gone from a women's UCI ranking of thirty-second, to fourteenth position. That is equal to the men's current placing." Dixon's speech was interrupted by the addition of drinks to the table, but soon resumed. "That's because 2009 was the first time a big push from the British Cycling mountain bike programme to get the women's side of mountain bike up with the men's existed."
And according to the experts a further two seasons like 2009 would see a guaranteed Olympic spot for a woman at the London Games - something marked as a clear shortcoming following no female representation in Beijing. Such an outcome was deemed unrepeatable for 2012 and immediately a plan was determined, the results of which are currently being seen, much to the delight of the programme manager.
"The mountain bike programme for elite athletes has its own four year Olympic plan. The first two years are all about development and experimentation, carrying out studies on new ideas into training. Then the last two years are about switching on. It's a bit different for those on the development programmes, but for those like Liam who have already completed the development you can try new training methods, use R and D - who at the moment are developing things for mountain bike - and then find out what has worked and what is going to be utilised.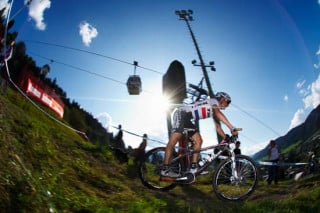 "From that process medals have always been likely for the men, we just need to get them to the start line in the shape of 2008. Our aim was to win an Olympic medal in Beijing - we came quite close to doing that with Liam and Oli who both had season best careers; Liam was fourth in Worlds, Oli tenth despite technical problems at that race. And then at the Olympics Liam had lap times to run for bronze, maybe silver. When it comes to 2012 the bottom line is one place for women and two for men because the drive is the Olympic Games, hands down."
Central to this revival of a British female presence at Olympic level have been both development riders like Lily Matthews and Annie Last, who have gained points alongside those receiving interim support such as Sue Clarke - and such an improvement curve isn't expected to drop off.
"I think the two young girls are going to progress and Sue Clarke is going to progress; back on it. I think we can then challenge for two places, that's what I'd like to see. Let's work with these girls and you never know. I want to see two on the start line - but we don't want to have two riders there making numbers up. We want to be competitive for the medals in London. We're in a very different position this winter to last winter."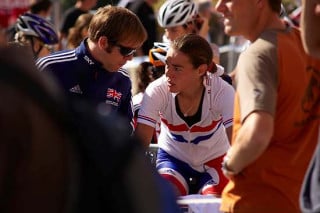 PRESSING FOR POINTS
That push started with the result of Annie Last at the 2008 World Championships. Eighth as a Junior at Val Di Sol was a sign of progression which not only continued into the new year, but translated to mixing it in the senior ranks with top forty finishes at the World Cup and at under-23 level fourth in the European Championships and fifth at the World Championships. And all this while still in full-time education. It has only been since July that Last has been a full-time mountain bike rider.
The second story of massive improvement comes from Lily Matthews who in eleven months has gone from Expert-level national racer, to top 100 in the world rankings. Rides in the World Cup, European and World Championships have all been part of an extreme learning curve for Matthews who began life as a full-time athlete only one year ago - something which is not lost on Dixon.
"Lily came on board with the Olympic Academy in December and Annie Last came through from the Olympic Development Programme as a Junior to an under-23. At the time Annie was in full time school so she couldn't come into the Academy environment in the same way Lily has.
"Annie was eighth in the Junior Worlds so it was a case of improving her talents really, whereas Lily was a total unknown. But coming from never having ridden an elite mountain bike race and having never seen a road bike to get to World Championship level - the girl's come a long way in eleven months. She's quite a determined young woman, always pointing out what she's not happy with and already she's working on all the areas for improvement to step up again in 2010."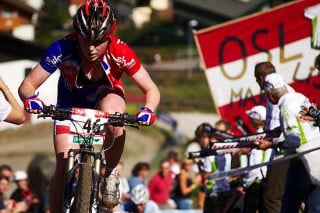 That work ethic is something Dixon recognises as a character trait possessed by every rider on the British team, and is especially important when making the graduation from junior to senior ranks.
"If you think a mountain bike race for the juniors is just over an hour, and a senior race is near double that, then you see why a real strong character is important to make that progression. You need a real fighter there to get stuck into that bike race to win it, ultimately. I'd call it mental toughness, I like to see those who want it."
ODP RIDERS
The line-up of those young riders with that mental toughness and who are tasked with bettering Fletcher's results include Kenta Gallagher, Steve James, Grant Ferguson and Katy Winton. The four that make up the Olympic Development Programme has seen addition and changes in personnel.
The departure of Ruby Miller who has moved to the track and the addition of Katy Winton, Steve James and Grant Ferguson who moves from Youth to Junior has created a core group alongside Kenta Gallagher, with further scope for guest riders and new full-time members of the Programme as the year progresses - as Dixon notes.
"I think you could have some exciting results - especially from those three Junior guys. I think Grant can step in at the same level as Kenta and Steve and that will create an interesting season. And not far off is Luke Gray and I'd like to see Luke get up there to make three make four. There are also a few on the periphery and they are away working hard with access to help from us so essentially there are four guest riders alongside the four fulltime ODP riders. That creates a good competitive environment and I think that's what you need to ensure everyone is pushed forward in their bike riding.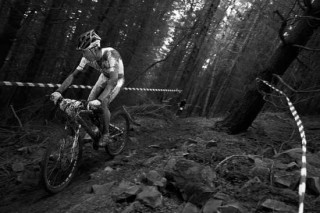 "Scotland are doing a good job in pushing their youngsters - evident in Grant, Kenta and Katy. I met her for the first time on selection camp. We're just putting all her coaching in place but she's a very good rider technically; it's good to see a thoroughbred mountain biker coming through. She is clear on what she wants to achieve and her ambitions and that is good to see in such a young girl.
"Grant developed a lot this year and Kenta moved forward a lot this year. When you look at some of his international performances - I'm not sure how well his German and Swiss races were reported upon - but he's put some good rides in as a first year junior and he has a great opportunity to move that on in his second year. If you look at his progress areas he has a lot to work on, and it is down to him to do that. If he goes away and works hard, he has a good year ahead of him.
"It will benefit Steve to be on a structured winter and if he soaks in and learns he will be exciting. He's had a few ups and downs internationally this year. At the worlds he had a big crash and broke his toe in the leadup to the event so he didn't get the best out on the day due to that injury. He wasn't a happy bunny and I'd like to see him turn that around. What excites me the most is that for the first time since 2006 we have a group of Juniors who come next year will be pressurising for space on the Academy; from Juniors to full-time bike riders."
TRANSITION
One of those riders who Dixon now believes is ready to make the step-change is Dave Fletcher. Bronze medallist as a Junior at the 2007 World Championships held in Fort William, Fletcher has spent his first two years in under-23 competition fighting through the ranks and in 2010 Dixon expects that breakthrough year internationally to be realised, along with a more focussed mountain bike programme which will allow more rest and better race-day preparation.
"When Dave came out of Juniors and into under-23 and senior racing we incorporated quite a bit of road in his programme; the underlying goal to move him forward in his endurance. It's possible it took a bit of his mountain bike top end off in 2009. But this year he'll not have the time to do that, this year is focussed on his progression as a mountain bike racer and that will be the big drive. 2010 is all about being a mountain bike rider. You won't see Dave on a cross bike this winter. He's got the ability to be at the front with his speed he just needs to develop the length - and when you look at this year there are signs of that.
"At the Worlds I can remember giving a time check of 45 seconds to tenth on lap four. When you consider on the first lap of that race there was an 18 man front group it was encouraging to see he was in there. He has proved he can run the pace and it's now up to us to ensure he gets the length. And as he gets older he'll get that length. He's done some good performances nationally this year which have been overshadowed a bit by Oli or Liam but at Plymouth for the final round he wasn't so far down on Oli at all. So I'd like to see him step it up in 2010 and see him at the front of the under-23 championship events a little bit more. And he will do, I'm sure."
Such a mountain bike focus over the winter months and into the forthcoming season for Fletcher will demand a very different training and schedule from the 2008/9 seasons with more specificity, as Dixon explains.
"Right now he is focussing on his key skills; that means he is looking at the small gains from technical skills, fitness and mental strength. And when it comes to the race season Dave, Lily and Annie will be racing a full schedule of World Cup events. Everything is stepping up; the amount of training, the specificity. Not so many small races, more training and looking to deliver in the big one. Don't expect to see it all in the start of the season though, because it is a long year. What I don't want to see is them getting up there and then coming down. I'd like to see even progress through the season."
END GAME
And when that translates to Olympic points, it means less races, with higher points quotas and a similar level of points scoring as in 2009 - something which plans to produce a stable position for qualification post-2010.
"I'd like to be in a position at the end of the year to feel a lot more secure over Olympic positions. I don't want to be running around in 2011. Next year is all about the youngsters stepping it up on the big stage and the by-product of that getting the points, not the other way round. If we went purely for points then we'd be racing every weekend. We will have a lot more of a skeleton race programme but with more preparation for the big races which is different to this year where it was all about the racing. I'd like to score more points using less racing and more preparation."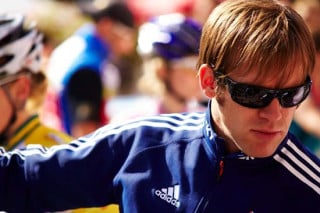 That statement leads to the conclusion from Dixon that at junior and under-23 level "Britain is getting close to the point of seeing riders on the podium" and that current chances of achieving that are "more likely than less likely." And ultimately this means as the Olympic flame draws nearer, the standard to achieve a position on the team will rise until finally the squad of riders are selected for the biggest cross country race in the world. But until then, there's 975 days of racing, training, selection and reselection to go through.
British Cycling will be there for every one of those 975 days, including the races, so for the latest word on the British team keep following the Road to 2012, check out the British Mountain Bike Team News page and stay tuned to the latest British Cycling Rider Diaries for the inside story from the riders themselves on the British mountain bike scene.